Spotlight > Whistle Categories > Escargot > 059

Dated circa 1897 is a mono-typic escargot whistle stamped North Brothers Manufacturing Company Philadelphia, PA. The history of this whistle is obscure to say the least.
North Brothers started business in 1880 as a general brass and iron factory ( Clifford D. Zales 2003 – Published by The Chronicle of the early American Industries Association, Vol. 56 Number 4, Dec 2003 )
—All history is taken from this well-researched article.
Zachary T. Furbish was employed as superintendent, inventor and person in charge of "research and development". He made his move to North Brothers with the purchase of Forest City Screwdriver and Drill Company of Portland Maine in 1897. All rights for patents then would be going to North Brothers, along with all future rights.
This period from 1895 to 1897-8 was a pivotal period for North brothers as they emerged as a significant tool maker and especially focusing on ratcheting screwdrivers with this purchase. It was during this period that this whistle possibly was manufactured there. However the stamped stock could have been used some time afterwards.
At present it is monotypic. No others have been seen or recorded. There is a multiplicity of stampings including:
North Bros. MFG. CO
Phila. PA. U.S.A.
96 Nov. 2 97
9 – 00 ? 9 00
-NO
4-15
PENDING
Due to age much is difficult to read or cut off during manufacturing. It appears to be a prototype, or perhaps a onetime production. The quality of materials is high, being handmade. Yet the soldering is crude in the under strengthening.
Let's now look at the whistle itself. There is no ring for attachment of a chain or string, being completely hand held. Entirely of brass and quite large for an escargot is unusual. Note how wide the barrel is 1 5/16 (34mm) Add to this the mouthpiece and we have a unique whistle design.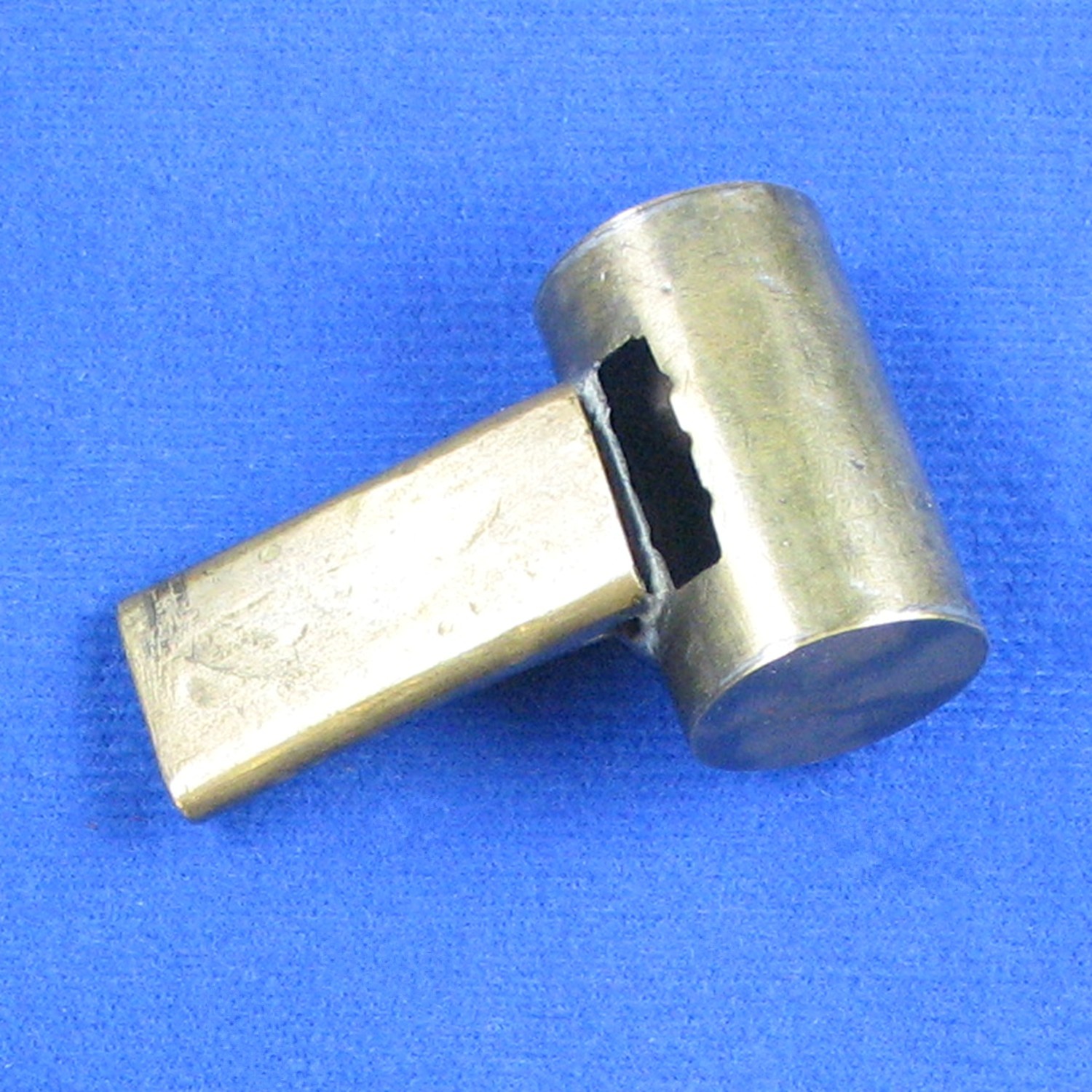 Now we note the length – 1 3/8 inches (35mm). So the barrel is almost as wide as the mouthpiece is long.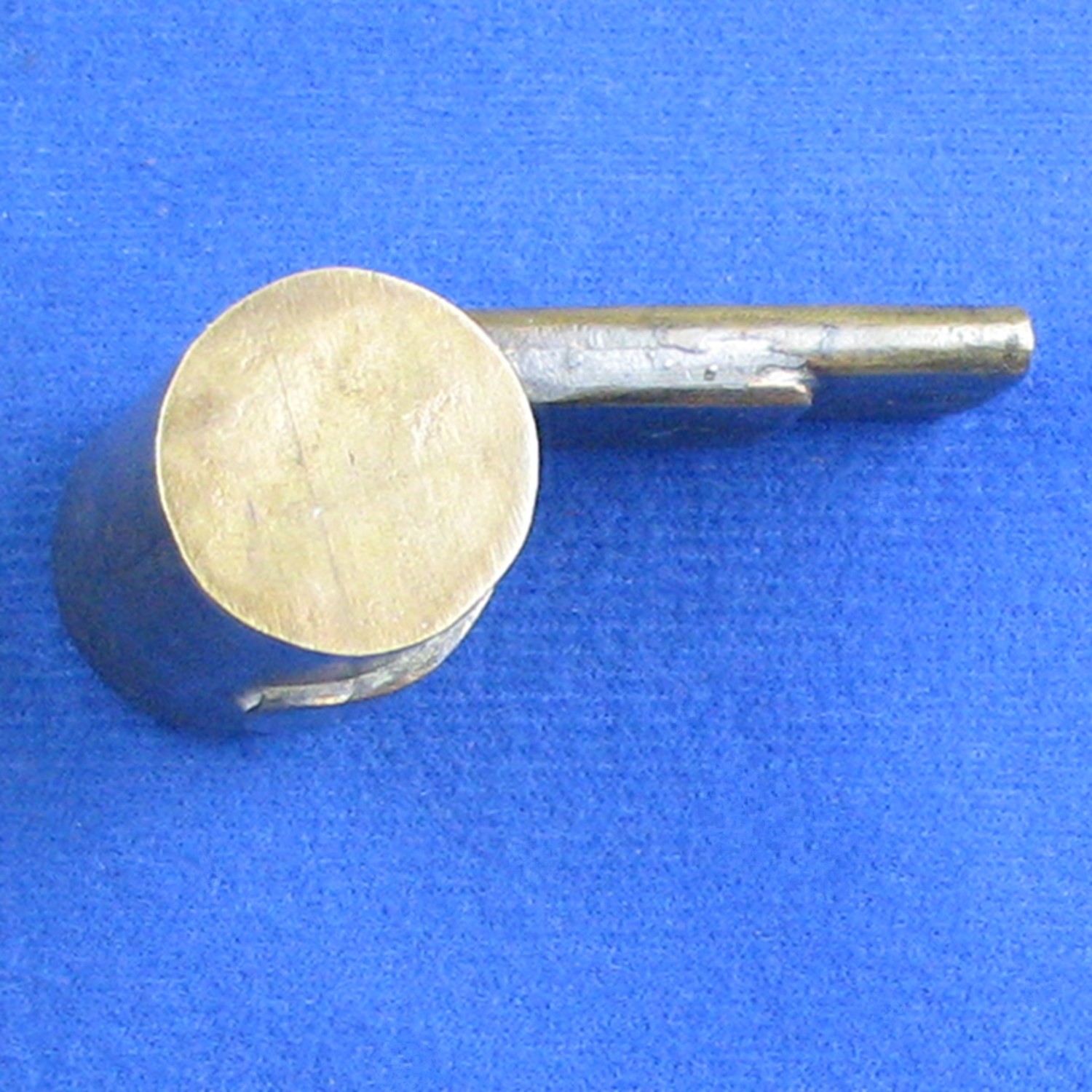 The under strengthening is extensive and heavy. Some crafting went into shaping it also.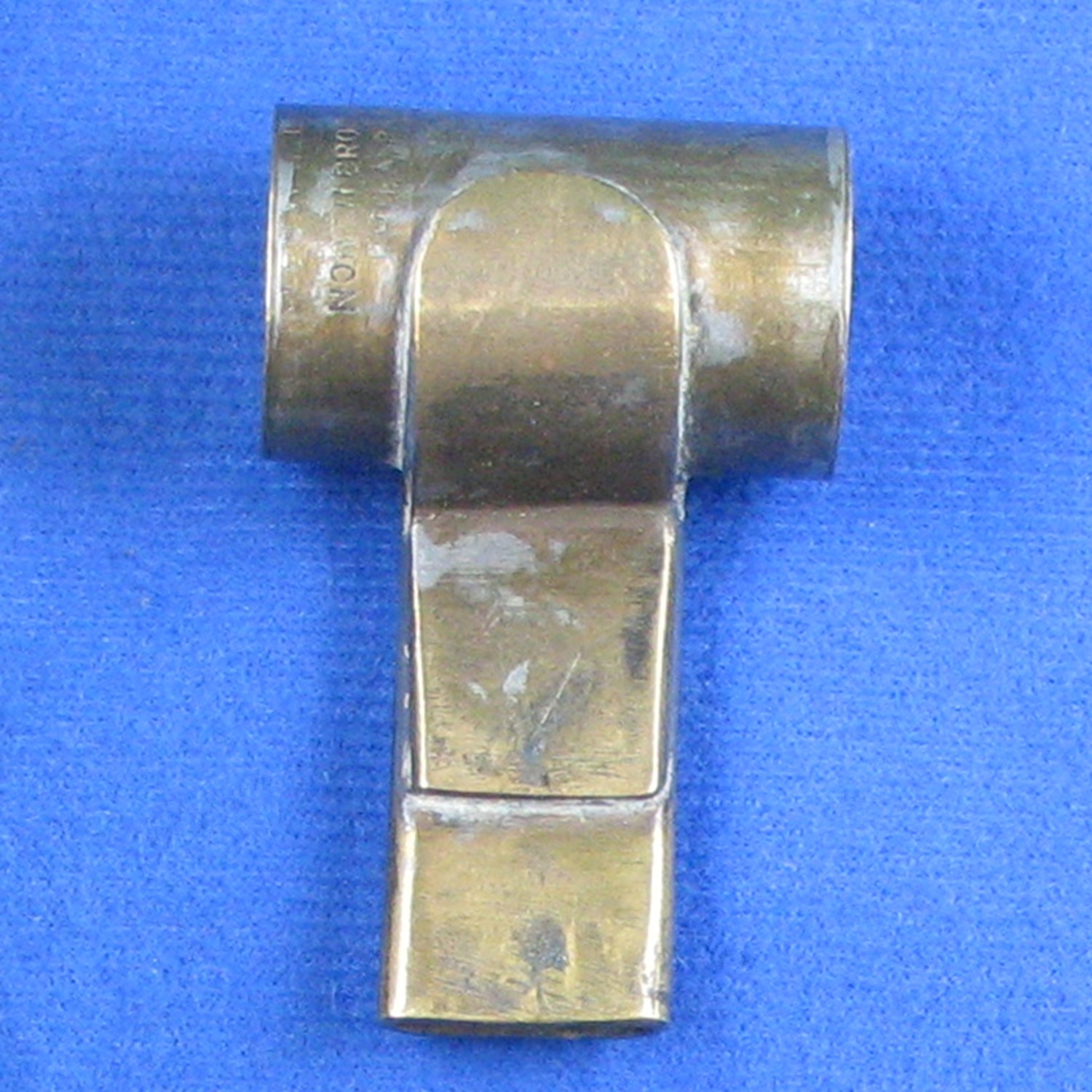 A close examination does not reveal a seam in the mouthpiece.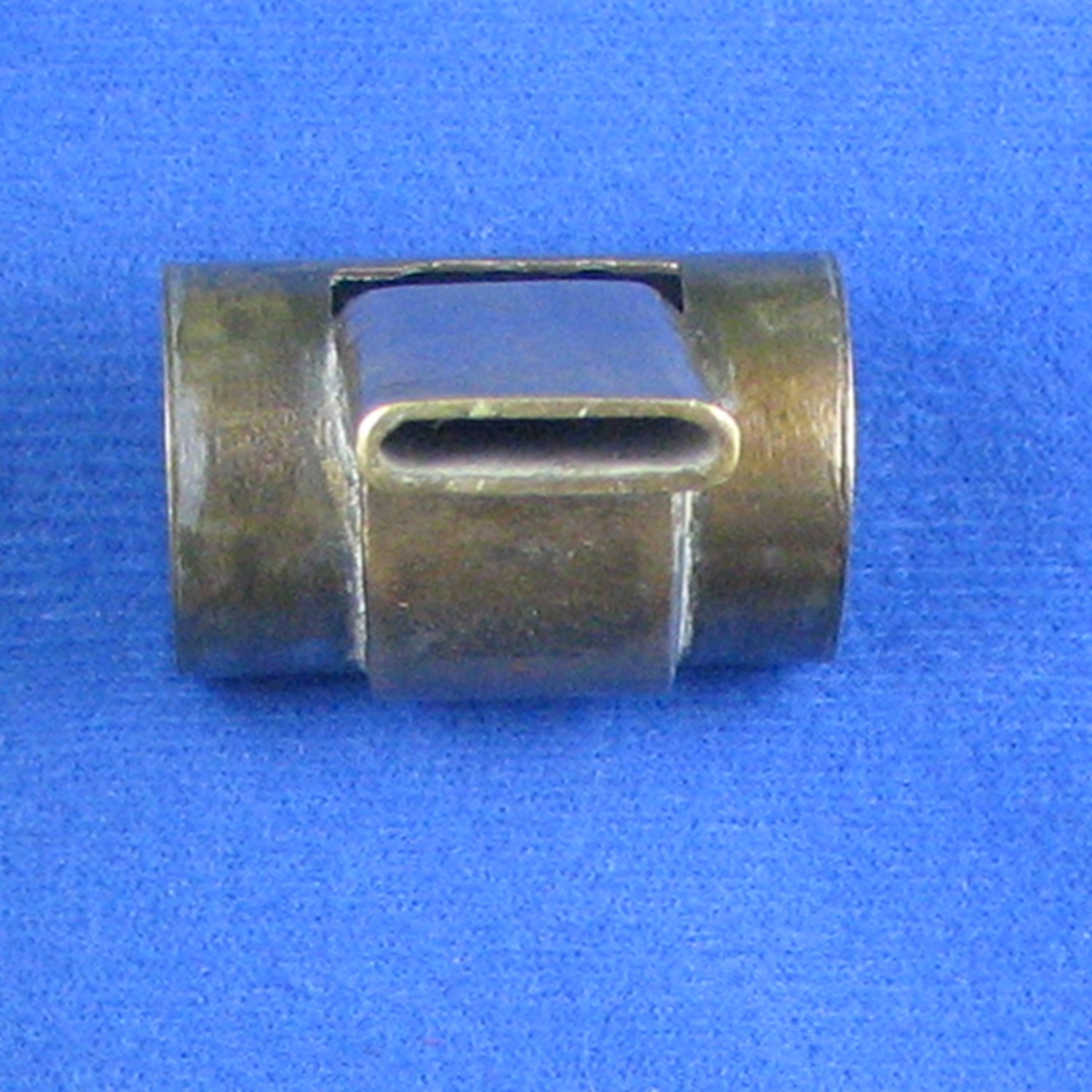 Here is some stamping in the stock used.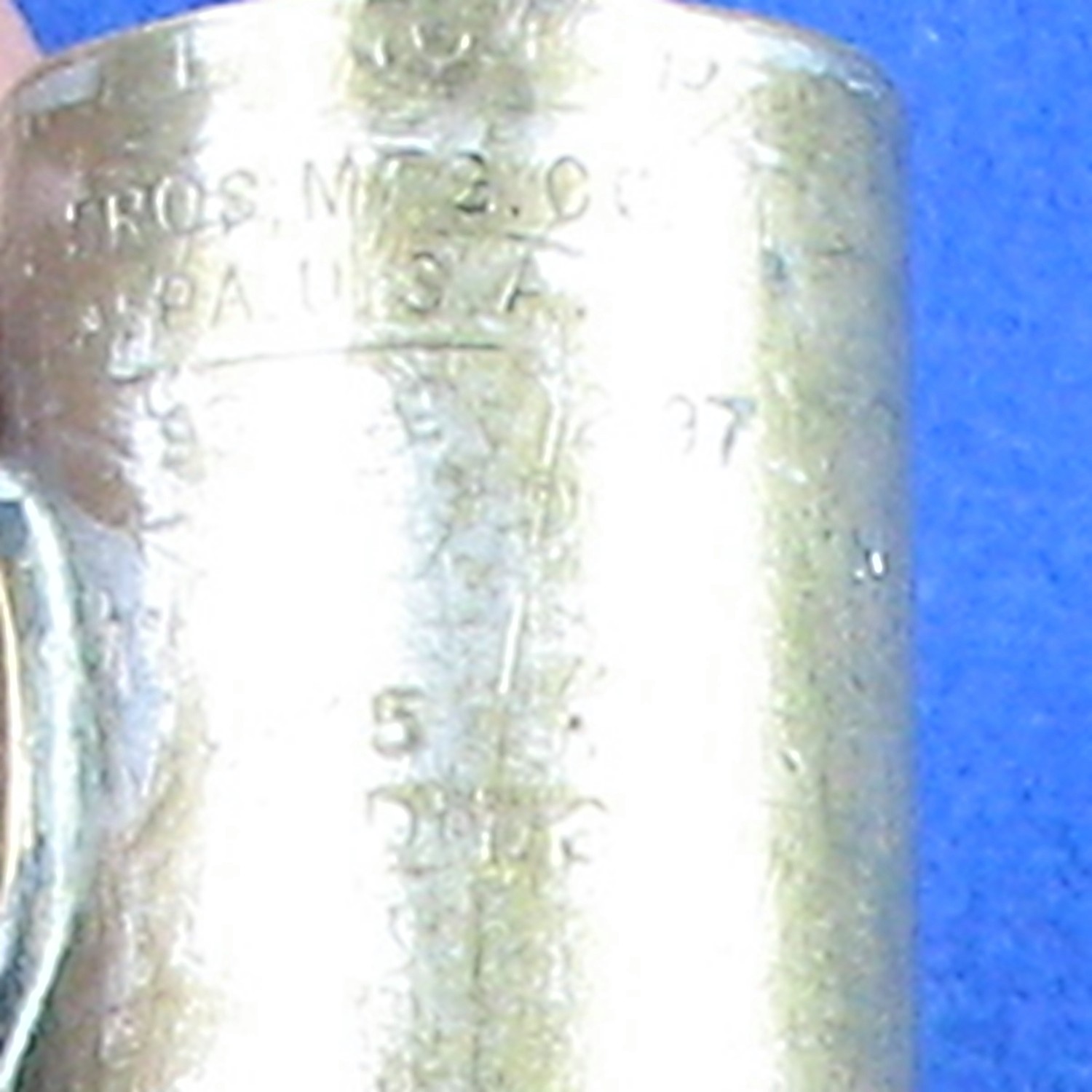 Next we zoom in on the rough cutting of the window. Drill holes were used for the cuts and then left, indicating once again that it was not made for production.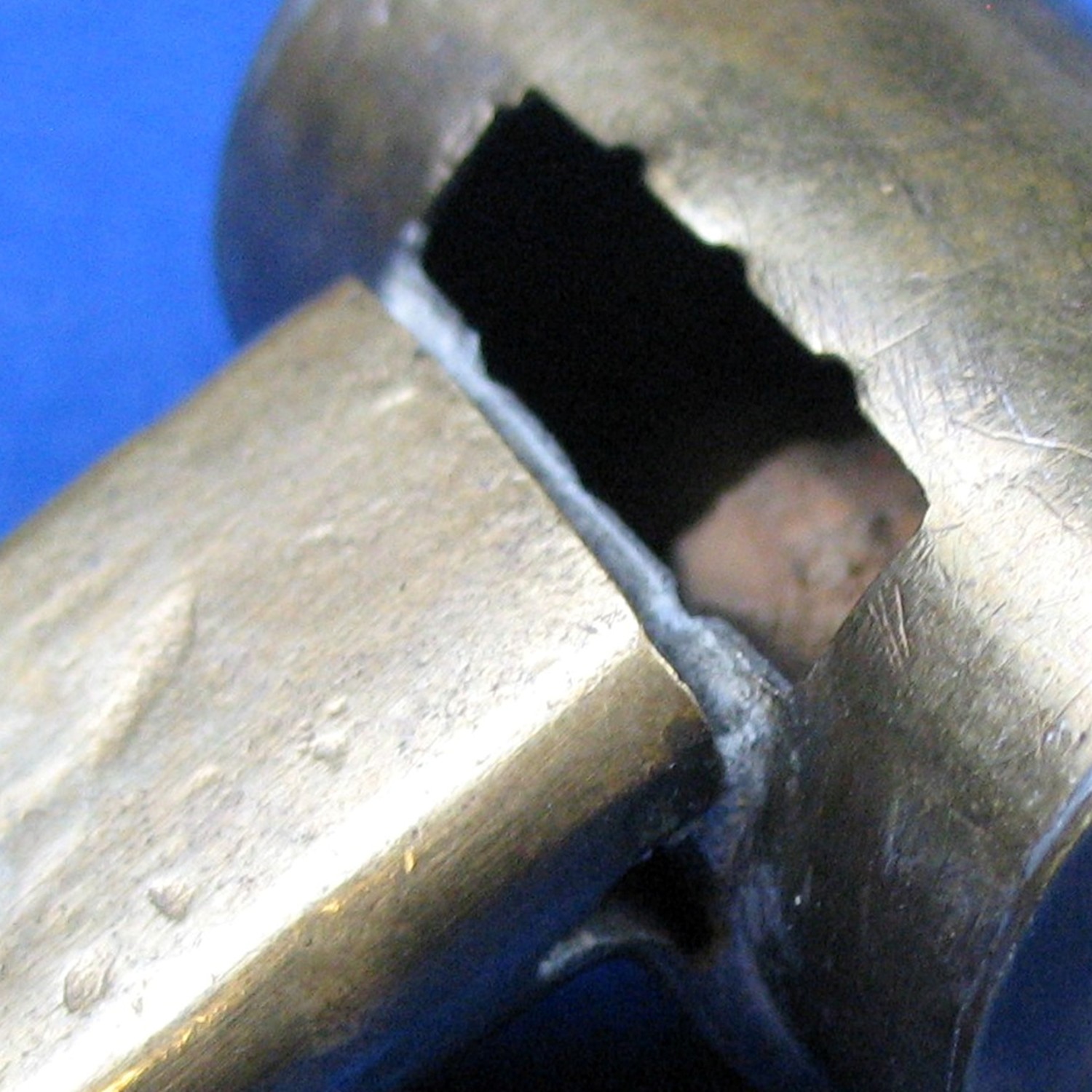 Years after finding this whistle another surfaced that is curiously close in construction and is included here for examination.
It has Winchester shell case ends.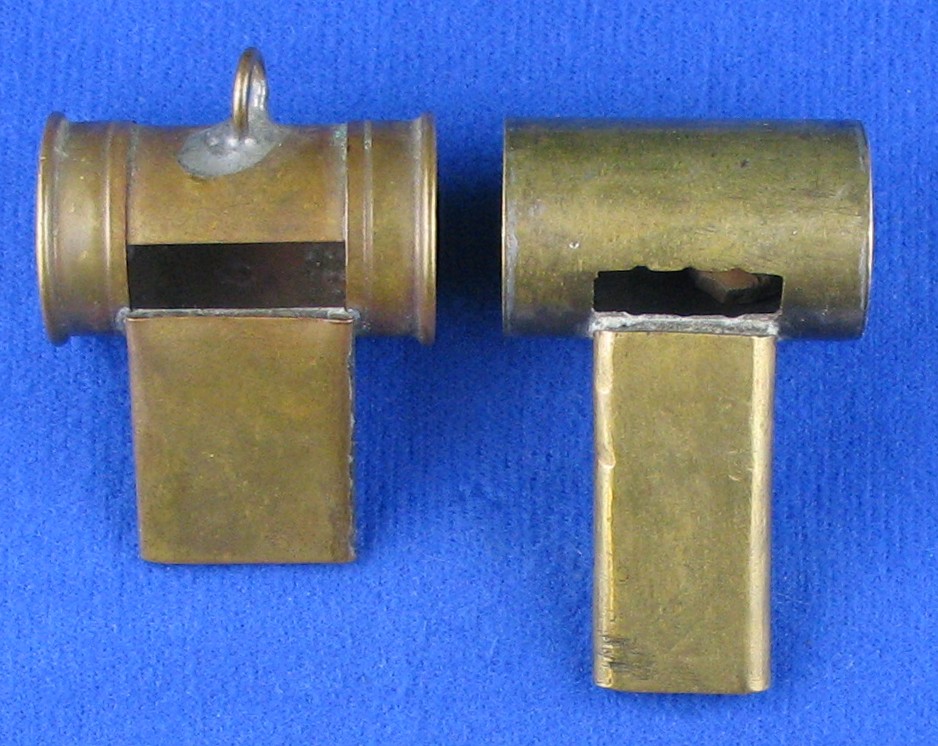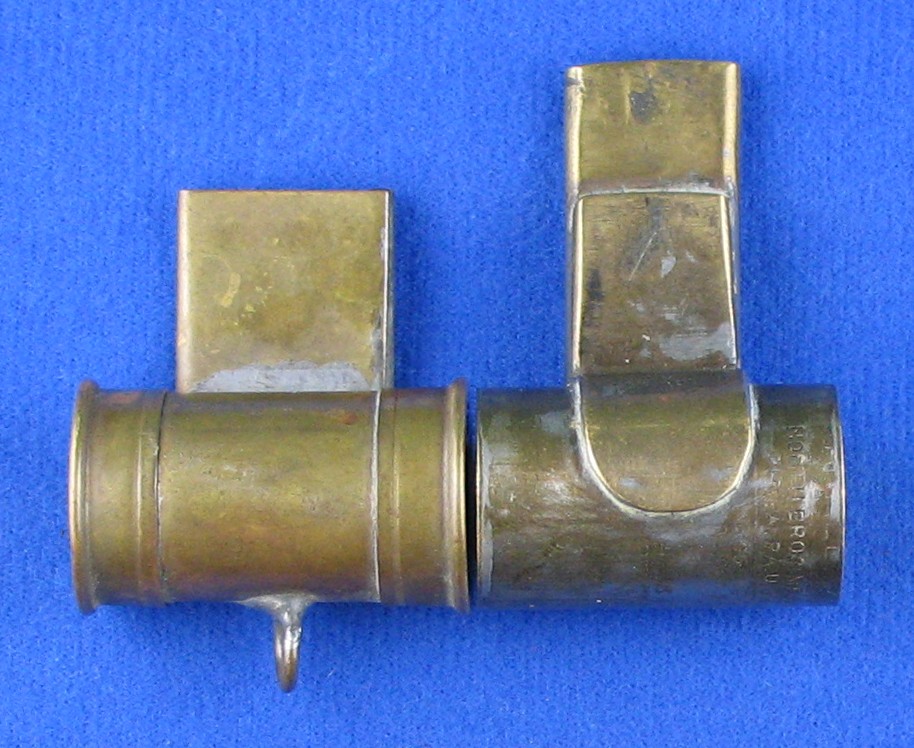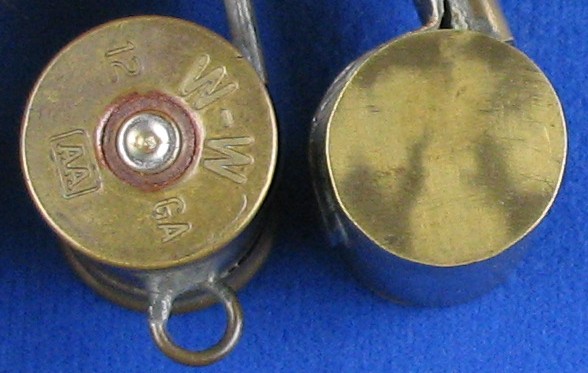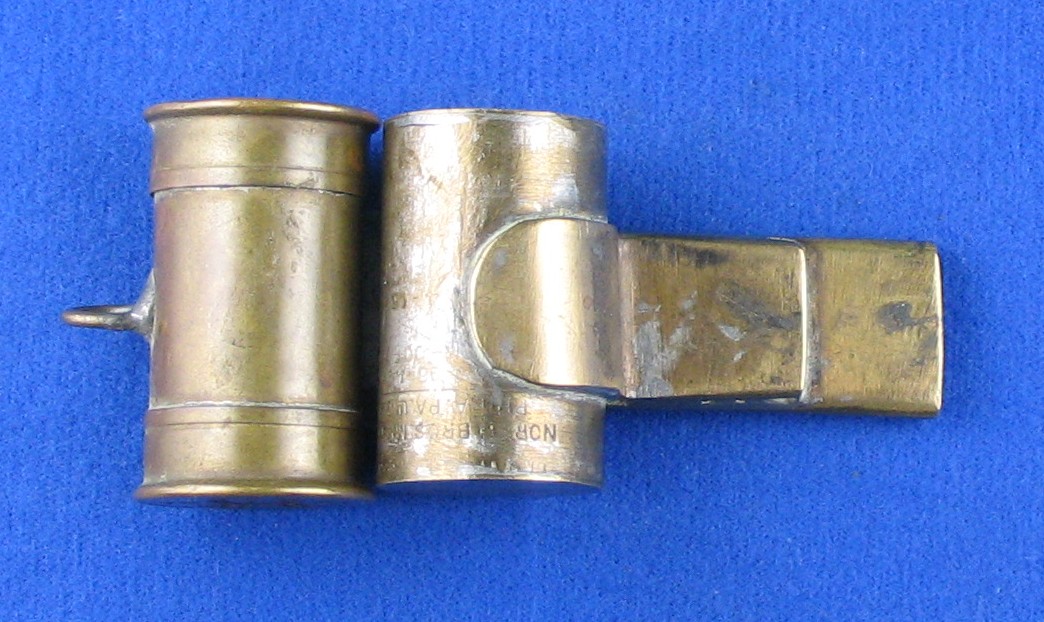 Similarities are seen in the width of the barrel as well as the diameter.
Differences are seen in that the mouthpiece has a seam, no under strengthening, length of mouthpiece and a ring for chain. The mouthpiece is wider.
The North Brothers whistle, another fine example of a USA manufactured whistle from the period preceding 1900.
-TWG
Posted June 5, 2016