Our SPOTLIGHT is on the singular whistle manufactured by the Mergott Company. It is not a singularly known whistle, but is monotypic one from them. There are several stamps to be found and all are made from the same high quality steel and designs of each match.
Most of the history has been pieced together for recording as follows:
Mergott, J. E. ( Julius Eugene, Bottenhorn Germany 1851) Company still alive 1915 at 64 but listed as a former president
J. E. Mergott
Started 1878 in Newark, New Jersey USA ( sole proprietorship )
1878 to 1888 — 19 Green street
1889 to ?? —– 10 & 12 Ward Street ( March 11, 1889 filed for certificate of incorporation )
(( 5 year gap of uncertainty. Not known when they moved to Irvington ))
1894 to 1905 ———Coit street, Irvington till 1905 fire
1906 —1950 –316 to 364 Jeliff Avenue ( sold to Fedders-Quigan )
CHRISTIAN HIERIN G ( Oct 30 1896 also ) AND ALBERT FULLER, OF IRVINGTON, NEW JERSEY, ASSIGNORS TO THE J. E. MERGOTT COMPANY, OF NEW JERSEY.-1897 patent
Link for Irvington 1894: CLICK HERE
The following is a helpful link to the history recorded by Newark N.J. research of industry: CLICK HERE
Although JEMCO was not in any way dedicated to making whistles, finding one page revealing a whistle made is a success for whistle collectors. It appears that Mergott made steel skeleton whistles of a unique model. We have seen four different stamps so far and hope to record more for this article. We will edit as such occurs.
1) It's Jersey Ice Cream you're blowing about
2) Hawkeye Tires Hawkeye tire and rubber company Manufacturers Des Moines, Iowa
3) Trenton Fair Sept. 29-30-Oct. 1-2-3-4 1924
4) Drink Whistle trade mark Reg.
At 2 inches ( 51mm ) long and 1 inch ( 25mm ) wide, the JEMCO skeleton is larger than most skeletons.
It is well made for a steel whistle, having two ribs on the outer edges that continue around the barrel and onto the extended mouthpiece giving it under strengthening.
The mouthpiece even has a half lip guard, that being one on the bottom.
The JEMCO stamp has not been seen yet on this whistle, but is being looked for. Mergott also had a logo that may have been used on some of their whistles.
Here is an example of model 1256 from a 1912 catalog ( Courtesy of Andrew Denes. ) Being steel they are subject to rust, but made well enough to have survived.
Note the size difference compared to typical silver skeletons.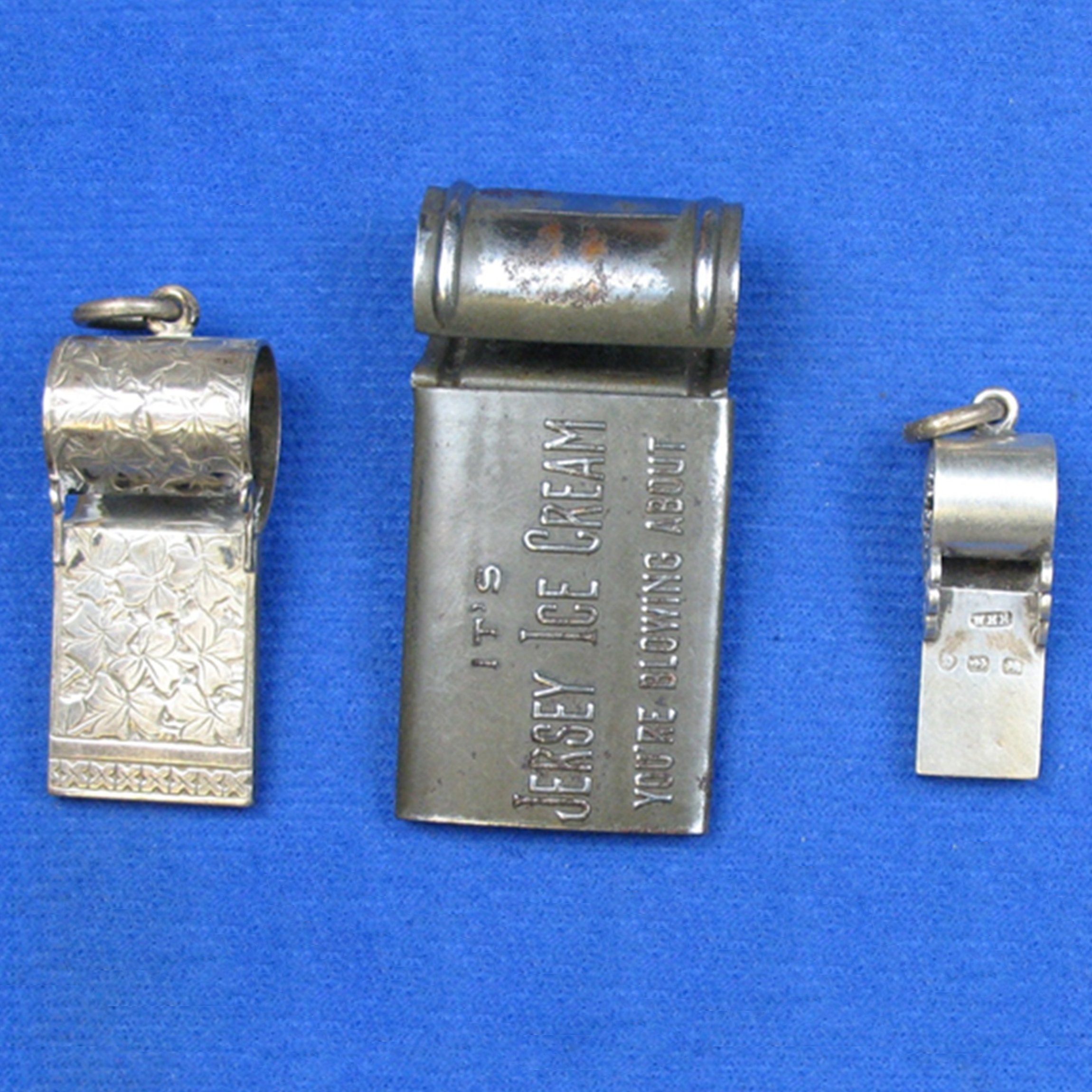 Although this has been a brief look at this manufacturer, it can be rewarding to place vintage whistles in the stream of time and we hope you have enjoyed this small insight.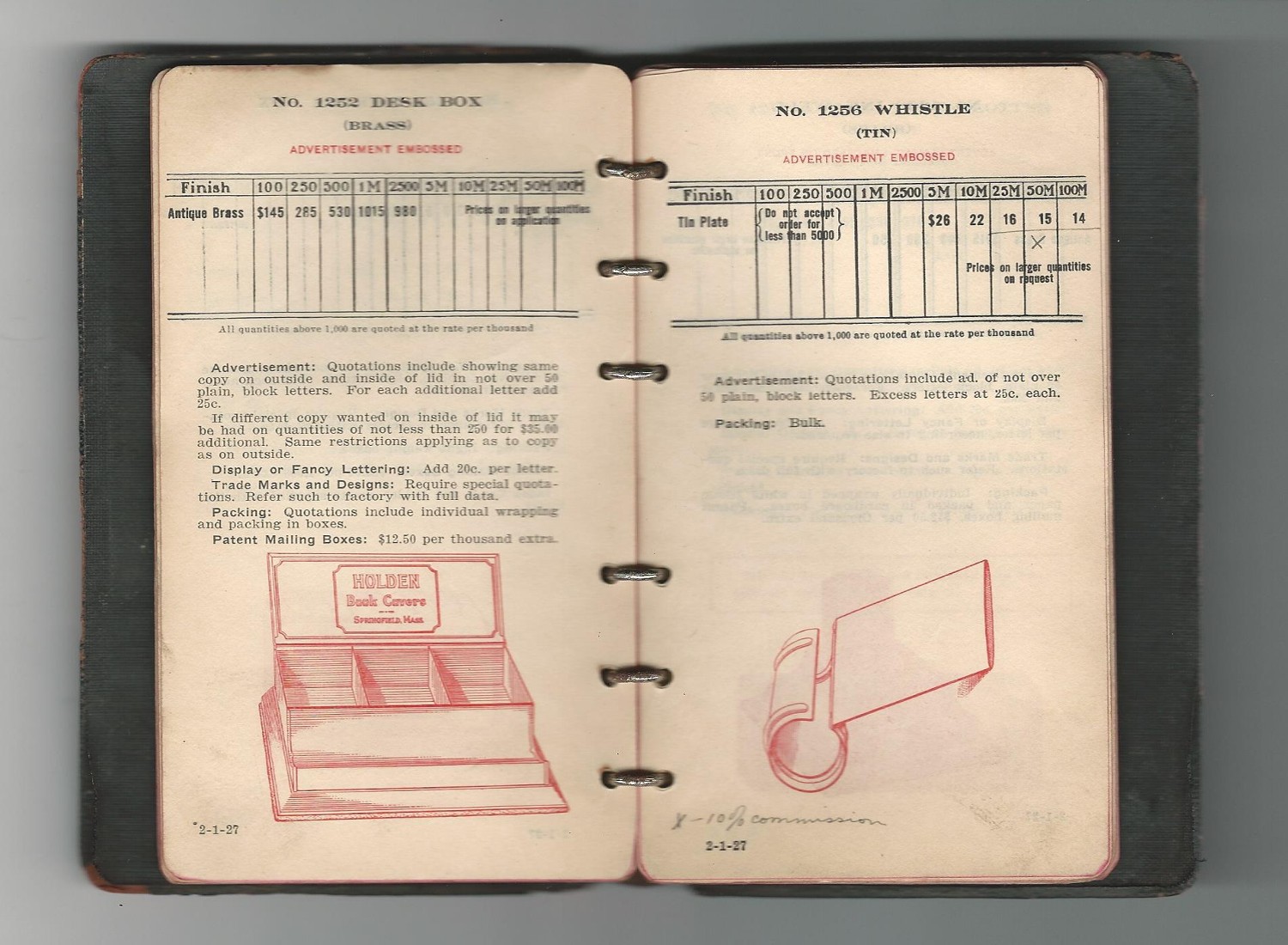 Catalog presented courtesy of Andrew Denes collection.
-TWG
Posted 04/09/2017