Spotlight > Specific Manufacturer > United States > Colsoff

Special thanks to :
Jean Savoia ( grand daughter of Harold Klien and daughter of James Casias )
'Sometime prior to 1955 my grandfather ( Harold Klien ) was approached to help in the design and production ( including machinery ) of the brass metal whistle. Then in 1955 we acquired the company from the founders widow and officially named it Colsoff Whistle Company. Colsoff stands for Columbus Official….'
Colsoff whistles ( Columbia Official ) are a good example of what whistle research is all about. They existed from the 1950s to the 1980s ( three decades ) and contributed two whistles to American whistle making and history. These include the model 300 for the smaller one and model 400 for the larger. In the process of starting a company from scratch, they produced some variations along the way including widow sizes and stamps but most exclusively to the knops they developed on their escargots. Some attention is due to the interlocking teeth on the early model 300s
In the process of selling to and becoming the American Whistle Company, there may have been some overlap of production with the name Colsoff still stamped on the whistles made post 1984-7. — 'Casias stayed on as a consultant, and workers videotaped him making whistles to use in training – Vindycom The Valleys News 5/26/3013
A window change and knop in model 400 appears to have occurred before 1967 and that 'knop' continues to be used, although the 400 series stopped being advertised at some point thereafter. Today model 400 does not show on the website advertisements for the American Whistle Company.
Records for the post sale period reveal that at Colsoff's turnover they had 26 employees and were making 70,000 whistles ( 1987 ). Remarkably they had survived as a family owned business through the 50's, 60's 70's and early 80's. However upgraded technology and competition from overseas would force them out of business and also compel American Whistles to cut their labor by 65% — with adaptations for machinery and robotics resulting in far less employees.
Production records for Colsoff have not been made available. However the first year of production by The American Whistle Company reflects where they were, when taken over. Giesse reports his first order was 5000 whistles. Under Giesse's watch, the company has grown from producing about 70,000 whistles in the first year to approximately 1 million traditional and custom whistles per year. Giesse is the company's president and chief executive, and his wife, Diane Serraglio, is vice president. – Valley News
"At one time, we had 26 employees working three shifts, and I was losing my shirt. As we've developed ways of making a better quality product and more of it, we've been able to reduce that to nine employees on one shift," Giesse said.—2005 http://www.bizjournals.com/columbus/stories/2005/07/04/smallb1.html
Of course this was already the case for Colsoff. Machines, presses, robotics have been necessary from the inception says Jean . — "We had a 20 ton press to stamp out the two pieces of the whistle. A smaller 5 ton press to finish the forming of the two pieces and stamp the logo into the top section. All other machines used in the production were custom designed and built by the company." — Jean Savoia
Harold Klien's daughter ( Martha ) married James Casias. They together, all founded the business and ran it, along with their son Harold Casias. It would grow to 26 employees at its peak. Much of the information here is due to Harold Klien's granddaughter Jean Savoia.
Colsoff whistles are still available today in subtle variations. One has to hunt for the more obscure ones. Two window types in model 400 have been found ( designated windows A– shorter and B- taller ) In the midst of these lies a curious ACME stamped model 400 with window A. It has a unique pillar knop. There is no tooth grip pressed out on the bottom of the mouthpiece only on top and it is chrome plated over brass instead of nickel. However it is very close to window A.
Model 300 mouthpiece is tapered and model 400 is straight. Both are 'London' type escargots as named by Gilchrist from the UK – More Whistles. Two types of pillar tops are seen on both models 300 and 400.
Among the model 400s there is a unique top ring reminiscent of Gotham Metal Works signature flat knop, yet it is more crafted. Only two have been seen, perhaps indicating it was part of the earliest production efforts, none have been seen used on the model 300. A straight strap top has been found on a model 300 that has not been found matching on a model 400. Matching knops have been seen on each of the other models as follows:
Round knop
wide pillar
thin pillar
short knop ( angled edges )
Colsoff whistles are an important contribution to whistle history. All the hallmarks of study are there, including company history, models, and variations in over three decades. Uses included sports mainly, as they do today, but also police work, firemen and the general public, especially marketed for safety.

AddressES : ( years stated are estimated from internet records, catalogs, Jean Savoia's records )
1955-6 — 5th avenue Columbus, Ohio ( founded )
1959-71 –6400 Huntly Road Worthington, Ohio
1971- 87- 6540 Huntly Road Worthington, Ohio
1984 – sold to Giesse Sept ( Jean Savoia )
1987 —— sold to Ray Giesse & Craig Hilgendorf ( Incorporated )
1996 –—- Giesse becomes sole proprietor for American Whistles )
1957-87 – –2959 Beuloh Road Columbus 24, Ohio — Colsoff Horn Company ( H.L.Klein Manuf. Comp.
subchapter S corporation
Original staff:
Harold L. Klien ( owner and CEO )
James Casias ( son-in-law, vice president, manager )
Martha Casias ( wife & secretary )
Harold Casias ( son, plant manager )
a catalog with a postal date for Feb. 1, 1967 lists the following :
model 300 smaller escargot ( still manufactured today )
model 400 larger escargot 2 sizes of escargots with model numbers #300 and #400 ( we have each here ) model 300f smaller finger ring referee
model 400f larger finger ring referee
Also, N-40 for a flat pocket whistle, escargot ( n-60 ½ ) duck calls, dog whistle – all made by acme. horns #101.101F,101W
Stamps:
Colsoff USA
Colsoff Made in USA
Colsoff Col, Ohio USA
Coca Cola
Edgewater ( not seen yet, but listed by Jean Savoia )
Worthington Jaycees Colsoff Whistle
Frankfort USA
MacGreggor USA
Best Made in USA ( American Whistle Company ? )
ACME ( possibly Colsoff )
Whistle Stop ( Colsoff back stamped underside of mouthpiece )
http://www.bizjournals.com/columbus/stories/2005/07/04/smallb1.html
*****Special thanks to Dan Shouse whose research was indispensable to this article !! ******
The short knop was in use by 1967, apparently all the other knops were used and stopped within that 11 year period. How much early this last change occurred is not known.
Below is a suggested progression of model 400 escargots with varying knops. The ring knop is first and somewhat difficult to find. They are set in the progressive order they are in for study purposes only. The round knop and pillar top knop both progress to the unusual ACME. Then the second size pillar top and lastly the short knop used to this day at American Whistles. A 1967 catalog displays the 300 and 400 models both with the short knop already designed and being used before the sale of Colsoff whistles.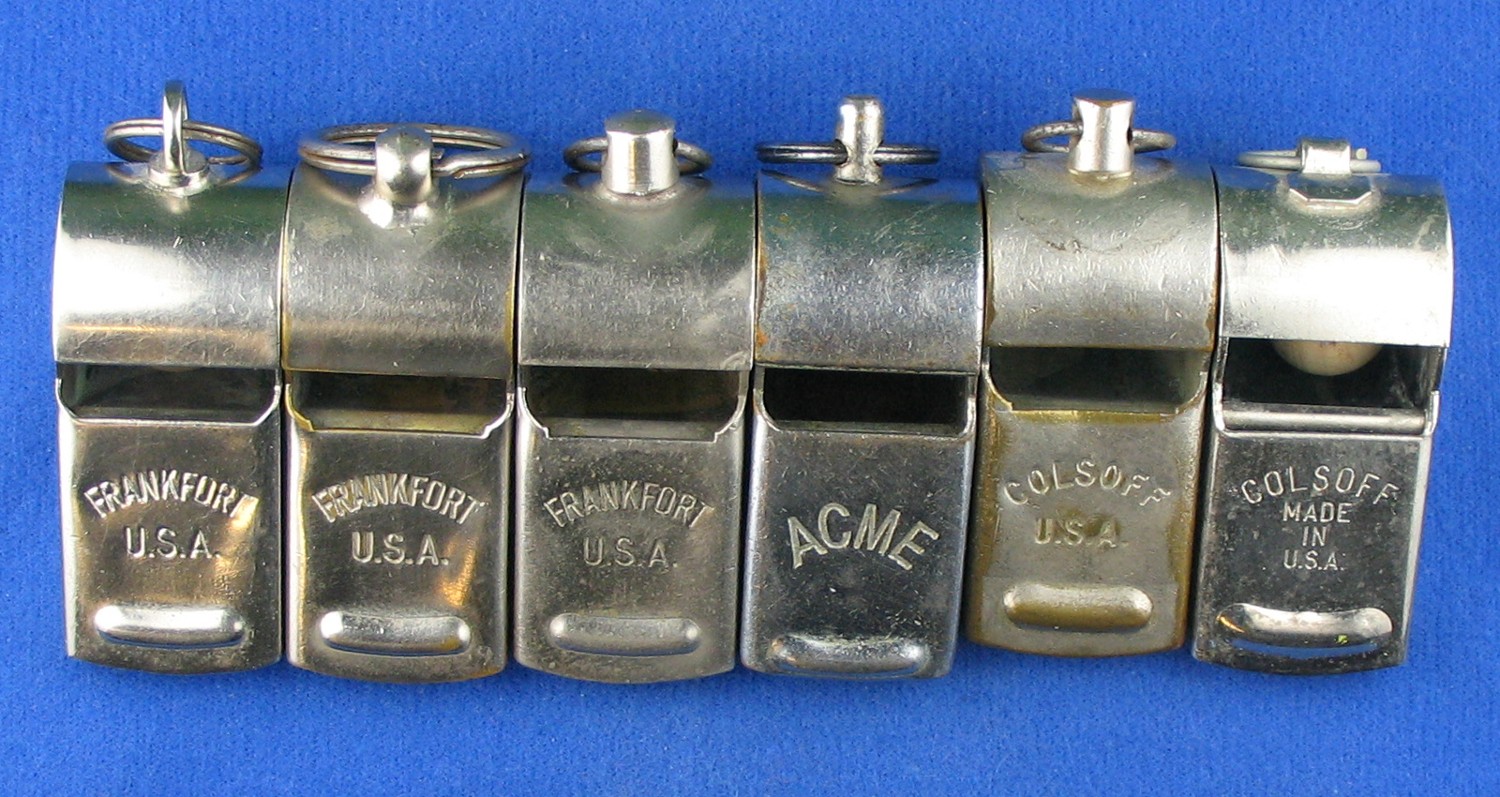 Note window A ( short ) on the first 5 whistles left to right and the last Colsoff whistle has window B ( tall ) which Colsoff changed to prior to 1967 – within 11 years of starting the company. The ACME stamped whistle was possibly made by Colsoff and is not stamped USA or Made in USA. Its window is slightly varied as is also the tooth-grips and pillar top.
Model 300 displays the corresponding tops but lacks the unique ring top of the first model 400. Early Colsoff whistles ( model 300 only ) also incorporated interlocking teeth on the edges to connect with the same into the mouthpieces. This feature was left off some time before 1967 as can only be found on pillar or round knop whistles.
Matching up knops is a challenge. A Frankfort model 400 is still being sought, however in researching this article a continuous stream of variations have come to light.
Addendums will no doubt be added to the end of the article as more come to light. This particular article has taken many years to compile. Unlike most articles the cost has not been excessive due to the rather less expensive whistles ( by comparison certain rare whistles have cost more than the total cost of putting together this one article !! )
Duplicates:
After continued searching a matching straight ( strap ) short knop has been found in the models 300 and 400 although not matching stamps. Here is the model 300 and 400 side by side below.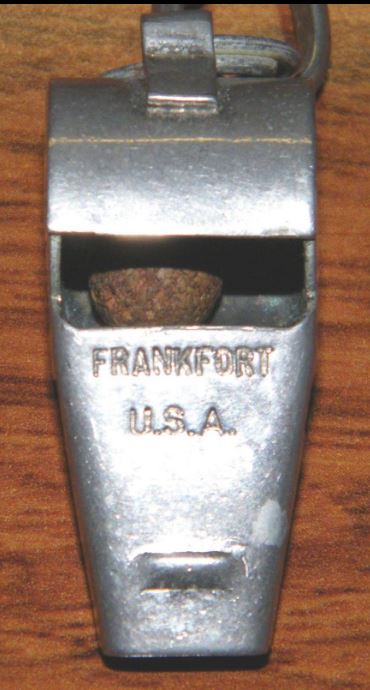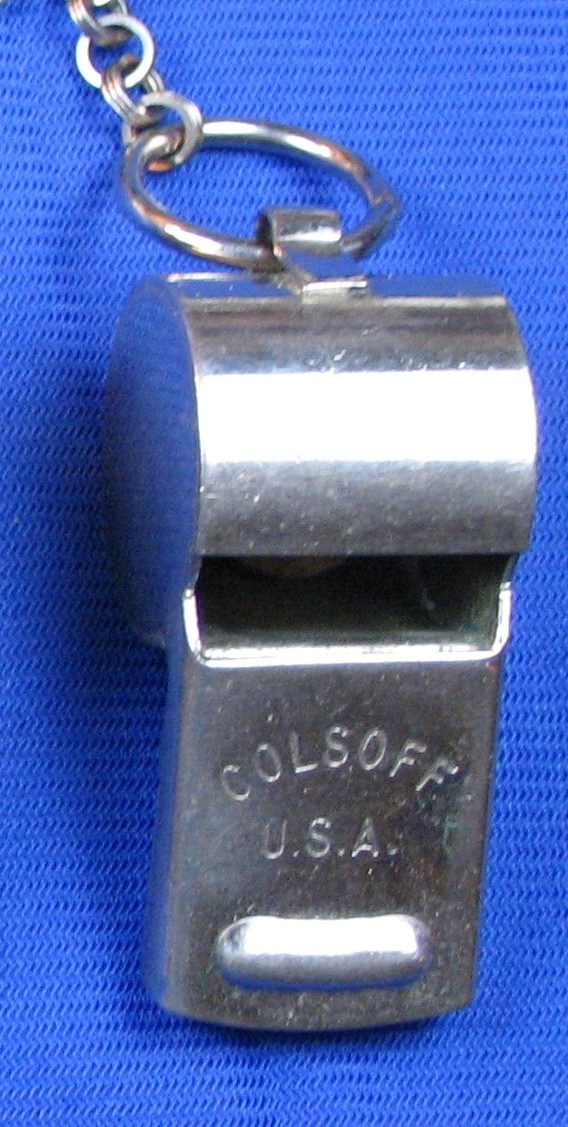 ( Picture contributed with permission )
The differences are:
Smaller model
Tapered mouthpiece
Interlocking teeth ( found on pillar or round knops only )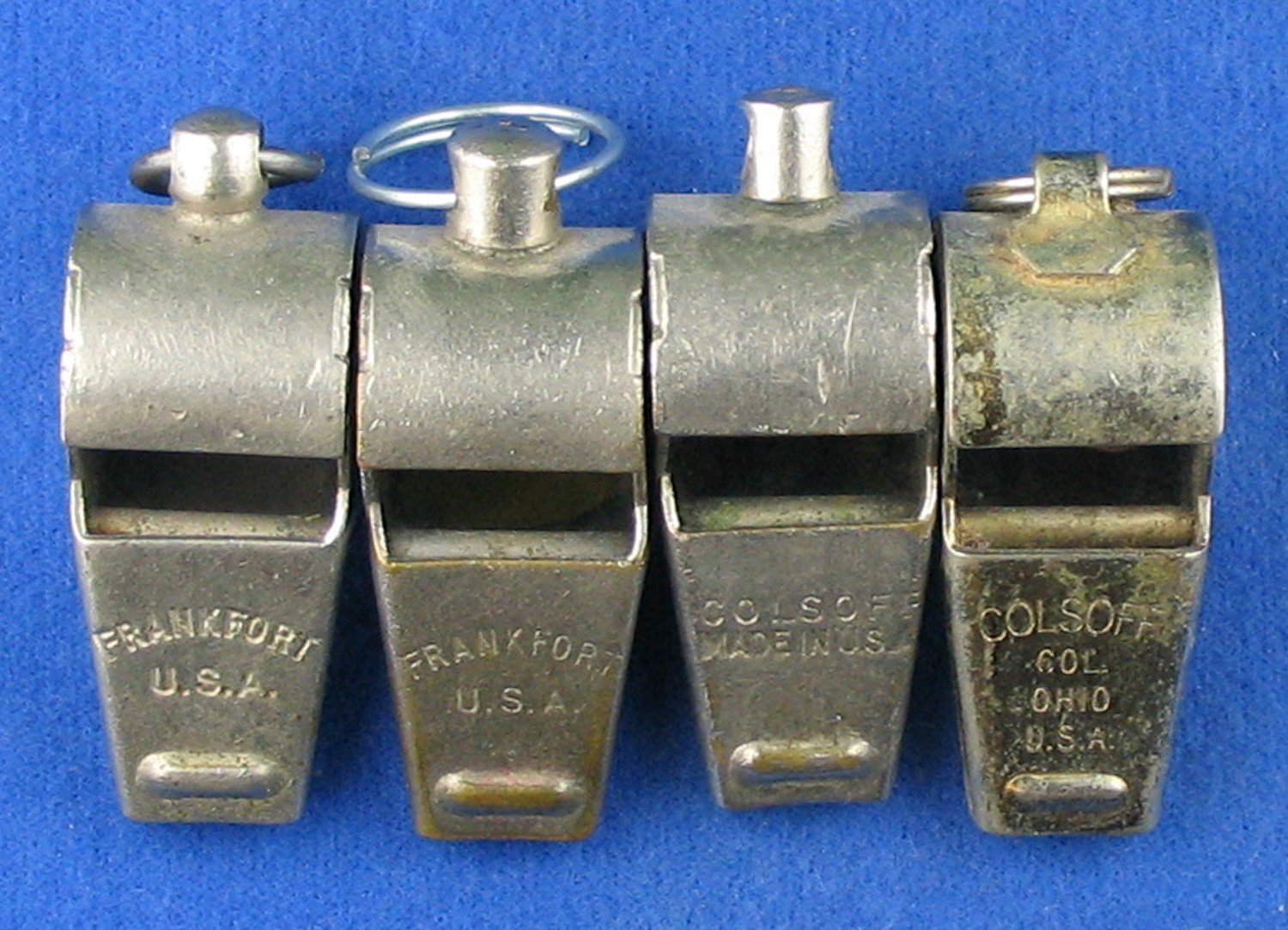 Basically two interlocking teeth on the sides are used, but also reinforcing the mouthpiece as seen here of each.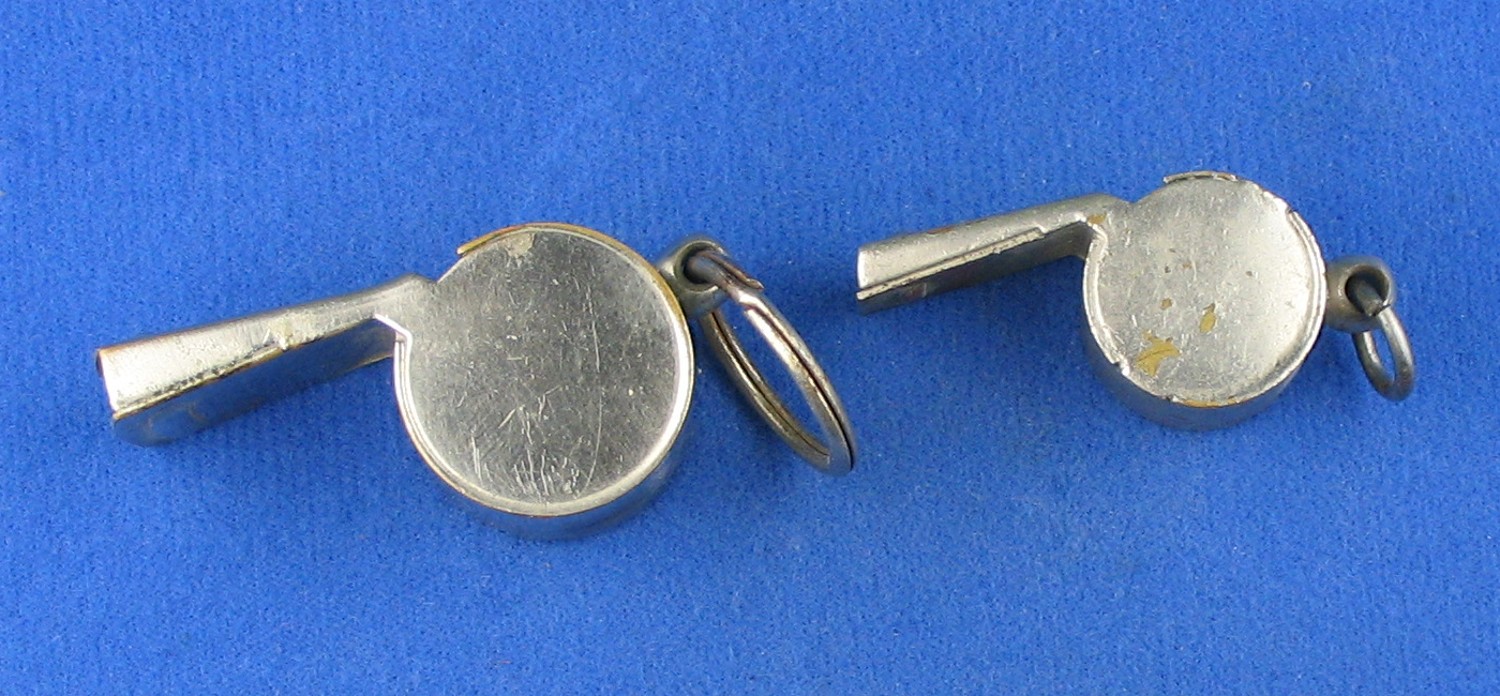 The MacGregor stamped whistle matches the Colsoff in every way and looks to be older. The chain definitely predates the sale date 1987 to American Whistles. However a chain is not a reliable method. The metal used is older also and the tooth grip on the top/bottom match to the TYPE A window Colsoff rather than the TYPE B window later. Therefore we would date it prior to the sale and would be a Colsoff made whistle.
The following Best stamp may have been made by American Whistles and looks to be newer. It has much better nickel plating. However it has window B and matches Colsoff except for the top tooth grip which is slightly larger.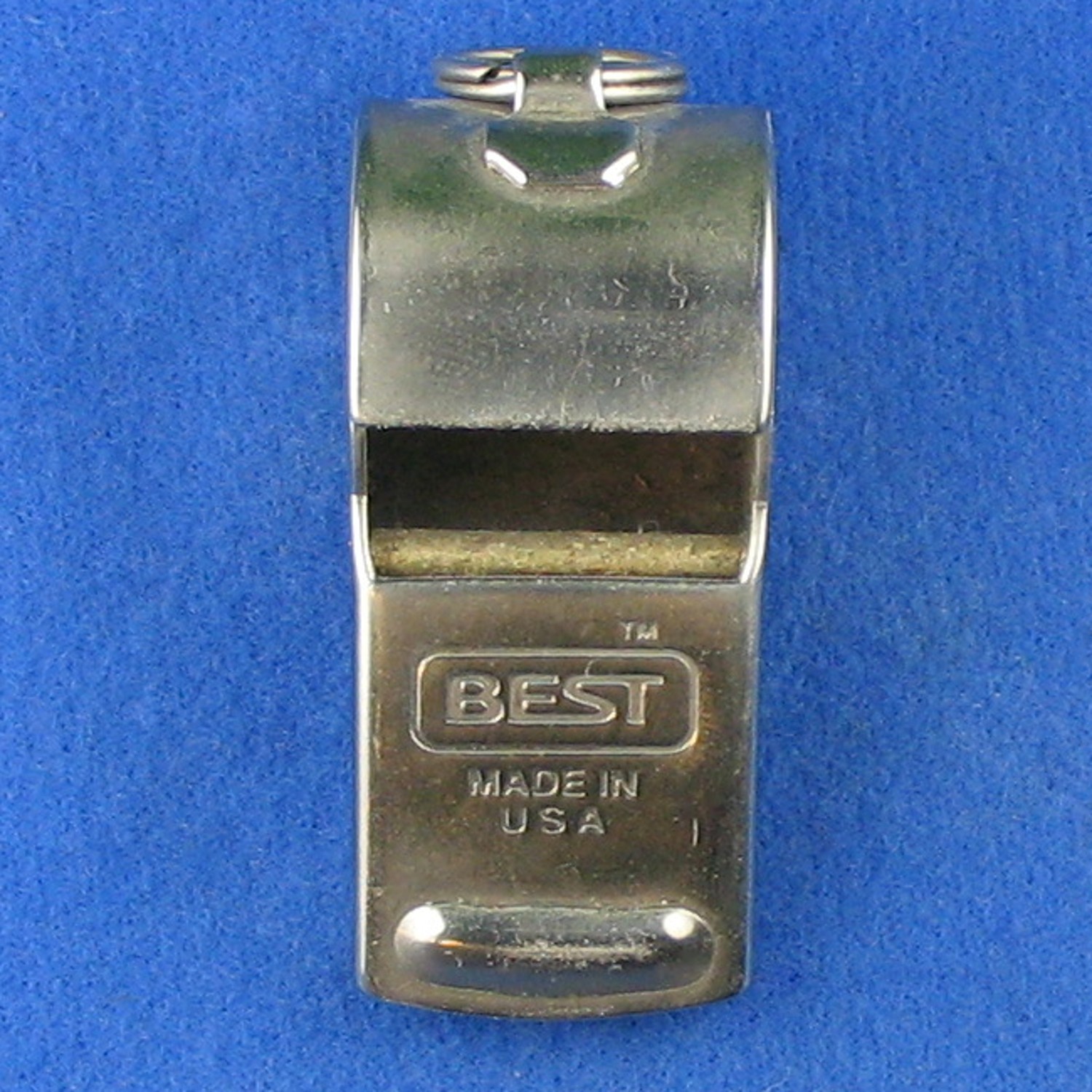 Also found is the following Jaycee made by Colsoff for Worthington. And Frankfort with a newer top.
Here we have two variations of the Frankfort stamps. These vary from the earlier and make up three stamp variations. Colsoff stamps have been found with two variations in the model 300s. The only variations noted in the model 400 whistles are Colsoff MADE IN USA and Colsoff USA. Likely more will surface now that they are in the SPOTLIGHT.
One notes the difference in the two short knops. The earlier appears with a straight strap and the second with the typical later angle edge strap application.
This has become a hallmark for identifying Colsoff and American Whistle Companies whistles to this day.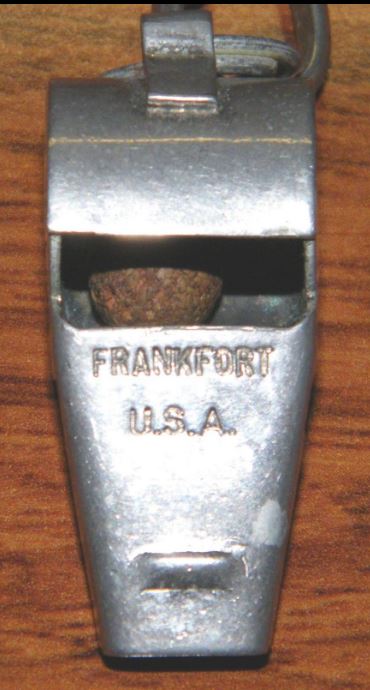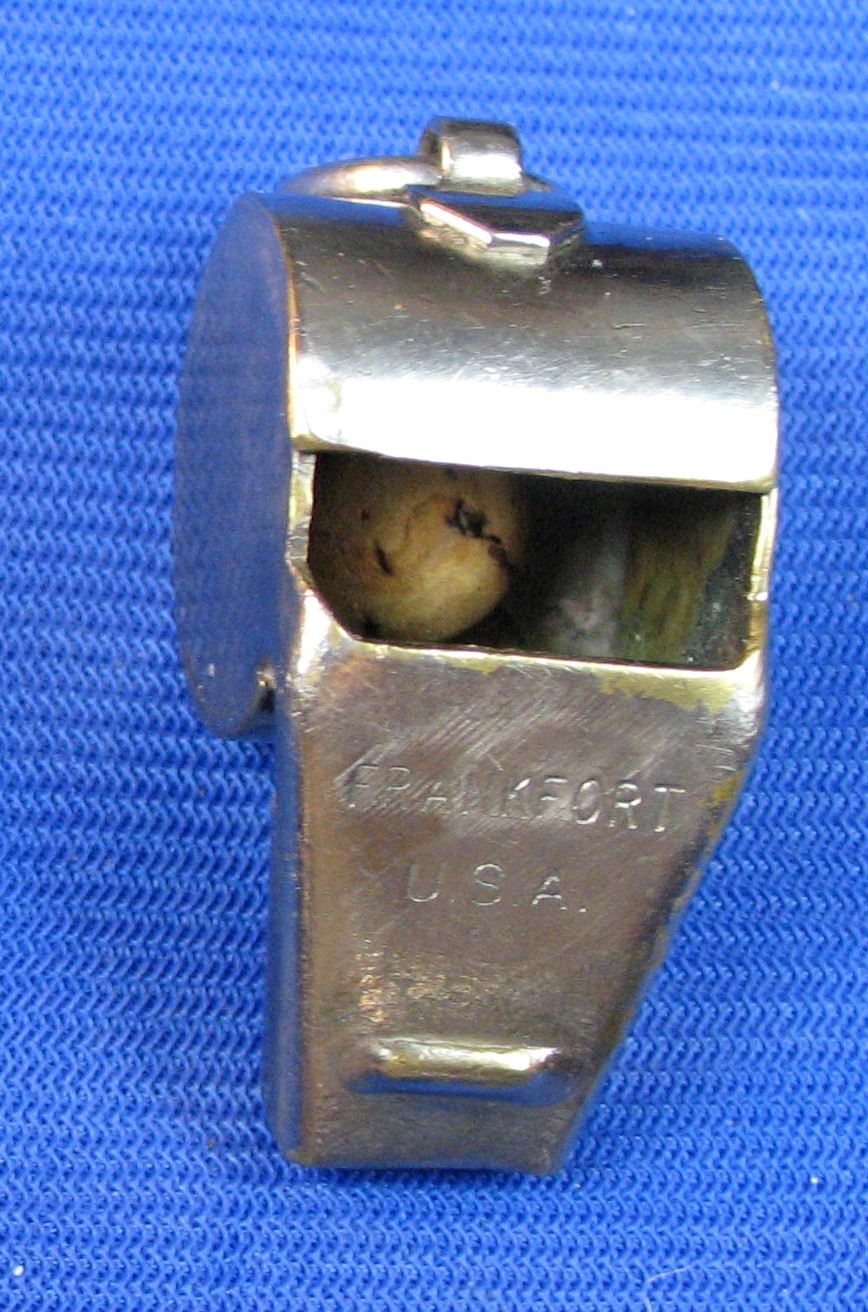 ( Picture contributed with permission )
As early and rustic as these two Frankfort escargots appear, it is noted that there are no interlocking teeth on either model 300 whistles. There is no knowledge that interlocking teeth were the earliest efforts at production, however the modified tops that eventually became a standard do not have interlocking teeth. This leads to the possibility that the round and pillar tops were earlier efforts..
This model 300 Frankfort looks to be very early in production, yet lacks the interlocking teeth. On the other hand it may have been an early effort to perfect the strap knop, later an eight sided shaped base that would become their hallmark, perhaps following the round and pillar knops used with interlocking teeth designs in the model 300s.
Subsequently the interlocking teeth were early in production and then dropped during that first decade of manufacturing.
The two pictured above reflect a transitional period.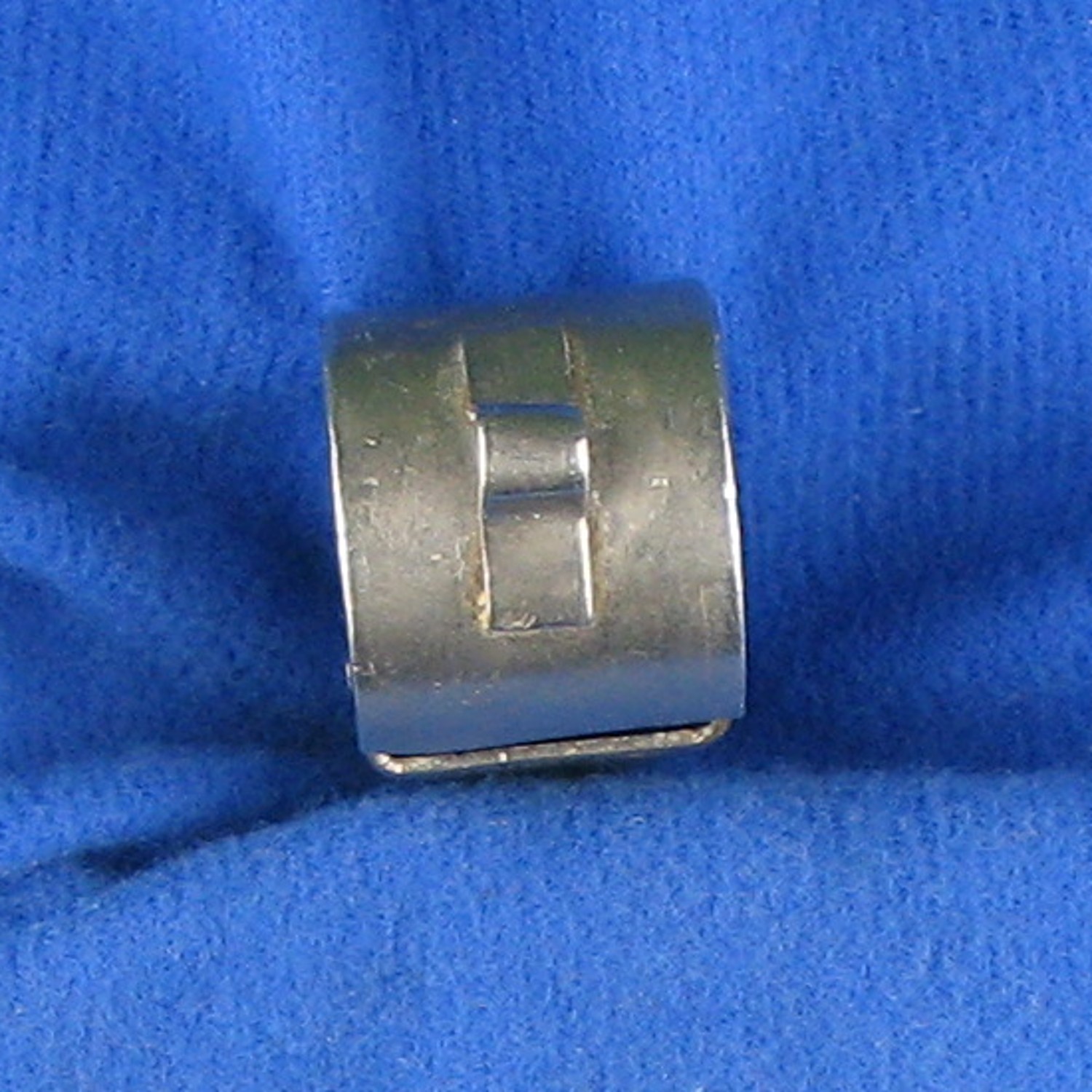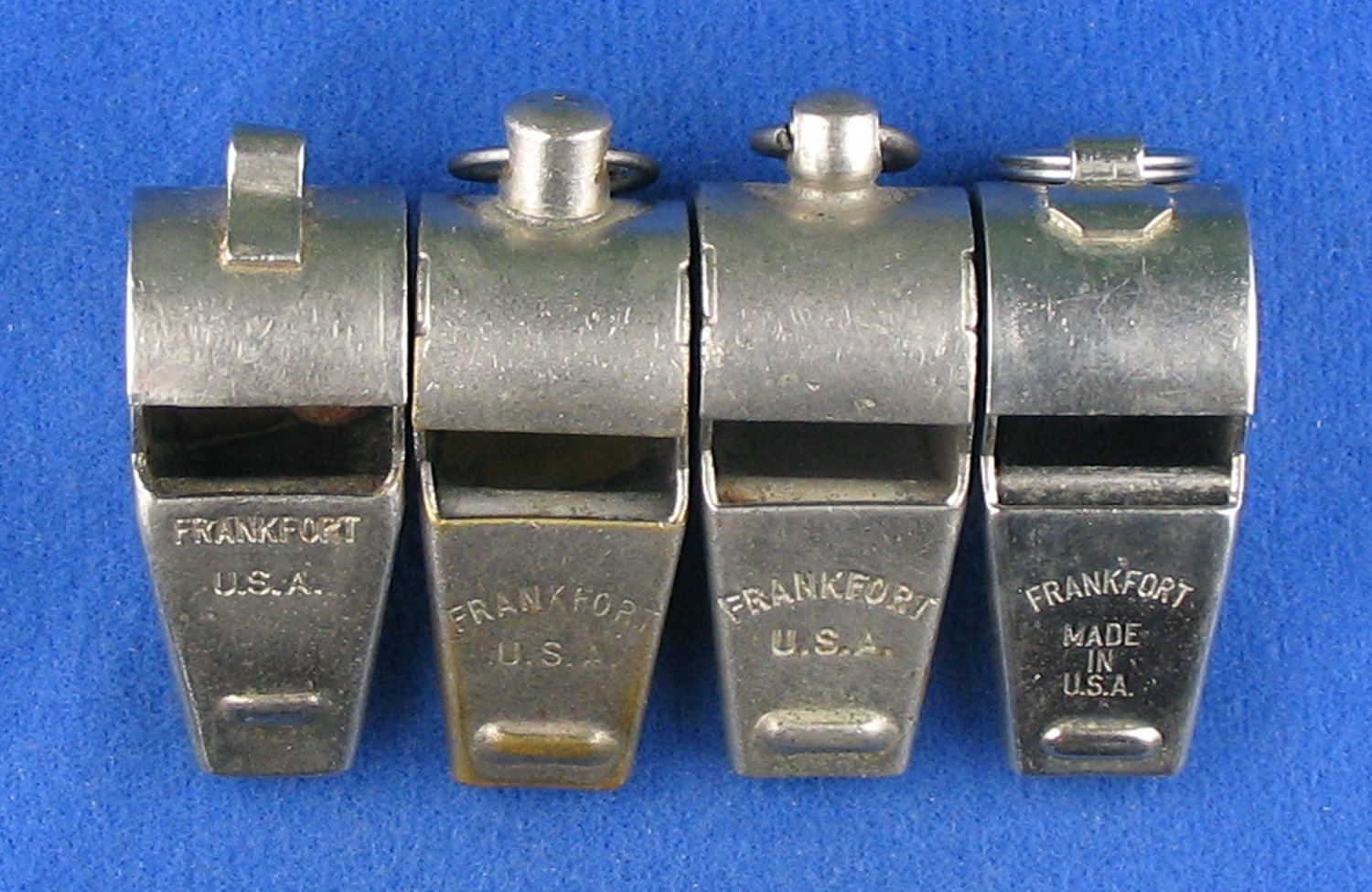 Lastly added is the stamp Whistle Stop and Colsoff stamped on the bottom of the mouthpiece.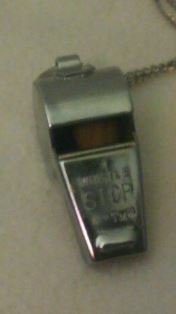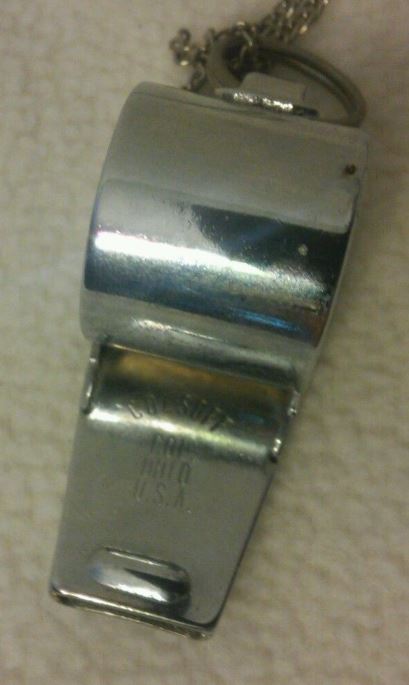 ( Picture contributed with permission )
What do we come away with from our study of Colsoff whistles ??
Colsoff was a major player in the stream of time of whistle manufacturing in the mid 20th century ( USA ). Although limited to just a few whistles, they had an impact on all metal production whistles in the USA and perhaps abroad. Much effort went into the design for cutting costs much as had been done in the past with other companies and yet endeavoring to maintaining quality.
However with larger production needs came pressure to reduce costs. Health cares and timing led to the baton being handed off in 1987 and further design and techniques were required to meet the worldwide demands of the end of the 20th and the beginning of the 21st century.
So it goes that at a point whether in 1987 or some time thereafter the name of Colsoff whistles ceased to exist.
With much appreciation to the families of Klein, Cassias and Savoia along with the many workers who contributed for decades, we dedicate this article.
TWG
Posted June 5, 2017