Spotlight > Whistle Categories > Multi-Chamber > 79
The class of heavy wall dual tube whistles appears to be primarily from the UK during the period of 1885 to 1915, possibly later and yet earlier if you add in Yates. We start the period with the 1885 patented disc of Joseph Hudson and end with DeCourcy, starting his second phase of business in 1905, although it appears he continued making these past this date. We focus on this type of whistle to separate its study from thin wall multi-tube whistles of two and three tube construction. There are no hard and fast rules so as exclude four or more tube designs. This category merely endeavors to advance the recording and study of this class.
On the surface it might appear that there are only four manufacturers. However classifying is always restrictive. This article will attempt to look at heavy wall construction of two the tube metal whistles from Yates to ?? Beyond Hudson Co., Alfred DeCourcy stayed in business longer than all the other major manufacturers, who may have continued making his over most of his period of manufacturing spanning 40 years. This would explain why more of his duals are still found today.
One example is from the USA and several have been seen, concluding it was a production whistle although unidentified as to the maker.
Thomas Yates made more than one model of a smaller type, as can be seen from the window openings.
An enigmatic McIntosh would also fall into this class, appearing to be a Great Britain whistle.
After identifying this class we will cite all the examples known outside the reference collection. Until the time that they are acquired we are making a departure from showing whistle pictures without permission or copyrights. To do a complete article we viewed them as too important to exclude. No infringement is desired and we will note them as such and gladly remove them upon request or give appropriate deserved credit where due if contacted. Several were copied years ago and no other has surfaced and may not. Several pictures are attributed to Leif Bailey and it is with much appreciated that he has allowed us to include his high quality pictures for the edification of all serious whistle students.
DeCourcy whistles of two tube heavy wall construction surface regularly, but the other makers are scarce to very rare.
Only four manufacturers are known of the 'typical' design we are focusing on at this time.
Hudson ( two known, one is in the Hudson collection )
DeCourcy
Ward
Barrall
At present the only model is seen in Hudson whistle manufacturing is with just the one known. The most variation is seen in Ward. The characteristic that differentiates them is seen in:
Mouthpieces ( inside and out )
Top caps
Knops
Windows
Internal parts
Sizes
Here are some comparison pictures of the four typical and variations.
Barrall
Ward
DeCourcy
Hudson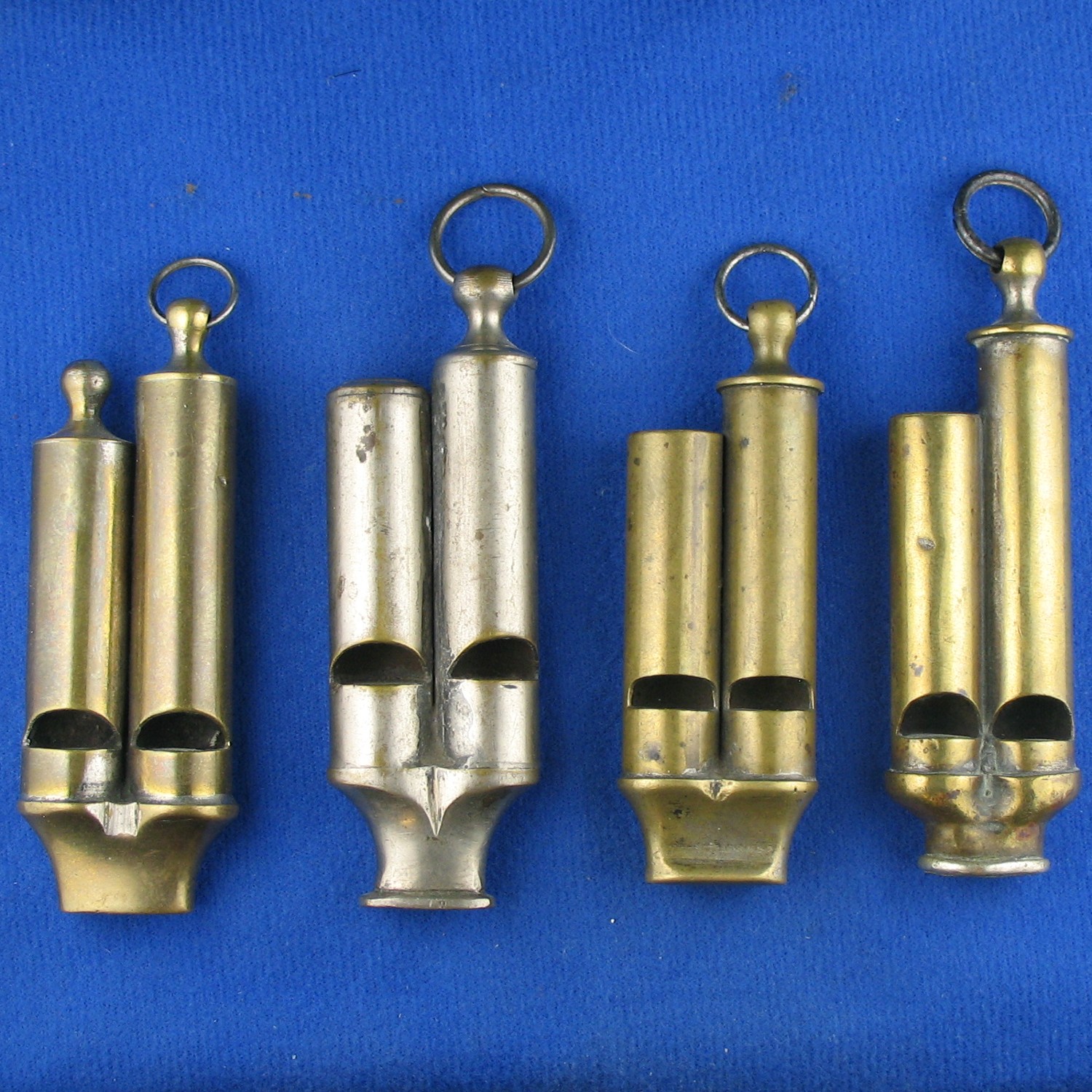 John Barrall appears to be the only manufacturer that used a double knop. One at the end of each tube as seen in a comparison of three pictured next.
He manufactured whistles 12 years during this period, from 1886 to 1898.
Distinctions include:
Double knops
Squared cuts to mouthpiece middle
Square windows ( along with half round )
Two holes for mouthpiece opening ( instead of wide open like Ward and DeCourcy
lacking tooth grips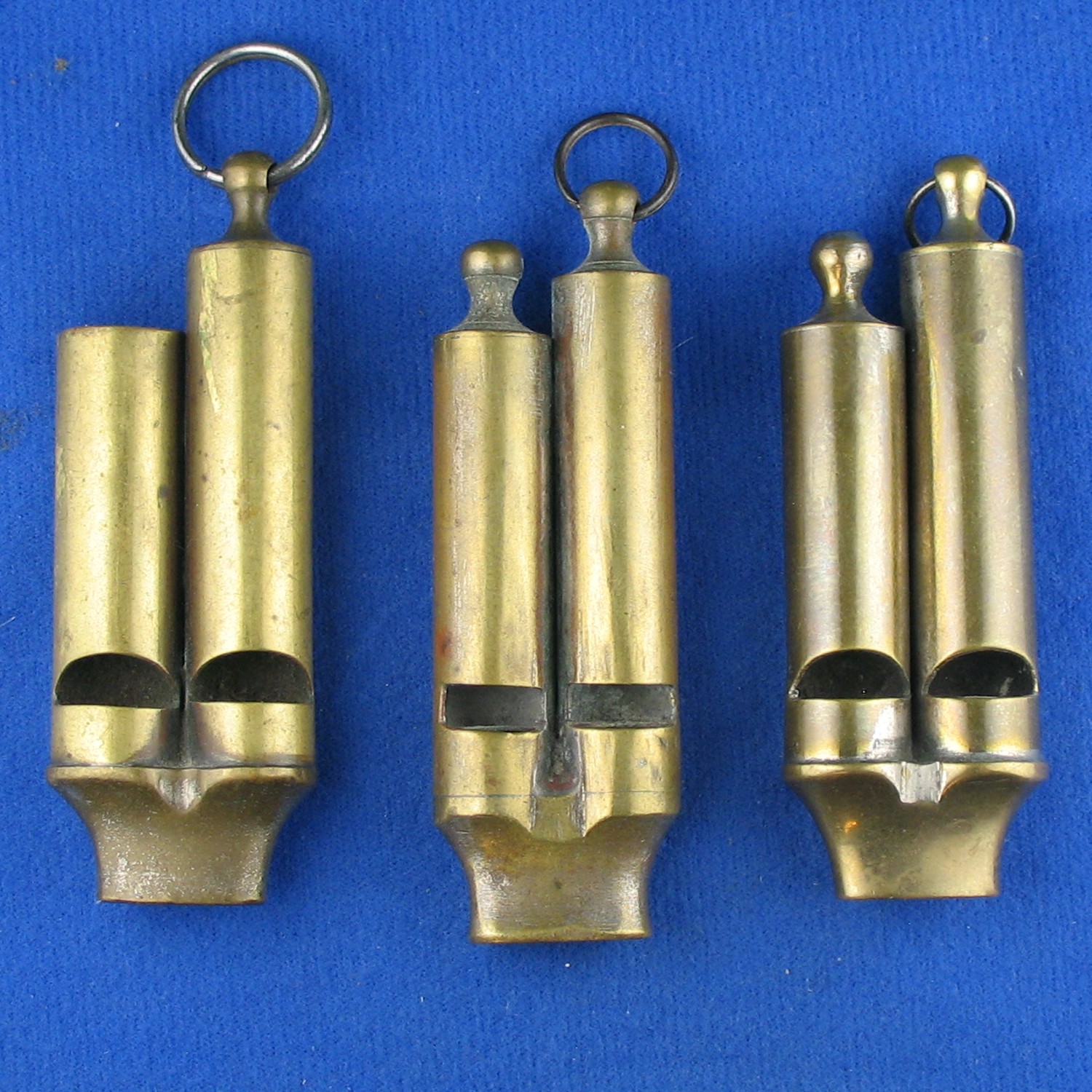 Distinctively and perhaps uniquely John Barrall used square windows as well as half round. This would help in identifying his whistles. No known stamps are known on these whistles.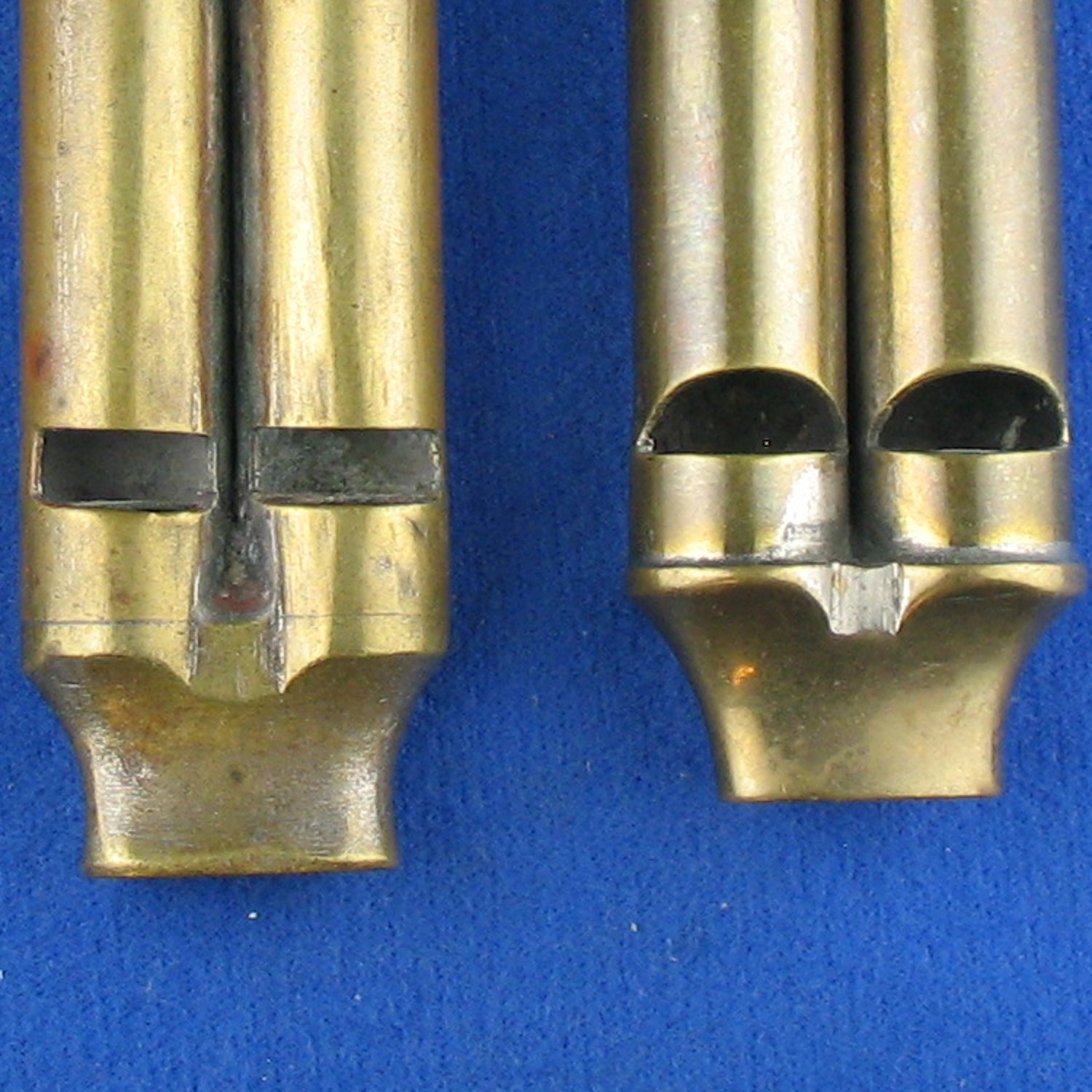 The mouthpiece is cast and also distinctive inside. There is a mixing chamber before exiting the two discs, however before this chamber is seen two holes. DeCourcy and Ward used an open approach all the way through the chamber. This is also an identifying mark for Barrall's whistles.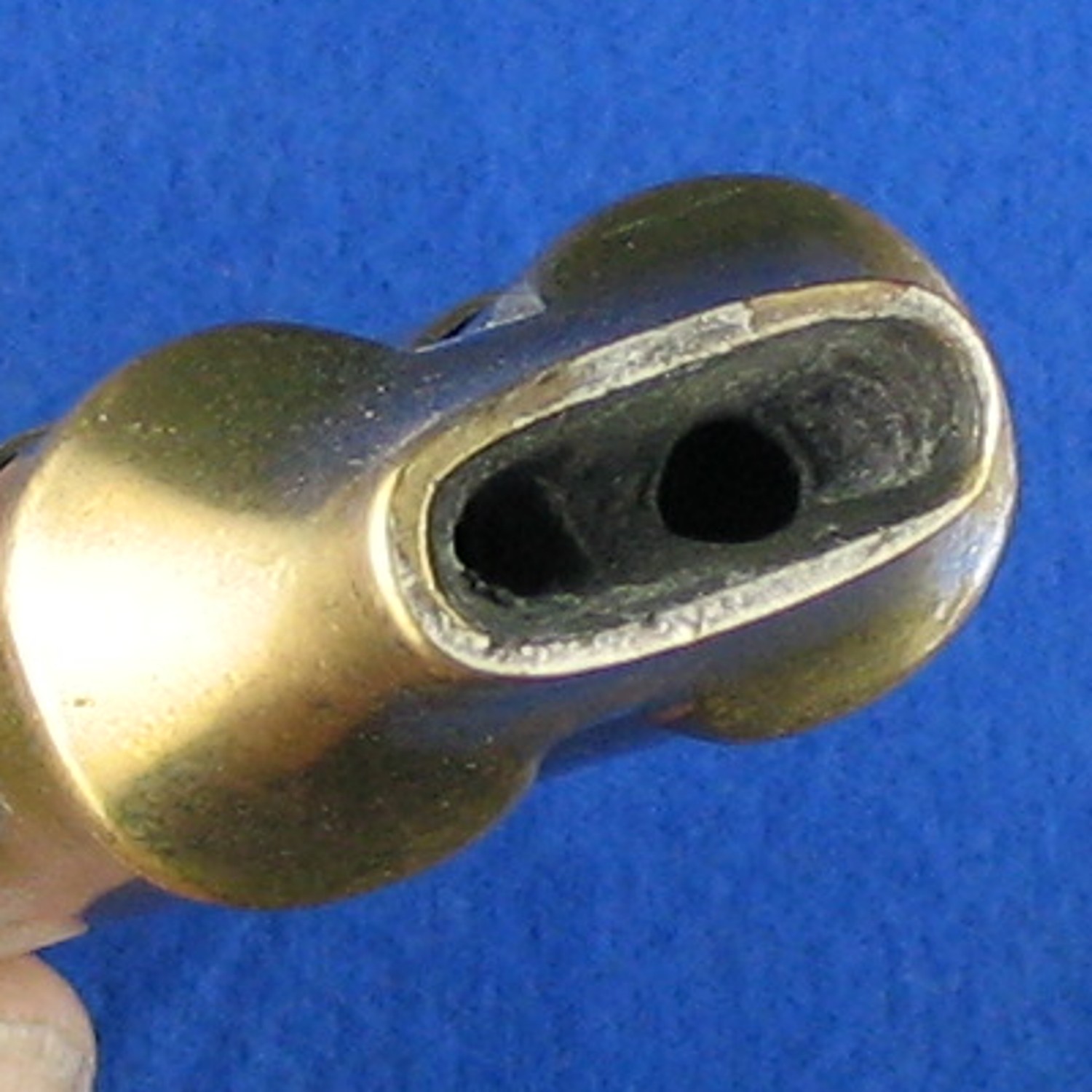 Additionally a Barrall heavy wall two tube is pictured on page 66 of more whistles by Gilchrist shown as follows.
It has his distinctive knop also seen on his beauforts and rounds. ( see SPOTLIGHT # 39 and #39)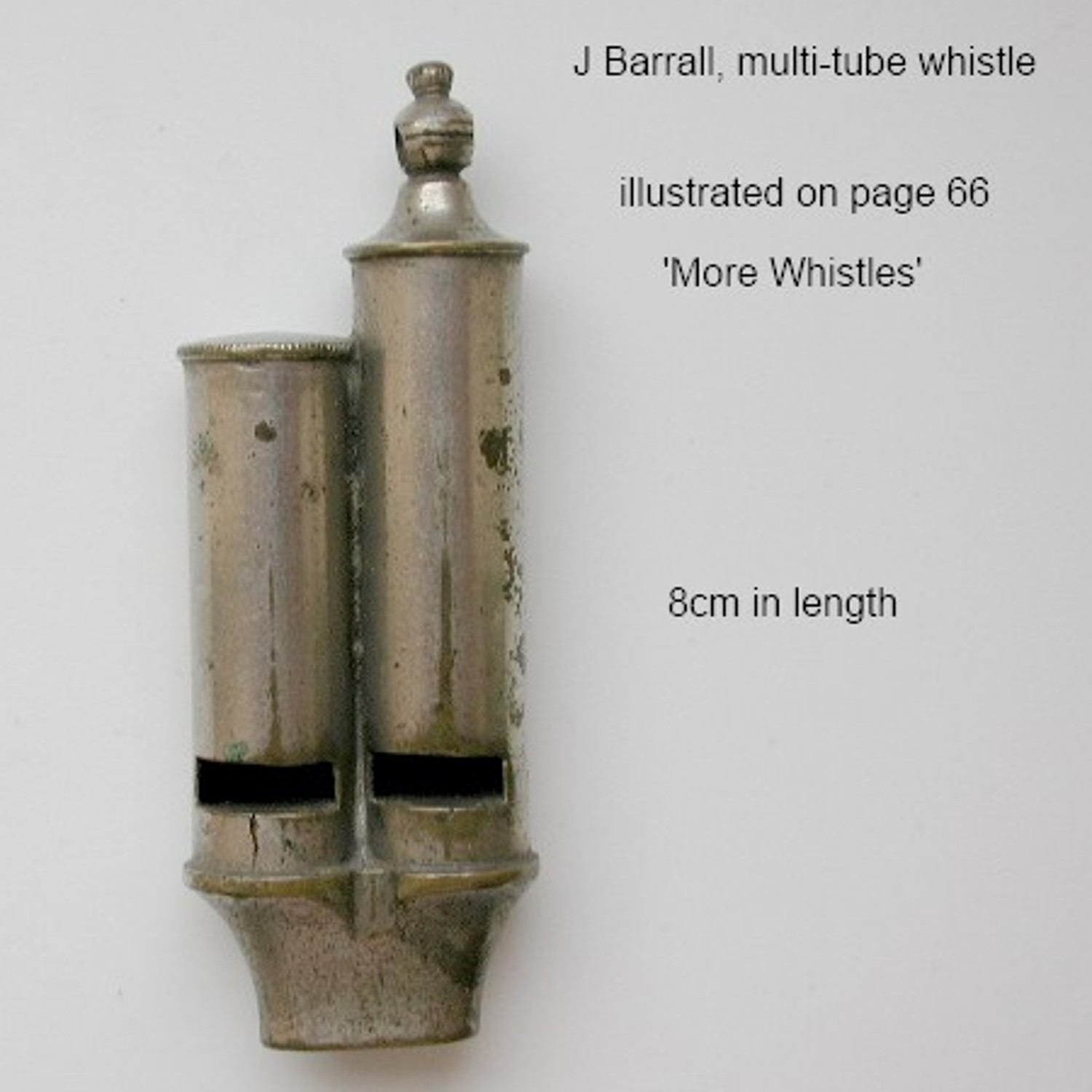 Picture is courtesy of Leif Bailey. ( This picture is not taken from the More Whistles, but is the same whistle. )
In effect Barrall whistles show the most variation for this period rivaled only by Ward.
Henry Arthur Ward appears to have manufactured the most model sizes. Gilchrist ( CPWs ) lists his businesses at three locations from 1889 to 1908 totaling 19 years ( his son perhaps carrying on the business during the last years ). Whatever the case he again falls within the same approximate 20 year period.
Distinctions include:
Model sizes
Stamps
Tube ends
Tooth grips or lacking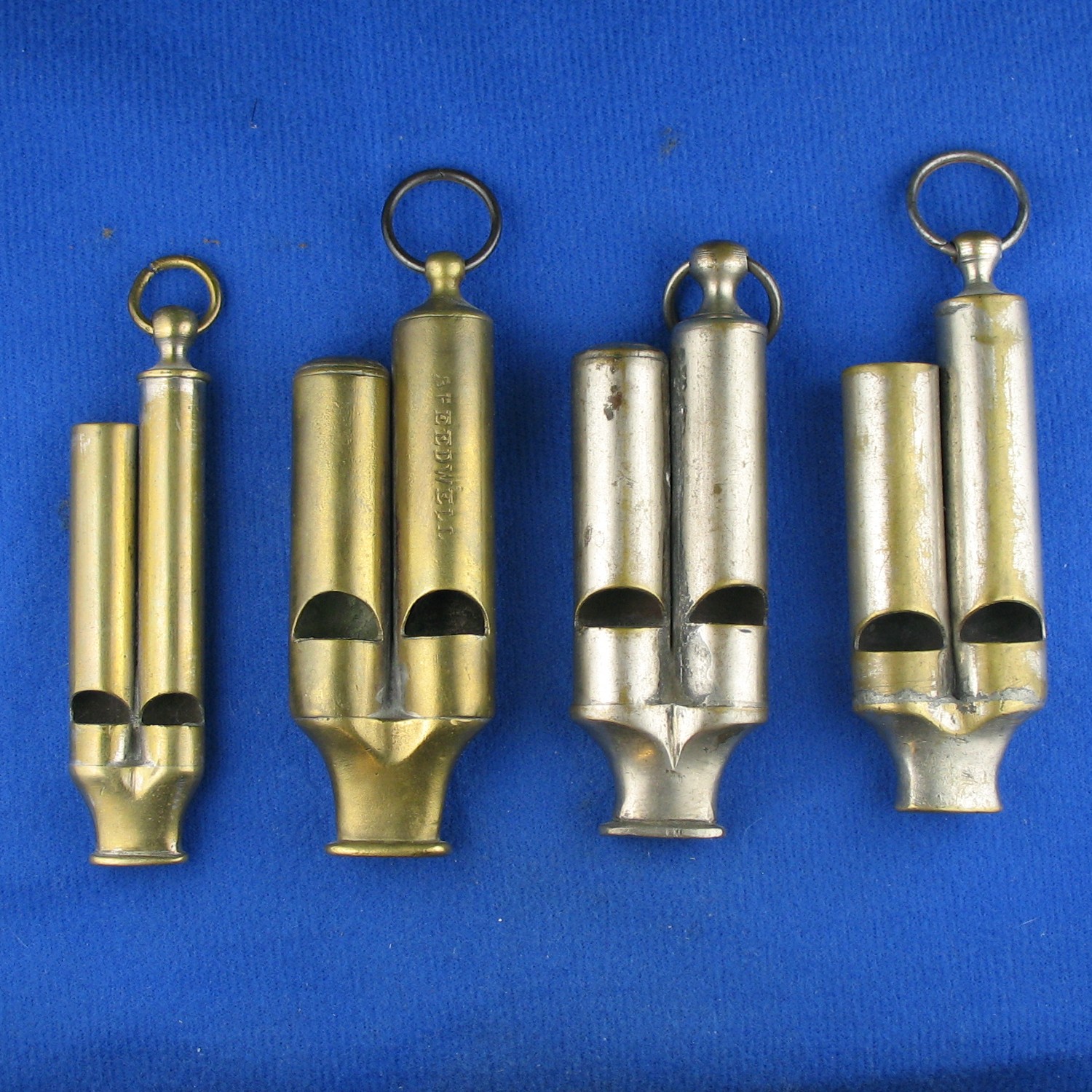 Ward used stamps that help in identification such as Speedwell and The City Whistle. His open mouthpiece is very close to DeCourcy's models, just a little higher attachment to the mouthpiece when looking inside.
Like DeCourcy he made a model less wide than the 'standard' size ( about 20 MM wide rather than 26 to 30 MM ) Note the first whistle to the left of the SPEEDWELL in the picture.
The top caps were more clearly attached and formed as follows: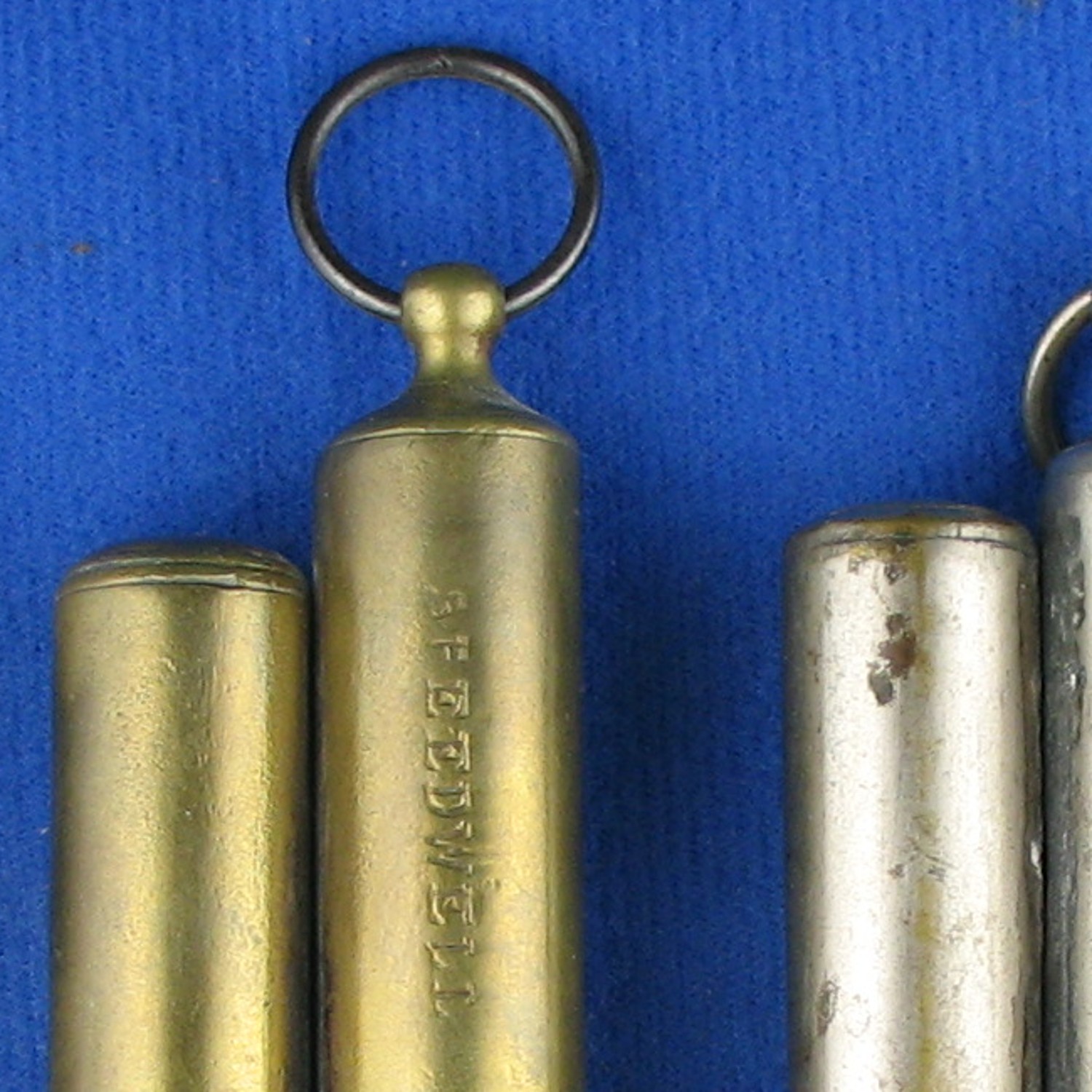 Especially can be seen model variety in the much shorter models, one with a top knop, the other with a top ring. Flat cap, rounded cap in the second.
1st picture is courtesy of Leif Bailey. 2nd picture is an unknown source and credit is invited.
There is also some variety in the construction of the mouthpieces, all being cast.
Here is an example of the Ward opening. Typically more crude and thicker than DeCourcy.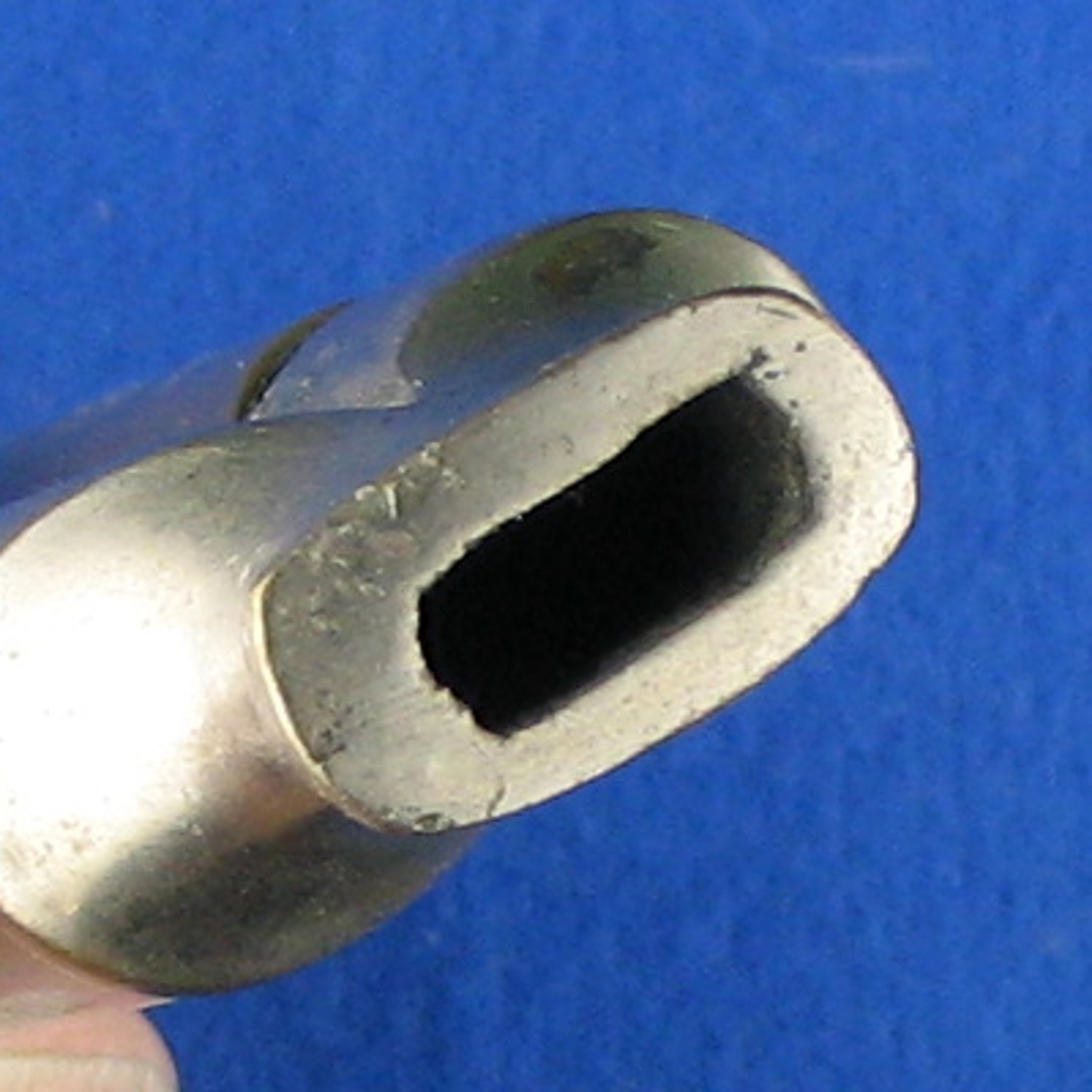 Alfred DeCourcy whistles are more common and yet with less variety.
Distinctions include:
Two model sizes
Open chambers inside the mouthpiece
Angula r cut to middle mouthpiece
Dished upward tooth grip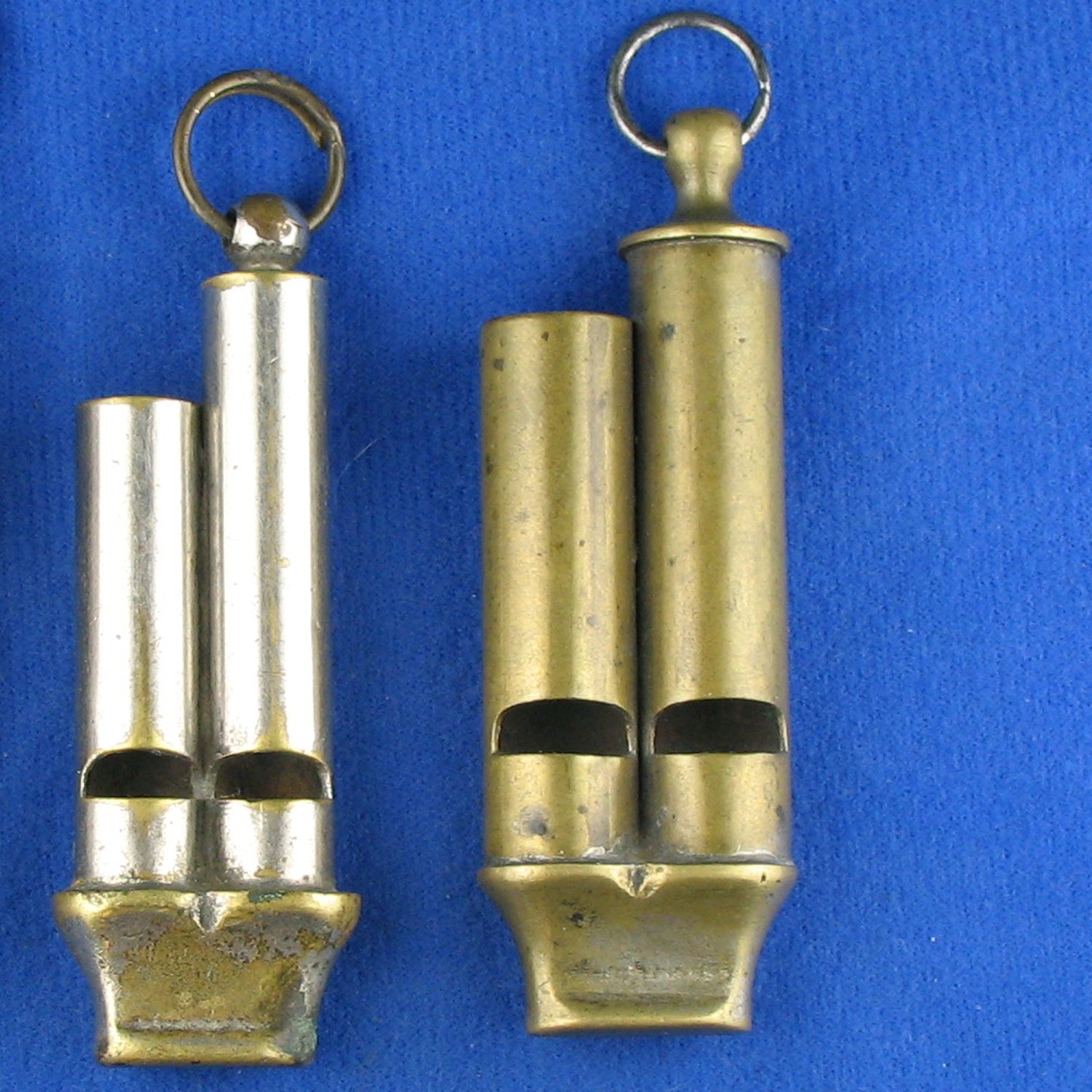 An example of the open mouthpiece compared to Barrall two holes opening.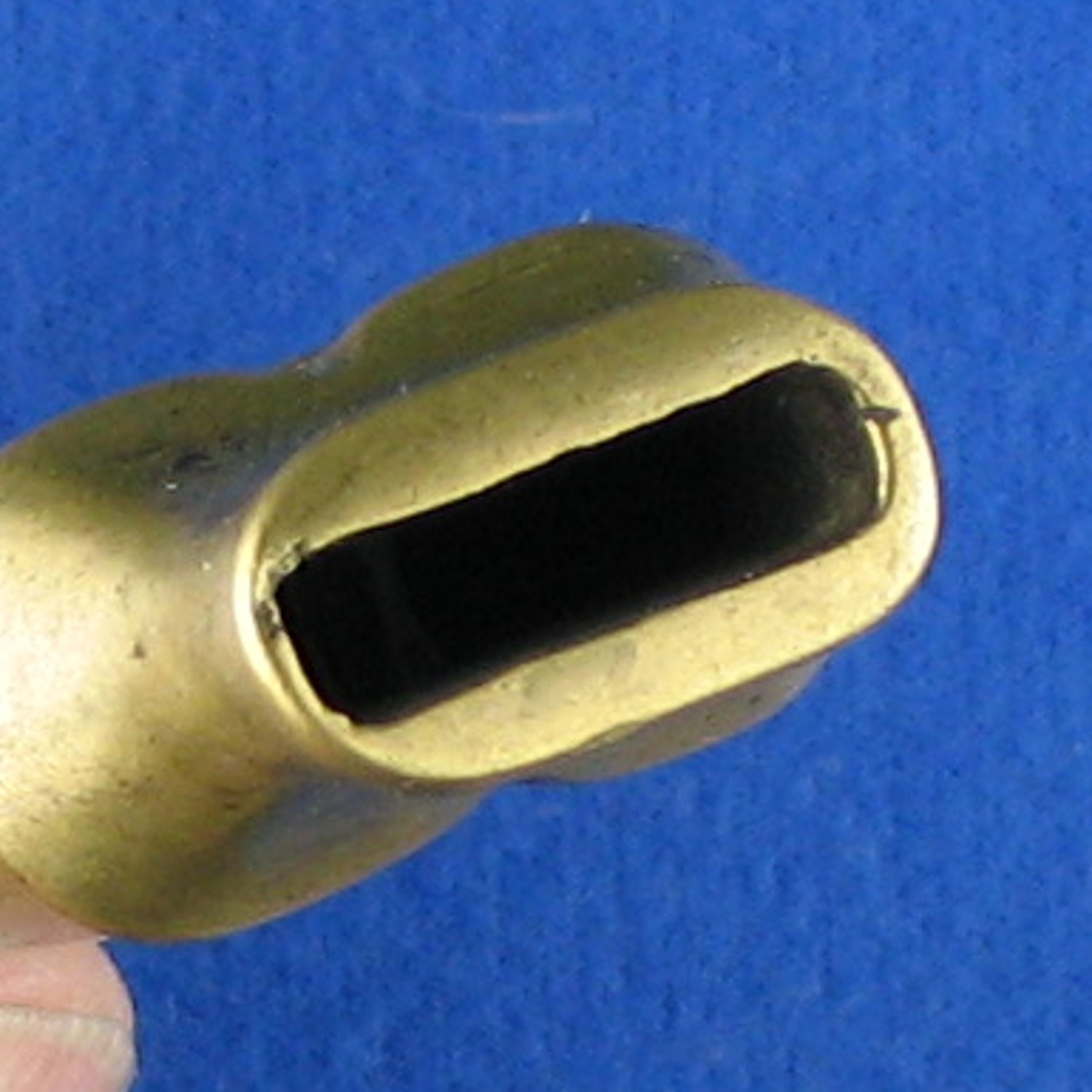 Joseph Hudson made his entry to two tube heavy wall constructed whistles sometime after Yates and before Ward, Barrall and DeCourcy. His business started much earlier, but his 1885 patented diaphragm is mounted in this model to follow.
Distinctions include:
Cast mouthpiece with wire ring tooth grip
Smaller width at 25 MM
Half round windows are taller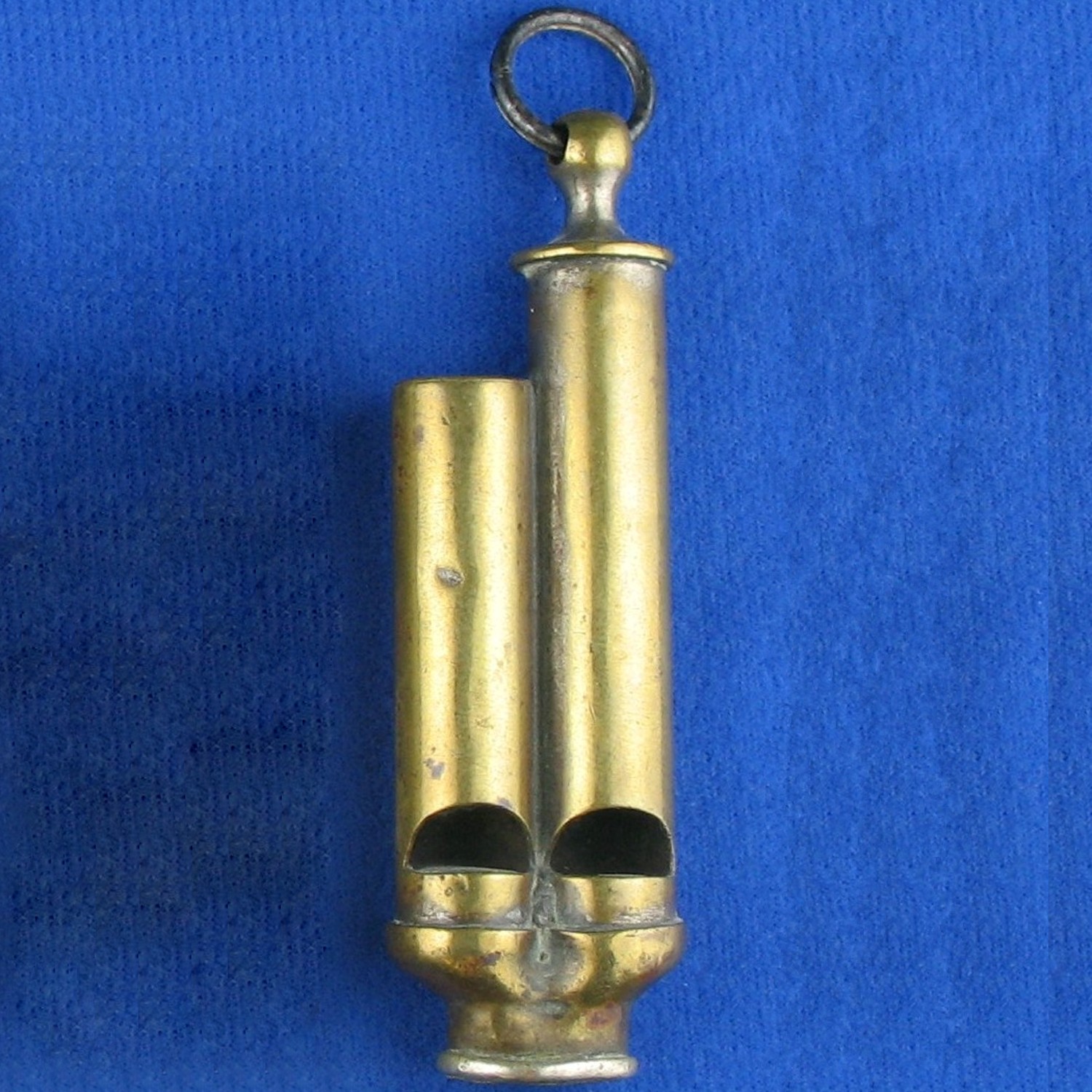 The mouthpiece is much more round and the wire ring tooth grip can be clearly seen here. Note the larger mouth opening. Dated 1885 for patent 435.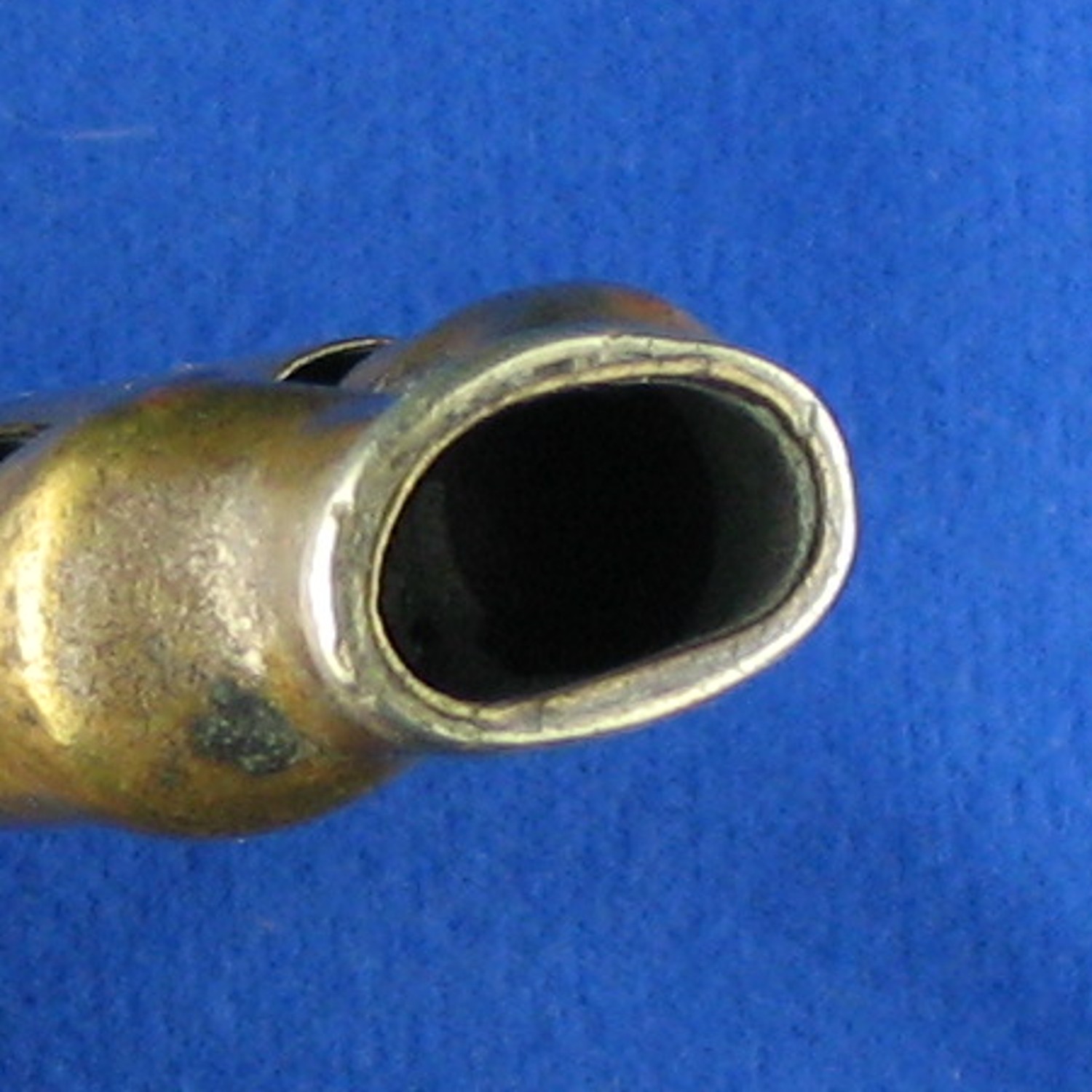 For a larger perspective we have included several other manufactured heavy wall dual tube heavy wall whistles. Prior to this period from 1885 to 1915 we see Thomas Yates design of a smaller heavy wall dual tube design.
Several models with changes of window design and direction, sizes and materials are known.
Included here are two at the reference collection. They are typically found with Brass and pewter combined. Dated 1870 from Yates catalog released that year.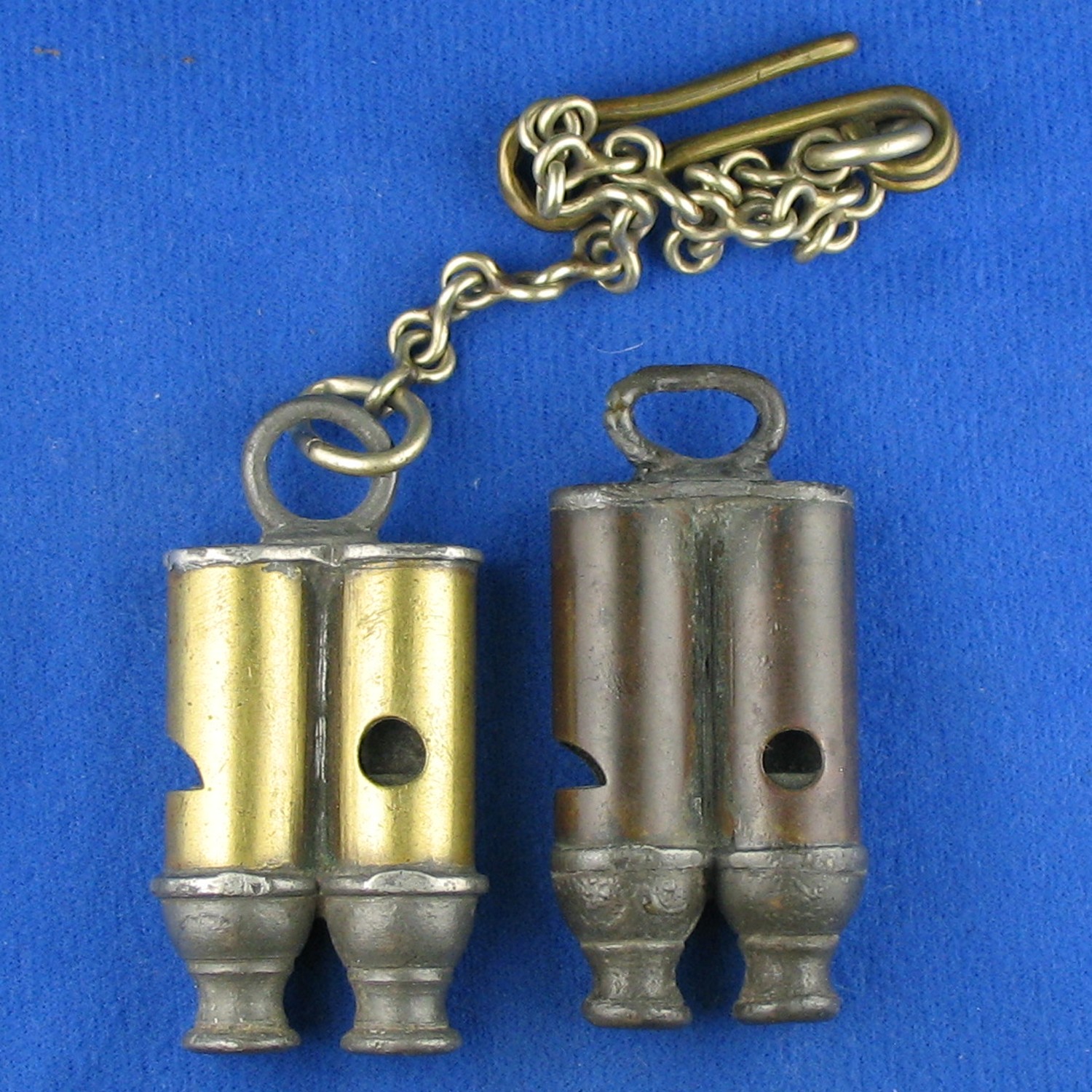 Next is a whistle design seen for sale several times in the USA market, indicating it was a production model. The maker is unknown. One notes the iron rusted top ring, the heavy filler piece between the two tubes and the use of a fipple. It is very heavy and longer of size at 13.5 CM, circa 1900.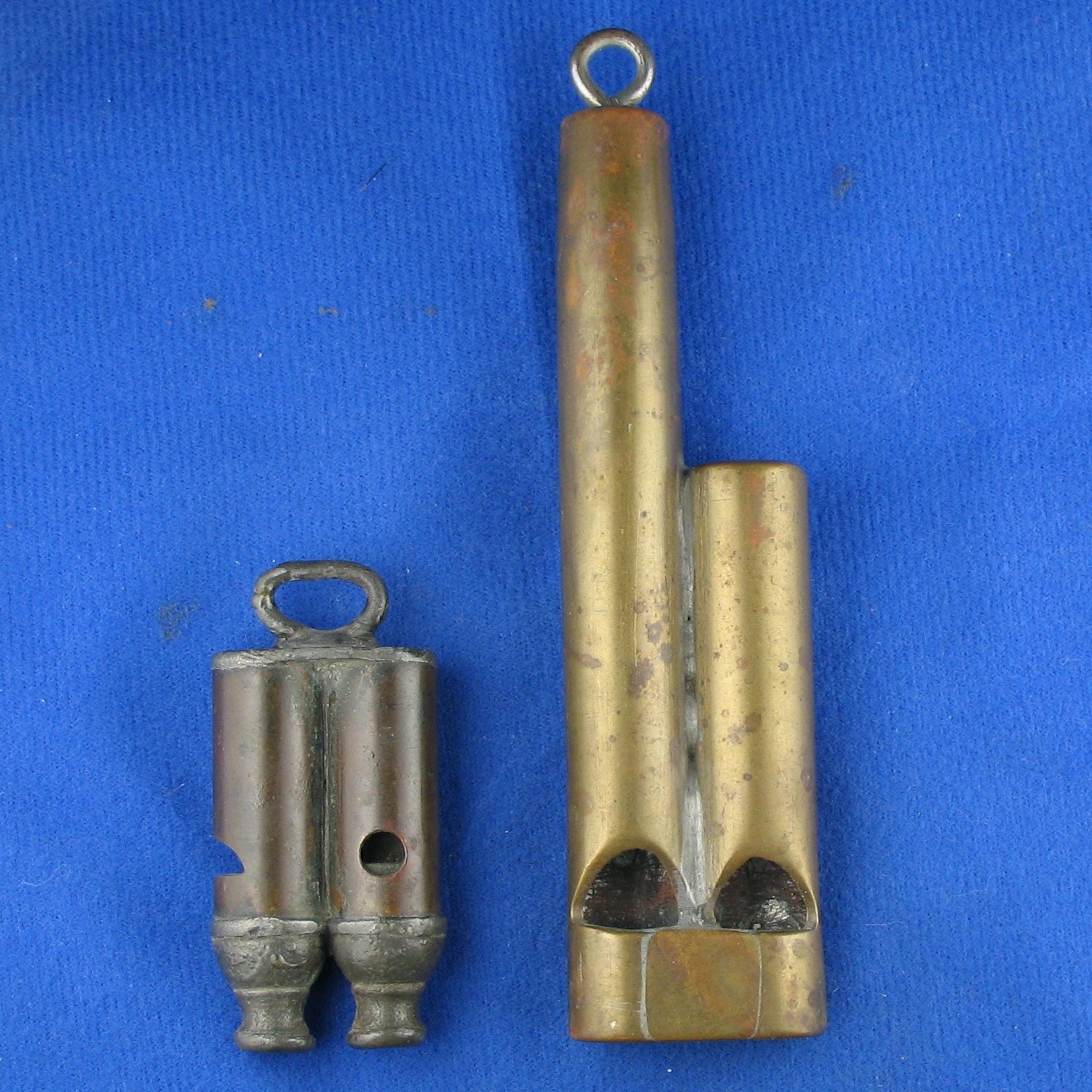 The McIntosh is very interesting with top caps and fipples. No attachment ring or knop. Only one has been seen.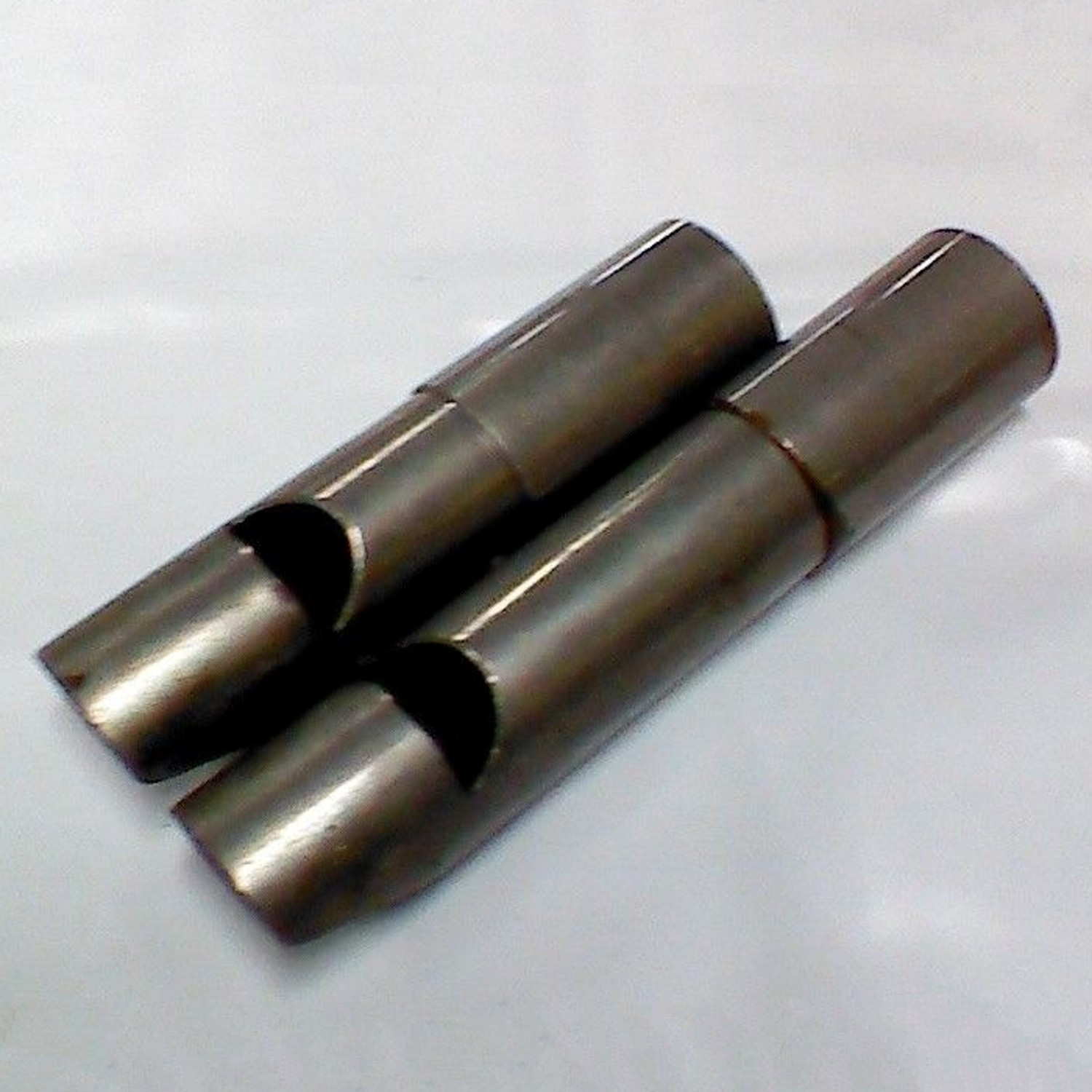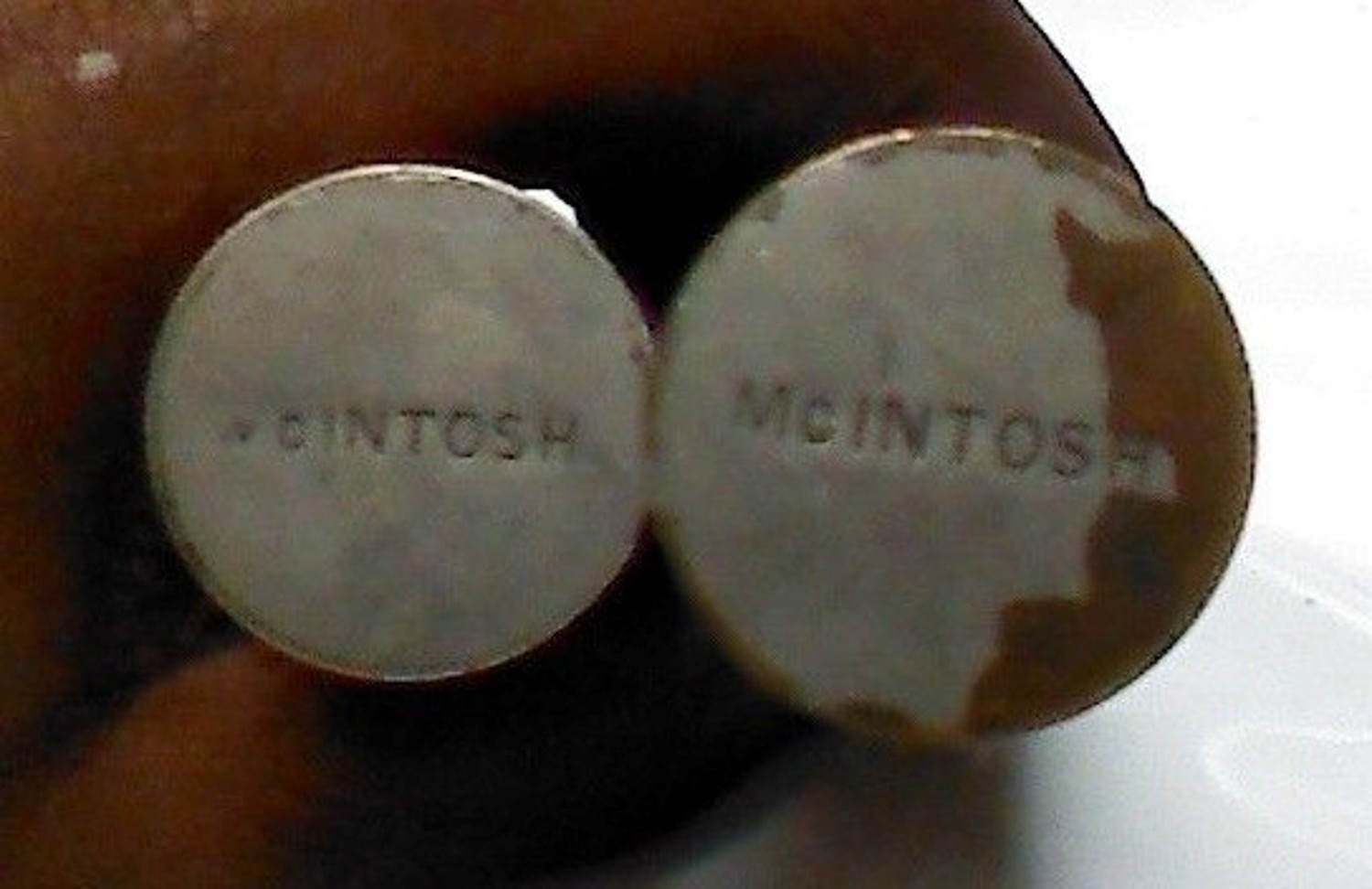 The picture is without credit or permission. Any information as to the current owner would be appreciated and current pictures by permission would be great !!
Lastly is a remarkble heavy wall constructed two tube with a single line mouthpiece, The looks is very similar to Ward, However without having the whistle on hand to examine the picture will have to suffice. This is the only picture we have and have only seen this one example. Picture is not by permission.
( Please contact us if you have this whistle or the original picture copyright )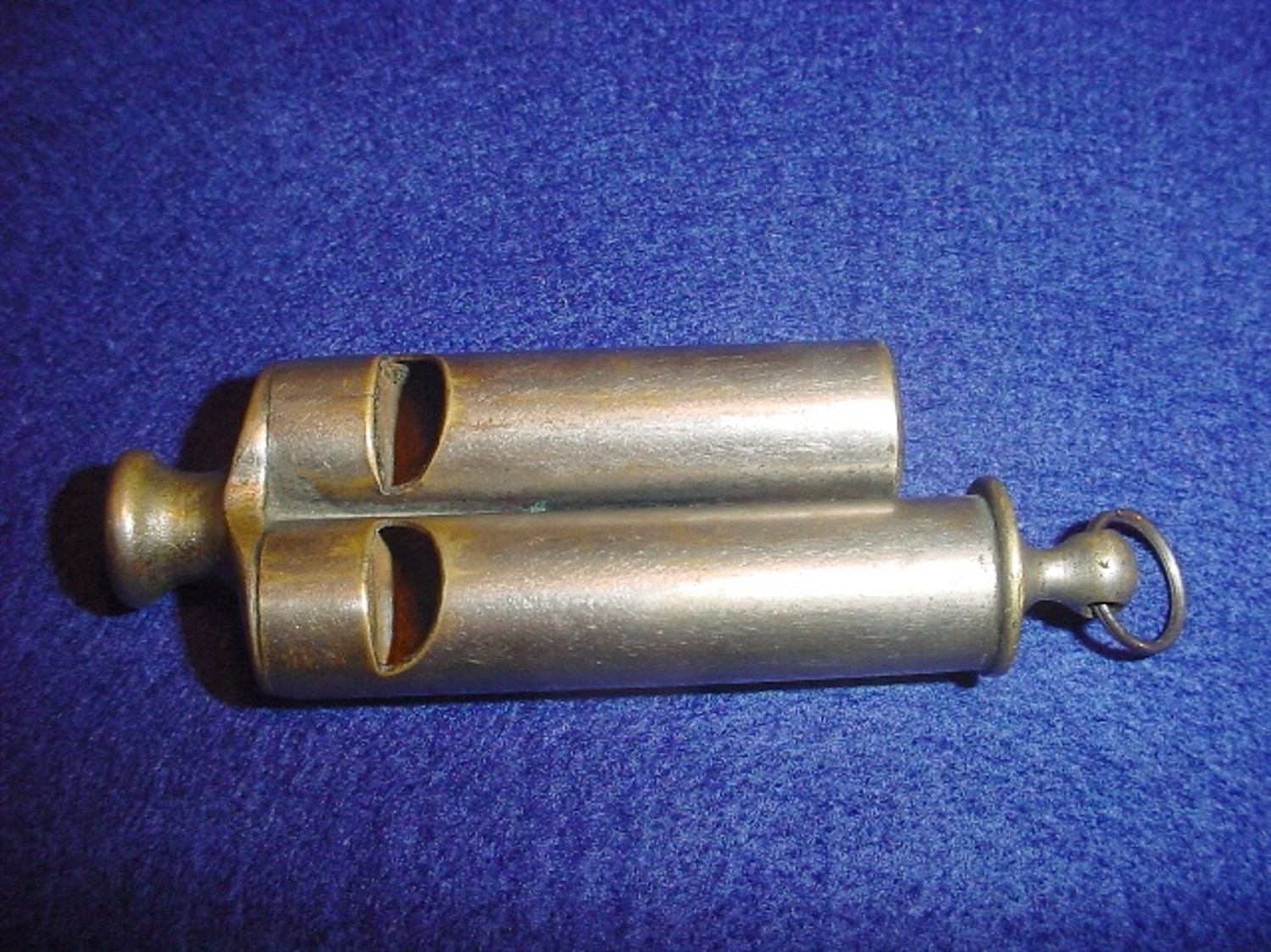 We will add as we find new additions or as the readers send in more examples.
TWG
Posted November 5, 2017