Categories > Argentina
Many police whistles with the type of force stamped on the whistle were either made or supplied to Argentina. Bullet shaped, round types and others, There have been several multiplex whistles surfacing, along with a few perhaps 'trench' style tool kit whistles. That being said, we continue to look to Argentina as another country adding to the world scene of variety and origin of collectable whistles.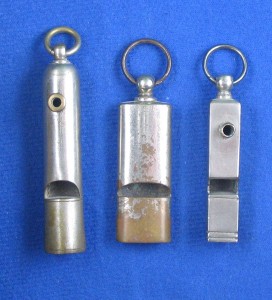 © 2018 – All photos with blue background property of The Whistle Gallery reference collection.
Use of photos without authorization is prohibited. – Gallery questions, please contact whitney@thewhistlegallery.com.
Need more info about your whistle? Contact us: