Categories > Asian
Some Asian whistles have been pouring out of China and only a few out of other lands, but hopefully the vast array that only has been partially seen will become available. Wonderful handmade examples of escargots exist in collections already, but many tube shaped ones also are now in collections. Sirens, multitube, and varietal are very collectable. Japanese whistles have been excluded from this category, as they have been marketed well already and are easily available.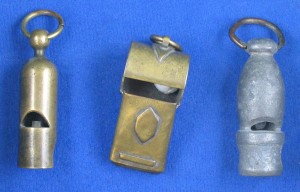 © 2014 – All photos with blue background property of The Whistle Gallery reference collection.
Use of photos without authorization is prohibited. – Gallery questions, please contact whitney@thewhistlegallery.com.