These have a curved tube or gun ending into a bowl or bouy. The bottom straight, flatpiece is the keel and can be very decorated-perhaps with a hallmark dating it. Likely finished off with a ring or shackle on the end. They were developed to penetrate the din of the ocean sounds on decks of ships, so of course they are strictly nautical. Often dented in the bowl side(s) to customize the pitch by the owner. A boatswain could 'pipe' someone aboard with regimnented signaling code and his particular pitch could even be recognized. Some are very ornate due to the silver craftsmen of days gone past and quite old. Silver was the choice of manufacturers as it acted as a germicidal metal. The prices can range from a few dollars to quite high ends, even thousands of dollars. Some Asian examples are quite elaborate. Bosuns date far back in time. Many have hallmarks that identify the maker and year, making them very collectable. Since they cross over to nautical collectors, the prices reflect that. The capabilities of the shipmate made them invaluable for sending messages on deck and training was neccesary as it still is today.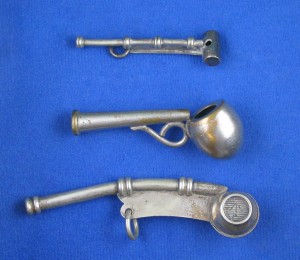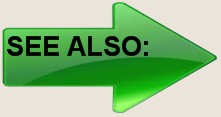 © 2018 – All photos with blue background property of The Whistle Gallery reference collection.
Use of photos without authorization is prohibited. – Gallery questions, please contact whitney@thewhistlegallery.com.
Need more info about your whistle? Contact us: