These were made with a flat design for slipping into a vest or shirt pocket. Dual and single openings are often seen too. All metals were used, as was ivory, wood, horn etc. Also targeted at scouting early on with stopholes for signaling. They date well before 1900 in bulky forms but slimmed down after 1900.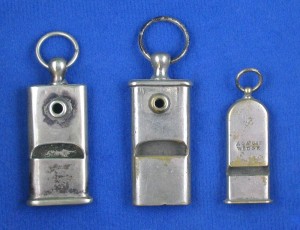 © 2018 – All photos with blue background property of The Whistle Gallery reference collection.
Use of photos without authorization is prohibited. – Gallery questions, please contact whitney@thewhistlegallery.com.
Need more info about your whistle? Contact us: