Categories > Round
Rounded-shaped whistle with one window, sometimes two. They can be very small to very large. Poor quality to outstanding. The general idea is one window with a conical, tube or whatever shape can be artistically done, but that leaves a lot of latitude in the final shape. It may be one piece or unscrew into two for cleaning. There may or may not be a pea inserted. made of copper, brass, nickle plated brass, nickle silver, pewter, britannia, silver and many other materials. Rounds date prior to 1800. With and without knop holes for the chain or string. With and without stop holes for varying the sound.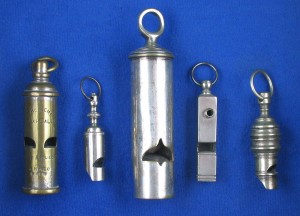 © 2014 – All photos with blue background property of The Whistle Gallery reference collection.
Use of photos without authorization is prohibited. – Gallery questions, please contact whitney@thewhistlegallery.com.