Categories > Warbler
Although there is an almost infinite range of designs, we will be displaying and collecting only warblers. Water is needed in the 'tank' to cause the trilling sound. They were made many times with screw on tops to facilitate filling with water. These may be cast in pewter or brittania, mostly found in brass with plating.We have in the reference collection13 and still seeing more all the time.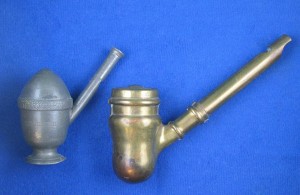 © 2018 – All photos with blue background property of The Whistle Gallery reference collection.
Use of photos without authorization is prohibited. – Gallery questions, please contact whitney@thewhistlegallery.com.
Need more info about your whistle? Contact us: