Spotlight > Collectors > 002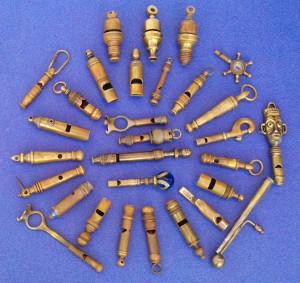 Photo Copyrighted – Jimmy Guttridge
30 whistles of remarkable variety and inventiveness. Extractors, beauforts, dog, bell whistles and our favorites — round whistles !!! But where did he get his ideas? What influences can be seen? Let's try to see as we look a little closer at the influences from historic whistle makers… First up, we see the 3 top whistles, and clearly seen is the influence of Stevens and Sons bell whistles. Developed mid 1800s, is the bell shaped whistle that unscrews into several components. Reminiscent of RxR steam whistles they are quite high pitched for their looks and size – a very high quality whistle and maker. Jimmy strives to follow that tradition several times and you can compare them to one from The Whistle Gallery reference collection.
Next up is a couple of dog whistles seen just below the 3 bells and also to the far left. Earliest known work in the 'silent' range of hearing is credited to Sir Francis Galton whose work was in the late 1800s. The first whistle models for release by Hudson came decades later circa 1930s. Perhaps others preceded them. An example from our reference collection shows the components used to create a very high pitch, somewhat out of the human range.
Dead center is a wonderfully artistic version of a slider, possibly the best piece in the group. Typically plain and functional, the slider whistle has been around since the early 1800s or earlier? Pictured from The Gallery Reference Collection is an early one found in a catalog by Martin Signal. Also pictured is another model, from an unknown American maker. Manufacturers never really strayed much when it came to the mouthpiece or body of the whistle, but Jimmy did!
Back to the pictured collection, a couple whistles located on the left and one on the far right highlight some of the best aspects of the beaufort whistle. Typically beauforts are conical shaped with a simple round knop — they can be very plain. Many were recycled as seen in an advertisement requesting them to be turned in with the release of the Metropolitan of the 1880s. They were taken in on trade and we don't see them often enough outside the generic ones or Liverpool stamped police issues that were still produced. Yes, there are stamped variations and here and there some rolled type or simple mouthpieces. However, John Barrall circa 1880s and Joseph Hudson circa 1880s and on, did design somewhat ornate models with cast mouthpieces and elaborate tops that have survived till today. A couple examples from The Whistle Gallery Reference Collection are shown to reveal the possible influence upon Jimmy's work.
Center and a couple above the slider is an extractor and bottom left another one — both straight models. These were used in hunting to pull or extract a shell from a shotgun after shooting. They often had the gauge number such as 12 stamped on the base. Of course a dog whistle would be needed and so we see the combinations. Compare them to a USA maker (lft. ) and a UK made one(rt.).
Lastly we peruse all the remarkable variations of round whistle designs. Having just window, they always face forward don't they? Jimmy uses every variation plus extra. The mouthpieces and the tops are off the grid by anyone's opinion! Love the one just above the slider! Rounds date back to the early 1800s and can command remarkable prices, as can the bells, beauforts, and extractors. Here are a few rounds to compare the influence of previous whistle makers. Of course his personal and artistic accomplishments too can be seen really coming out here. What can't be overlooked is these also show that they are many times of his own signature design, quite unique. The Gallery contains a variety of Samuel Auld's round whistles and we picture one circa 1880s, as it is typical — very heavy and a good comparison. Also shown is an example by Alfred DeCourcy circa 1900s and one by Joseph Hudson circa 1900s with the ornate Tudor rose top. They seem a little plain next to Jimmy's don't they?
We hope you have enjoyed this SPOTLIGHT highlighting a talented American whistle designer (and avid collector) — Jimmy Guttridge. As stated in the beginning of the article, he has decided to sell the entire collection. It has taken years to design and so many hours of work that it would be hard if not difficult to sell off if I had made them myself ! Yet true art is best shared and passed on. What say you? We have used this collection as a vehicle to show and inform you more about whistles, our main goal. It was nice to highlight American whistles too. Not that one is above another for great whistles come from around the world. We should all be trying to spread out an increasingly panoramic view of what is available out there in 'whistledom' — or in this case what can be made! Next time we will take a closer look at an interesting area of whistle design — offset windows in GSWs. Please do not hesitate to write in if there is an area of collecting you would like us to write a study article about. If you know more about a subject and can contribute any pictures or information we will edit the SPOTLIGHT and always give credit. Please do not hold back, as we join together to build a website archive of information about whistles that is free! Just think, no books needed to buy! TWG.
Posted March 3, 2012