Spotlight > Whistle Categories > Variety > 004
SPOTLIGHT #4 is examining 'plural' design in some detail. Bent and Parker is pictured here with the earliest patent number 10828 dated 1894. Pictured below is the New Borough whistle. It would be nice to be able to present the line drawings here and to see who designed the original structure of this patent. UK patents are quite difficult to navigate, so until then we will have to press on without. What is striking about the design is the perpendicular attachment of the cylinder and the mouthpiece. The 2 diaphragms are facing each other and venting into the middle. Simple and yet unorthodox !! What a beauty of a whistle, made with pure nickel silver. The name stamped has been used by Bent and Parker from the early 1880s on tube shaped whistles. In fact not many whistles were made by them, various military, police and yet here was a totally unique design. Patent stamped on the ends which was good till 1908. They also made a Police Alarm stamped model also shown from the reference collection.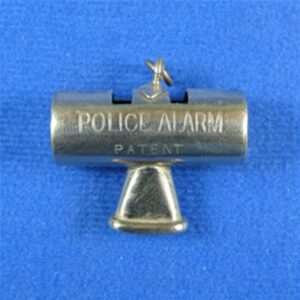 Next up is a patent by A.P.Hatch from the USA dated April 1, 1902. He held another patent for a tube shaped whistle, but again here we step away from conventional whistle design to real art. We have seen no examples surface as yet, but will add them here when one does ( see below ). He designed two, three and four note plural construction and allowed for longer chambers to alter the sound. What an interesting whistle the three chamber model will be to hear !!!
Hudson and Co. came out with their own model # 513 and it is pictured in their 1935 catalog. How much earlier is unknown just yet, saying it was specially designed for ladies handbags. However it follows the Bent and Parker design with minor variations. The stamp is Osborne ltd. New St. B,ham with the addition of England stamped on the mouthpiece. The end caps are soldered on as caps and it is made of plated brass instead of nickel silver. There is also a top round knop as opposed to the small ring on top of a very small escutcheon. A higher pitch is achieved with the Hudson and the sound is closer together, the B&P making a lower well separated dual tone. We would say the Bent and Parker was very well crafted.
What can we conclude from our study of plural whistles ?? To think outside the box. Whistle design can vary tremendously and still achieve good sound. At the same time aesthetics can also be maintained if not improved !!! Posted February 1, 2013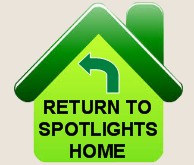 Addendum: Posted January 1, 2017
Many thanks to Jim Fitch who contributed the pictures of this Hatch whistle. When it was first sent we didn't even recognize it as matching the plural whistle patent shown above. The patent number was what helped shown on the end of the whistle.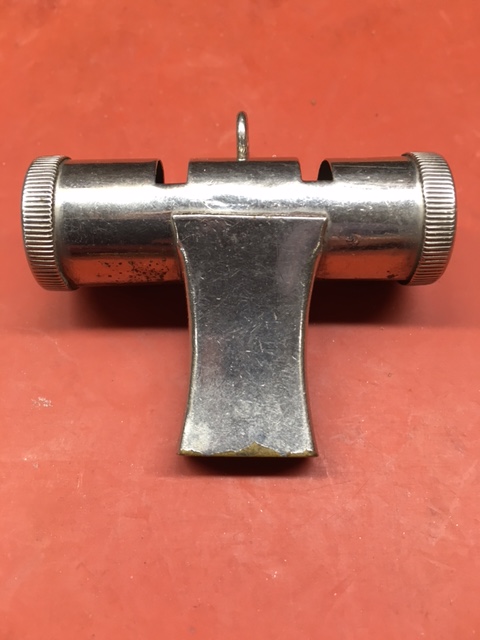 A couple dents on the back of the whistle are well worth over looking due to the difficulty finding what is turning out to be an elusive USA made whistle.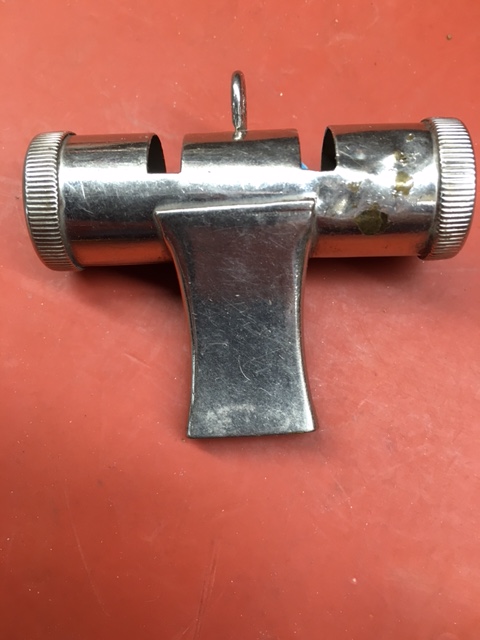 Although there is knurling not seen on the original patent picture, the patent number and the mouthpiece design reveal this was designed by Hatch.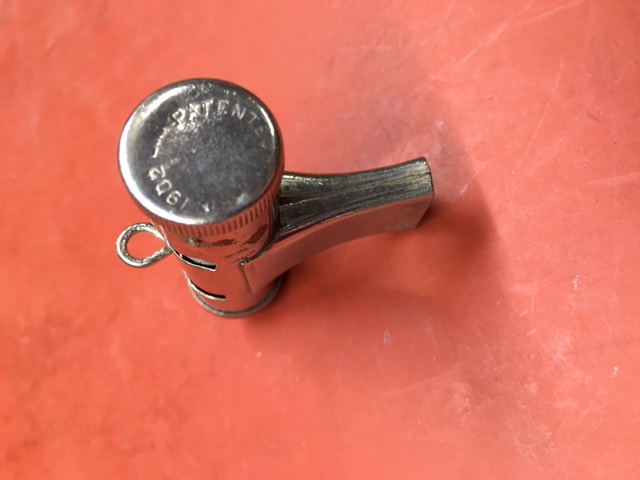 TWG