Spotlight > Specific Manufacturer > United Kingdom > DeCourcy > 007
As obscure as whistle collecting is, information about whistle makers is even more so. Alfred De Courcy is one of the exceptions and yet in general, we still know little about the extent of his early whistle making. After leaving Hudson's as a foreman from as early as 1884, he formed his own company and made whistles from 1888 to 1927. One can read more in detail in Collecting Police Whistles by Martyn Gilchrist or by going to Wikipedia for general notes about his background, his business etc. . In this SPOTLIGHT we are endeavoring to look in some detail at the scope of a whistle designer and giving him some earned credit. We are going to note two periods to Alfred's whistle making…
1) 1888 to 1905
2) 1906 to 1927 Why do we say so ?? Although Alfred left Hudson's to start his own business in 1888, he didn't start stamping his name on his whistles till 1906. That left a period of 15 to 18 years of unidentified whistles. Making things even more difficult is that there would be a natural overlap of construction techniques. After all he was a FOREMAN for Hudson' s whistles was he not ?? So expectedly there would be difficulties differentiating some of his whistles from their whistles !! Perhaps even some infringements.
Edgar DeCourcy
An early trade journal reveals that he was making and selling whistles not long ( at maximum of two years ) after leaving Hudson's, apparently working with his brother Edgar. Edgar De Courcy is listed as a brass founder in 1901. Eventually he had two patents taken out in his name, 3725 for tube shaped whistles 1906 and 9499 for a penknife 1905 — this corrects earlier information stating that Alfred patented these whistles. Surely Edgar's brass skills helped in their manufacturing. His patents were circa 1905-6 and he had a daughter in 1911. They also lived close by each other. How much they worked together is unknown. Also worthy of consideration is that Alfred registered a remarkable RIBBED designed round whistle in 1890, of which two models can be seen on page 39 of More Whistles. Here we photographed and pictured the first and larger model which went to a collector in the eastern United States.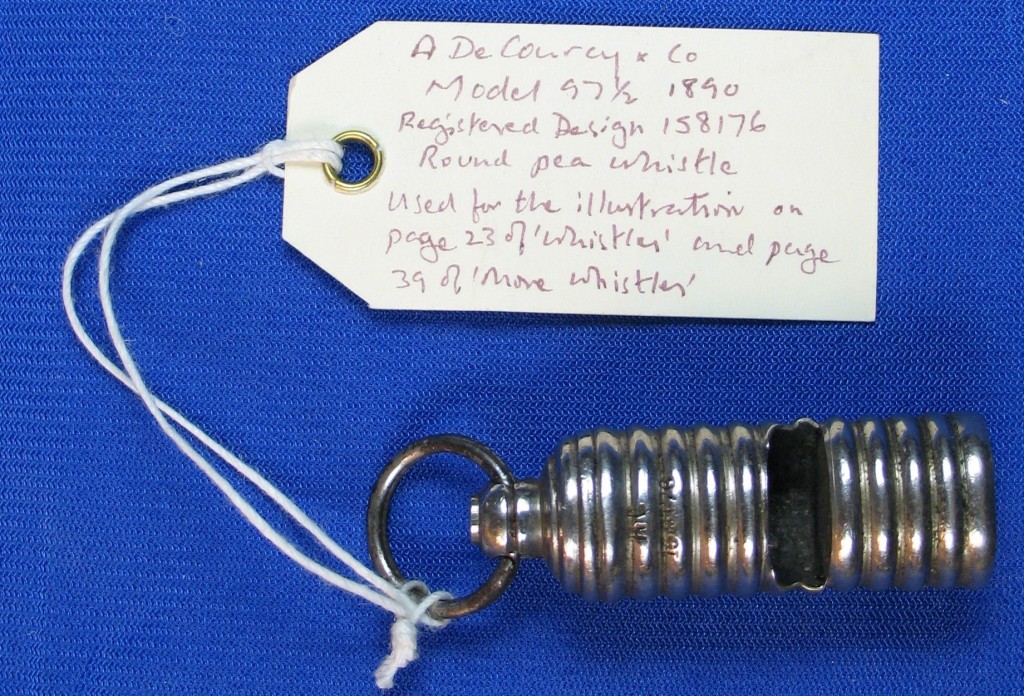 Photo Copyrighted (Whistle Resides Outside of the Whistle Gallery Reference Collection) (Photo added to Spotlight June 30 2013)
His earliest GSWs and POLICE whistles are with cast mouthpieces and later he changed to 'rolled' mouthpieces.
Police Whistle Works ( A. DeCourcy & Co )
His move from 28 1/2 Mary street was due to growth and and becoming a named business then — The Police Whistle Works. ( A. DeCourcy & Co. ) 1904. This known, along with pictures of his whistles held in current collections indicates this to be true — that he was regularly making whistles during this early period. Please note the two pictured knife whistles on page 69 of CPWs ( Collecting Police Whistles ) by Martyn Gilchrist –dated to the 1905 patent . However, accurately dating any of his whistles earlier than 1905 becomes precarious, so we will date them c.1888-1905. Whistles by Alfred are still surfacing and adding to the overall picture. Wikipedia states "prior to this year (he) supplied many orders to railway, Police, Army, Navy, Asylums, Fire Brigades, sporting goods companies, arm distributors and hardware stores as well as for other makers as W Dowler & Sons and B Lily & Sons." We know of no written records to substantiate this. Catalogs exist but are not posted yet. Some whistles are readily available like whistles made for Dowler, military, and police, while others are rare or not even known to exist yet ( i.e. asylum, fire brigade — some are stamped police/fire ). However quite a few have been gathered into collections with various stamps and are substantiating railway, sporting goods and hopefully the rest. We will post them as we find them. Since all the records from Alfred's whistle business were reportedly burned years ago ( 1960s ), it is a matter of documenting from old trade catalogs ( as yet unpublished ), finding pictures of his whistles in collections and museums and also city records, advertisements and the like. It is a reconstruction work. This SPOTLIGHT falls on Alfred's early years, and more succinctly, the variety and workmanship of a very talented whistle manufacturer. First up let's look at More Whistles on page 73 top right. It shows a spherical whistle with spokes like a wheel, as being by A. De Courcy. ( this follows up a picture in Whistles page 19 where there is a question mark, now removed ) It is an early looking design, but not dated. We have not seen it surface, so will for now follow Martyn's lead and go with his judgment from years of examining whistles there in the UK. Logically it would be a cycling whistle and would place it circa 1900. You will need the book to see it, as we can not violate copyrights and show it to you. Suffice it to say, ball shaped with a small tube protruding at the top edge and plastic construction. Next up we peer at a dual ( in line ) heavily built chambered whistle of plated brass. It has one knop on the longest tube. These typically were also made prior to 1900 by Ward, Barrall and Hudson. Note the higher arched openings to the windows – typical of De Courcy ( as did Hudson and Ward ). Indeed Alfred took his whistle skills with him from Hudson's and it is quite possible that this is practically a Hudson made whistle by him. However it gives us a start to his variety, as his are very hard to differentiate at times. That is also true of the combination whistle here that would seem to be Hudson. However due to the round whistle design, the diaphragm, etc. we are assigning it 'possibly' Alfred DeCourcy. Perhaps all that training as a young man contributed to Alfred's appetite for variety and of course what he saw at Hudson's factory of the many possiblilities.
Let's look next at the second whistle in More Whistles that was pictured with the cycling whistle and that is a flat scout whistle. Martyn dates his there to late 1890s to early 1900s. The scout movement was under way about the unofficial start date of 1907 under Baden Powell. 1909 in the states. Sometimes referred to as vest or pocket whistles too, they seem to come with scout stamps more often than not. Alfred's focused on scouts. At the right is another radical turn to a unique 'outside the box' idea — a De Courcy designed and patented pen knife combination patented 1905 ( Edgar ). Combination whistles had been seen for decades prior. There were vestas, extractors, corkscrews, even knives and more. However he didn't make a knife with a whistle in IT. He made a whistle with a knife in IT. Nice approach from the DeCourcy boys !!! And innovative, so much so that Hudson bought the rights later. Same could be said about his compass design and patent, you have to go to page 72 of CPWs for a peek into the post 1906 years to see them, as we do not have one.
Continuing on down, we come to a more difficult area than even the overlap of construction lines between Hudson and De Courcy. Prior to the early years of Alfred's whistle making was H.A.Ward, One of the more obscure, but accomplished manufacturers of circa 1890 whistles and also from Birmingham. Formerly we had thought that the primary use of the window on rounds with wider arching windows was restricted to Hudson and De Courcy. It would appear that H.A.W. also utilized them, along with square and lower arching windows. This makes it just a little trickier assigning whistles to the right maker. Let's post several rounds from this early period and with these notes, if more comes to light it will be updated.
As said in More Whistles beauforts continue to be hard to date as manufacturers used the same wedge diaphragm for decades. It is also hard to assign the maker at times, but there are some details to look for —-as well as hoping for out and out stamps with their names on the actual whistle. Of course that would depend on whether they were ordered from another whistle manufacturer and another's stamp used. Here are a several early beauforts for examination. Please note the unusual 'beaufort' style of the ASSISTANCE (77mm), a name used by Alfred. It has attributes from three types of whistles. Shaped like a beaufort, but it has two windows shaped like his round whistles AND a diaphragm like a GSW !!! It has a cast mouthpiece and top. Later he would use a rolled mouthpiece in this same design of whistle The larger beaufort (84mm) on the right also has a cast top and mp, but with a wedge diaphragm. Middle is a generally standardized size (74mm) with again, wedge diaphragm.
There are whistles of a tubular construction made by Alfred from this early period surfacing all the time. One just has to know what to look for. His early GSWs and Police issues appear to be easily separated — with the dividing line of his 1906 patent and by cast mouthpieces and rolled mouthpieces on each side of that dividing line. However at some specific point ( circa 1900 ) he switched to using the cheaper and more economical 'rolled' mouthpieces before the 1906 patented diaphragms that we are arbitrarily using as a dividing time line . The tops are cast of course, but the mouthpieces date them only generally. If cast then pre 1906, if rolled post 1905 — with the exception of rolled mouthpieces without the 3725 patented diaphragm — falling in between. Please let us know if you find corrections or other notes to post and we will post them here. Pictured are three examples of his early work and stamps… all with cast mouthpieces. Note that they are very similar to Walton who made whistles for 6 years and was also a foreman who left Hudson's – 1898.
Lastly, we close our discussion by looking at escargots prior to 1906. Alfred's love for variety can be seen in his escargots too. London types were the earliest efforts by all ( following button whistle manufacturers ) from the 1880s and into the 1890s. Was Alfred making these too?? Yes. As far as heavier manufactured escargots go, if you refer to More Whistles page 14 look to the picture second from the bottom and on the right. There you will see an example of a sturdy 5 piece escargot with his name De Courcy stamped on the bottom. The 5 piece construction design had already been in use by others like Black and company, — and he used it too. This would have been only in his early period, as they ceased to be made shortly thereafter, giving way to the sturdier Hudson 3 piece design of 1891 Next is another 5 piece whistle, this one from the reference collection, but is it a 5 piece ?? Look closely at the picture below and you will see this whistle is actually made of 6 pieces !! So there are two types of 6 piece whistles. One the heavy Glasgow design and this lighter almost London design. There is that extra piece of under strengthening below the mouthpiece.
At the same time or just later Alfred was making, lighter, almost button type escargots ( LYR ) again with under strengthening, in effect a 6 piece also. There is nothing new here, as Hudson was already well into them and perhaps Alfred had made some of these too before leaving that establishment !! These four, five and six piece whistles would last about a decade from inception and then go the way of the dinosaur. Lighter cheaper made Londons would continue on and especially the three piece escargot patented in 1891 by Hudson patent 19868, that pretty much remains today — of which Alfred would also change to.
Not long ago this next escargot surfaced and was brought to our attention. It was made for years and with evolving construction methods. We just missed getting a solid silver one of the same pattern ( DeCourcy's ?? ) It is quite an interesting whistle. It can be seen to date well into his earliest years. One having 6 pieces and there is a later one with 5 pieces made to the patent that had a folded over top to the mouthpiece. So this is another fine example of his early work building light weight London style escargots and which lead into his later years.
A lot of whistles to digest and that is what we wanted to do. We looked closer at the early years of an active, talented designer ( and his brother ), manufacturer and distributor of fine whistles. Conclusion: It is not hard to see why he outlasted all the other competitors of his day from being swallowed up by Hudson, turn of the century. We have examined many varieties and innovations:
cycling
heavy walled dual chamber
combination round/beaufort
flat
knife combination
rounds
beauforts
tube shaped
6 piece London escargots
5 piece London escargots
And there are more in part two !!! ( siren, GSW/round combo, boson, escargots ) Wow, this edition has taken a lot to put together. There has been some interesting discoveries and corrections. Some here in our notes, pictures and reference collection and some posted by others erroneously. The lesson learned ?? Knowledge is built on knowledge. Input is always welcome and gladly shared. We would like to follow up with his later period from 1906 to 1927 in an upcoming SPOTLIGHT. Posted March 2, 2013