Spotlight > Specific Manufacturer > United Kingdom > Coney > 008
Presented here for the first time is a stunning round whistle. The overall length is a whopping 95mm. Large whistles are unusual. No doubt because they would be cumbersome under most conditions. So when we do see one of this size it commands attention. What was its use ?? Would the top loop have been used ?? This is the largest round whistle we have seen to date.It has simple lines, yet is well crafted.
Let's look at several aspects of the workmanship… What catches ones eye immediately is the top cap. The high standing loop is reminiscent of John Coney whistles. However the top cap is a bit more elaborate than customarily seen.
In fact the top ring sets even higher than a Coney as seen in the comparison picture following. The left is the round, the right is a stamped Coney GSW.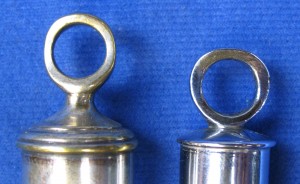 The mouthpiece is quite arched like Alfred De Courcy did and zooming in on the fipple one sees that it is well machined as it attaches cleanly to the side walls. The fipple itself is very slanted lending towards a higher pitch, but remarkably with the large body design, it is very low and hollow sounding, not unlike a King whistle.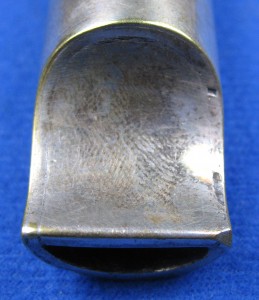 Finally we give special attention to a spectacular window opening.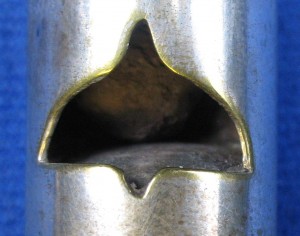 Very ornate, distinct and aesthetic cutting midawy in the archup and down to points and complimeting the sides of the window. The whistle is complete with a large cork ball for that staccato sound when blown. Taking a closer look one sees that it was silver plated over a brass body. Dating this one is difficult. The body itself seems to be from a thick solid stock of brass, with a cast top and then cast fipple. We would estimate to be conservatively circa 1890. Lastly let's make a comparison to a Tudor rose Hudson to help with sizing…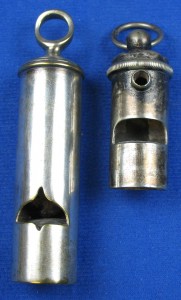 Now one can see the proportionate size as it dwarfs the Hudson Tudor Rose round — being nearly double in size. We want to give thanks for this fine whistle as coming from the Phayne collection in the UK, which we would like to acknowledge as a truly remarkable contribution to the whistle world, as it is the only one known at this time. TWG
Posted March 2, 2013