Spotlight > Whistle Categories > Escargot > 010
Among American made whistles is a unique designed escargot. In fact although found in the USA, these whistles could have been made outside the country for Amercan sales. It enters our SPOTLIGHT currently, having been made by an unknown manufacturer, but one deserving of some close observations. It is never stamped with made in the USA, so may have been an import. True, there are others that used this interlocking teeth design, but it was not developed as much, nor used as extensively as this manufacturer. We have designated three groups and dates as follows which are mostly arbitrary:
Group A – 1915-1922 1915 the beginning of the Thomas E. Wilson name these have 7 interlocking teeth per side
Group B – 1923-1925? Win. 1806 first seen in Winchester catalog with 3 interlocking teeth per side
Group C – 1923-1930 Mid size with pillar top — 3 interlocking teeth per side
Group D – 1926?-1930 Latest date 1 interlocking tooth per side
Group A – Dates between 1915 – 1922 and is always nickel plated brass, with a rather rough construction. It always has 2 teeth protruding sideways and interlocking with the sides besides the 5 edge teeth. 7 teeth total.
Group B – From 1923 to 1925? and is always nickel silver and lighter weight, very well constructed. Early ones were large, full size escargots or what was designated in the UK as the larger Glasgow escargot.
Group C – A mid-sized Glasgow model with a different type knop altogether would appear at an unknown date. Nothing new to the overall body make. The primary interlocking teeth occurring only at the edges where the sides connect to the barrel. Mid-sized whistles were always nickel plated brass.
Group D – Is reserved for the larger Glasgow size that seems to be the last manufactured date as the teeth have been reduced to one each side and the fold inside the tongue has been eliminated.
The knops in early ones circa 1916-1922 ( group A ) were round ( left ), whereas the ones dating after that had slightly flattened sides to the knop top ( group B ). Occasionally a whistle from Group B would find a round knop installed. Granted it is not much of an innovation, but seems to be unique to this maker. Even more unique is the mid-size model with almost short pillar top knop shown ( Group C ) which followed.
The dates have somewhat been established from a 1923 Winchester catalog here at The Whistle Gallery library but we cannot be rigid with dates. The 1923 catalog shows a round knop in the picture. However it is the first occurrence of a Winchester 1806 in a catalog. No Winchester stamp has been seen on a 7 tooth earlier whistle. We should also discuss the distinction of this very well made model in the 'U' shape of the tongue inserted inside the mouthpiece. This occurs only in Group B and Group C models. The earlier versions were made in a much more 'rough' design which was thicker and soldered poorly. Pictured here is the feature not seen to date in other escargots is the tongue inserted into the mouthpiece. This was used to wrap down over the inside of the round barrel to keep the cork or wooden ball from jamming into the exit hole of the air when blown. Much like the diaphragm/partition, disc in GSWs ( general service whistles ) it is a useful tool in determining manufacturers. Looking inside the MP end one sees that the sides actually fold up on each side ( as seen in this Winchester 1806 large model ) where extra support is created, by being in contact with three sides of the four walled mouthpiece. This innovation was used in both large ( Group B ) and midsized models ( Group C ). It dates from 1923 onward. It is not found in Group A whistles dating from 1914-1922.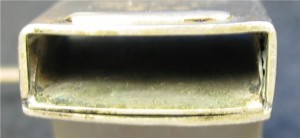 Note the sides that fold up and also the 45 degree cuts slanting toward the back. Now let's examine group A in regards to the interlocking sections or teeth and also the locking teeth on the sides which made this early designed whistle a very rigid construction. We'll start with the interlocking teeth of which there are SEVEN total per side ( Group A ). Each 'tooth' measuring 3mm wide and not quite flushing with the top edge. They are evenly spaced commencing just below the mouthpiece and progressively getting further apart till reaching just above the window ( 5 ). Picture left 'teeth' interlocks, picture right side teeth (2). In summary 5 teeth at the edges and 2 teeth exiting the sides from the tongue.
Now look at the actual locking section. The manufacturer would progressively reduce them to three per side and then to one per side as is seen in four stamped whistles now found ) apparently finding that much of this work was redundant.
Single stamps known:
Reach
Goldsmith
Referee
Wilson
The teeth extending sideways were very innovative in that they were actually aimed at supporting the tongue itself, giving soldering even further security. The longer tooth was from the long side to the tongue through the side wall. The second tooth extended from the tongue as it curved down into the barrel so that the two teeth were close to perpendicular to each other. Here is a close up of a single tooth located at the top position of the window edge. One only to each side was the reduction chosen at some time later.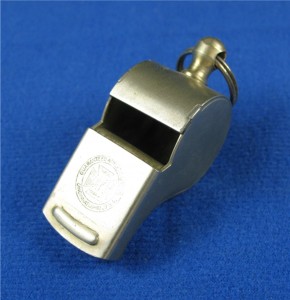 Known stamps are : GROUP A — 7 teeth per side – Large Glasgow Escargot
Plain, no stamp
Goldsmith
Referee – upside down
Signal Police
Thomas E. Wilson
Reach

GROUP B — 3 teeth per side – Large Glasgow Escargot
Dardevle ( Strauss collection )
D&M sporting goods
Goldsmith
Reach
Referee – upright
Thomas E. Wilson
Winchester 1805 – large
Winchester 1806 – large
Wright & Ditson Victor Co.
Group C — 3 teeth per side – Midsize Glasgow Escargot
Winchester 1805 (med)
Optimus (med)
Referee (med)
Goldsmith (med)
Group D – 1 tooth per side — Large Glasgow Escargot
Reach
Goldsmith
Refereee
Wilson

***** In 2016 a Reach ( large Glasgow ) was found that had no interlocking teeth . I tmatches those esitmated from 1916 to 1922.
What have we learned ?? CONCLUSIONS: From the outbreak of WW1 to the beginning of the great depression a remarkable escargot whistle was marketed in the USA. It had interlocking teeth. It was improved within period of time of 14 years and expanded to two models of escargots. It had a wide distribution primarily associated with sporting goods companies and yet production disappeared without the manufacturer being identified. None have been seen in any trade catalogs ( except a Winchester ). We have as yet to see more stamps appear and as of this first writing a Ditson and Reach had just surfaced. The manufacturer, whether in this country or another is yet to be discovered.
Posted April 5, 2013