A wonderful and just plain fun category of whistle collecting is the research and study of whistle chains. Beyond that is the outfitting of whistles with personal choices of 'outside' chains that the manufacturers didn't supply with their particular whistles. After some study, one sees certain chains that were originally issued. This sometimes helps in identification, but usually just helps to tell if it is close to original condition. The materials used were silver, nickel silver, brass, plated brass, copper, high quality steel and various less quality metals of steel and alloys. The lengths vary quite a bit and along with the design of the hooks — adds even further character. The button hooks may or may not be closed. They may be quite large or diminutive. Even the rings may be of varying quality and sizes, matching the chain set up or not. Split rings were used clear back into the mid-19th century and at the same time, solid rings were used that may or may not be soldered closed – usually a sign of higher quality. Here we are going to look primarily at UK chains, USA chains and a few additional types that have been applied as whistle chains. Often what is seen when straying from actual whistle manufactured chains are watch and fob chains used for whistles.
By far Dowler led the manufacturers with high quality nickel silver chains, but Hudson was very close if not in quality perhaps surpassing in variety. DeCourcy made excellent chains, but of limited variety. All other manufacturers gave little attention to this area. Let's start off with an early Dowler heavy nickel silver TRACE link ( brazed oval link ) …

In 1935 Hudson printed a nice array of chain types they had for sale in their catalog. Many names they used were already in use for years and make for a great guide for our purposes here. This Dowler is very heavy and rather large links, almost cumbersome to carry a whistle with. However it also makes a statement about the import of the very fine whistle that was attached !!! Compare it to the same type, but smaller link.
You see the tighter, smaller links better yet side by side … ( circa 1890 )

A beautiful link that Dowler specialized in what was a large curb link seen in two gauges here…

Hudson did not advertise this for sale, if they did have their own. However it is a delightful, airy and lighter feeling chain, although still substantially solid. Following this we look at some SINGLE link chain. These date back to Hudson's earliest police issues. It actually has two links that are brazed together almost forming a figure eight but perpendicular to each other. These were quite popular and came in several sizes of links and gauges. Historically they were issued with Metropolitan whistles in the first order of 7000 that Joseph Hudson filled. Some were rejected due to the chain stretching under test. ( Gilchrist – Collecting Police Whistles )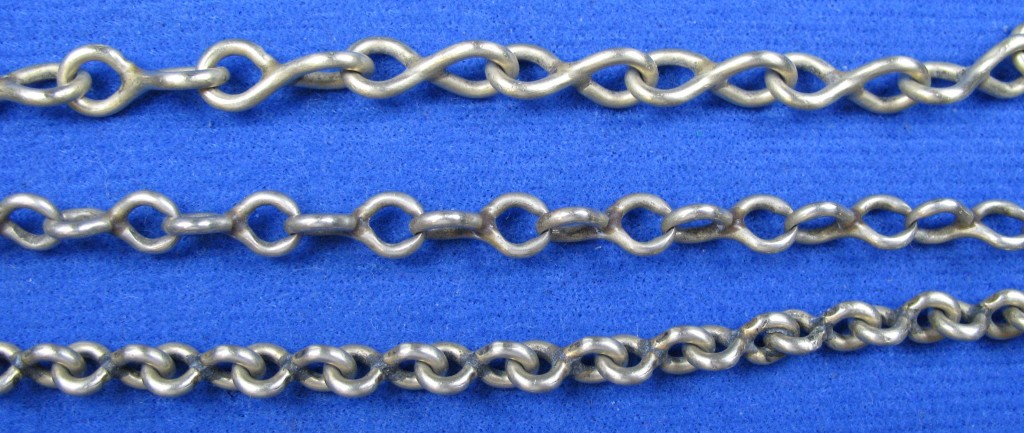 Asomewhat difficult one to find ( for us here anyway ), is the CHANDELIER link in nickel silver as presented here…

It is very popular in the states ( in brass and and also with cheaper steel alloys ). Here is a heavy nickel silver CURB link…

Belcher chain is one of our favorites and is hard to find in large nickel silver and usually is a smaller link…

And the A.V.link has been found in two sizes in nickel silver which usually was sold on Hudson whistles circa 1920. Nickel silver is our favorite, but brass and copper ( as in USA whistles ) are nice too and they get really dark with patina, whereas nickel silver mostly turns a hazy yellow/silver tarnish.
All these great chains have been in nickel silver and most can be found in the following metals on various whistles or were available by order in 1935:
Silver
Tin plate
Nickel plated brass
Nickel silver
Nickel silver electro plate
Aluminum
Chromium plated
Nickel plated steel
Also listed for sale was:
TRIANGULR
UNI LINK
CLOCK PATTERN
OVAL LINK
Now let's look closer at some from the states… In the states the early whistle makers either produced or marketed CHANDELIER patterns in a wide variety of forms and gauges as follows… ( these are also sometimes seen on UK railway escargots ) —– All of these are brass.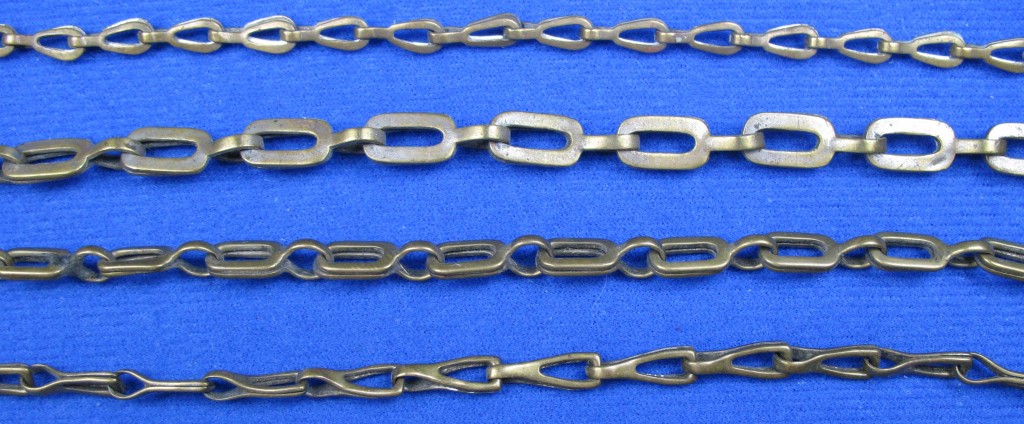 The metal of choice was brass. However many used steel and some beautiful patinas of early quality steel chains can be found. Later the quality dropped substantially. Here are some belcher chain sizes in brass — used sparingly, perhaps bought by the owners after or at the time of the whistle purchase.
The curb link was extremely popular in the states and still is, finding an old one on an early whistle is a challenge.

This distinctive 'DOUBLE' link next is made of copper, which was only used by USA manufacturers. Horstmann and one other unknown maker that produced a siren, escargot and tube shaped GSW used them primarily. They like Horstamnn, preferred copper, quite unusual in the whistle world.

Other manufacturers used this A.V. pattern often, but in brass of varying quality of craftmanship . It was not offered in the UK in nickle silver. And of course the very popular brass A.V link used primarily in the 1930s and 40s pre war and WW11 time for the military but in varying qualities of workmanship.
An area where the USA excelled, was in early steel and they also came in a variety of links as follows. However original installation is questionable as a mixed bag of applications from the manufacturer, out sourcing, or just owner preference is always found. You will note the DOUBLE link pattern in steel at the top and in the middle of the group picture below is a unique pattern that invariably came with angled mouthpiece -2 chamber whistles by BGI and others. Here is a closeup and the group picture has two very different sizes. There are many graduated sizes in between.

They were marketed for doormen, hockey,conductors, and hunting. These were always in steel and of many different guages. The hooks were small and rather short chains. Next up is an almost wrought iron link with excellent old character to it because it is hand wrought iron.

And a group picture helps to see the variety of old steel lnks and their terrific patina.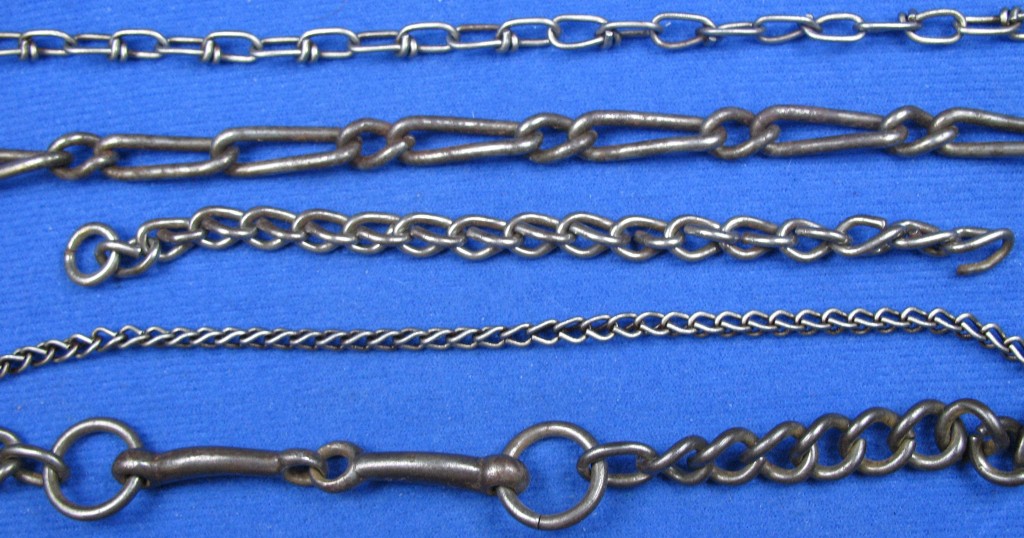 In closing some various applications
This extra large brass curb link came with a very early five piece escargot from Glasgow used by the fire brigade there. One can't help but note that the whistle was meant to be kept track of. Very bulky.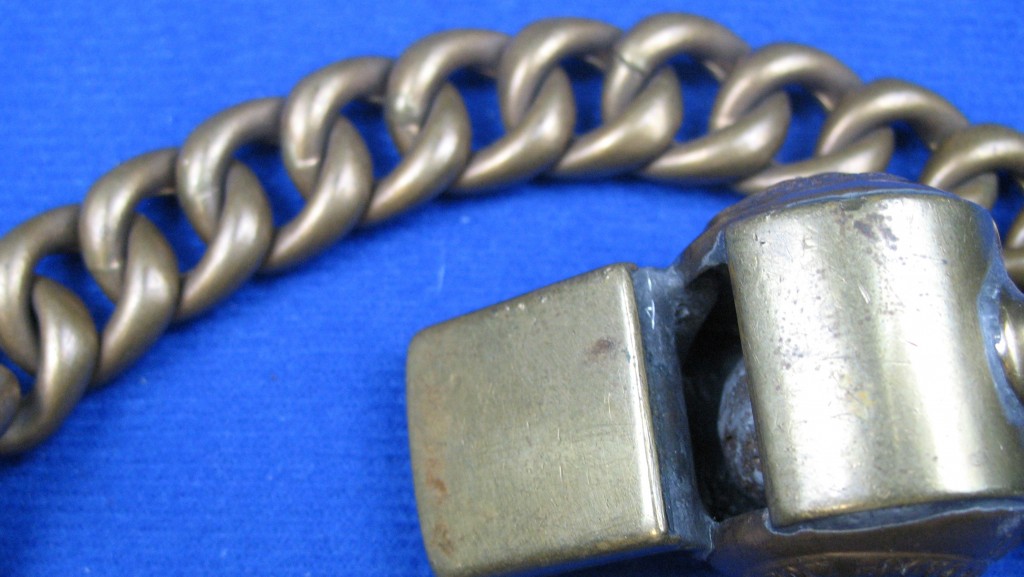 This is the first published array of a study in whistle chains from the manufacturers themselves yet so many whistles have after market chains applied by the owners, that they can't be ignored either. As we search for more variety and also original manufacturer chains, hooks and rings, we will add them to the group here, so please check back. TWG
Posted July 1, 2013