Spotlight > Specific Manufacturer > United Kingdom > DeCourcy > 022
SPOTLIGHT special edition focuses this time on a reassignment rather than a whistle that is a monotypical example. Why do we say reassignment ?? Because this same whistle that is displayed on page 35 of More Whistles by Martyn Gilchrist is pictured and listed as OFFICER by B. Lilly and Sons.
B. Lilly and Sons did indeed farm out their whistles to local manufacturers as well as manufacturing their own whistles. So it is not surprising to find out that this whistle was made by another manufacturer. Unknown till now was that it was Alfred DeCourcy.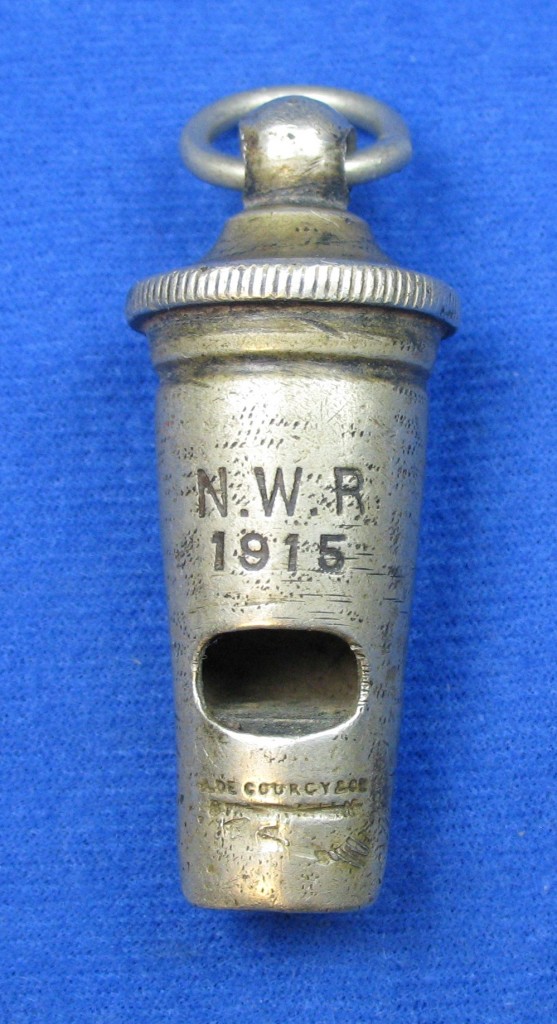 What is also surprising is that Alfred made this whistle for apparently a decade or more and that it spanned at least 1905 to 1915.The 1915 whistle that surfaced is a railway stamp for North Western Railway and it was made with Alfred DeCourcy's stamp – A.DECOURCY & Co. Under that it is ground or scratched off and appears to once have been BIRMINGHAM.
We have seen now four dated whistles matching this, minus the manufacturer's name:
1905
1911 (On auction now, asking a very high price at the time of this article.)
1912
1915
The 1912 and 1915 still reside here in the reference collection. It was only when the 1915 surfaced with the A. DeCourcy & Co. stamp on the front, that confirmation of the actual manufacturer of this design was established.
Interestingly three of these have come from Pakistan. One has come from the UK. The OFFICER stamp seen in More Whistles was followed by one that sold on line auction for 216 dollars in 2013. However it was sold as a Lilly whistle. B. Lilly and Sons did make their own whistles, so this now clears up some confusion over the actual manufacturer.
Here are the dated ones showing that these were targeted at the railway NWR ( North Western Railway ), unusually so, as we see dated whistles have always been thought to be for the military. Likely the others ( i.e., OFFICER ) were targeted at police forces.
As you may recall from our SPOTLIGHT on DeCourcy's early years, he first started dating his whistles at his address at 20 Frankfort street in 1906. Although patents taken out by his brother Edgar are dated to 1905 as well as a patent by himself in 1905. At his Mary street address prior, no dated whistles before 1906 have surfaced till now. He is listed in trade directories as a whistle manufacturer from 1890 to 1903 ( see CPWs page 62 ) but as can be seen he at least started dating them in 1905 and nameless at first.
Now lets compare the two and focus on the similarities and differences.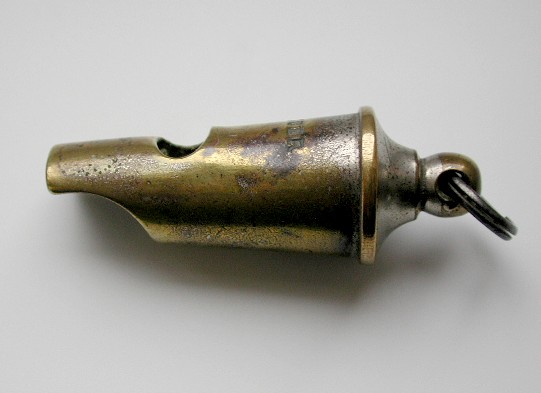 'OFFICER' picture above courtesy of Leif Bailey.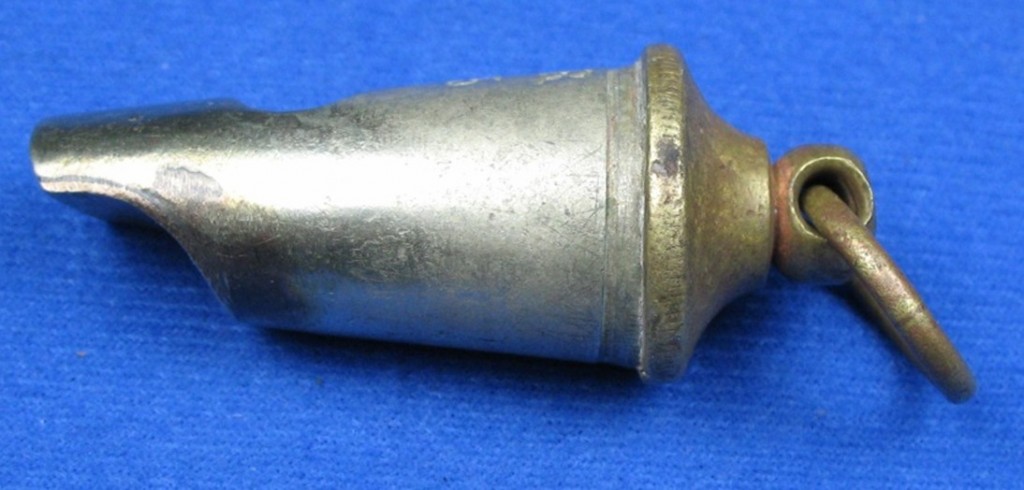 Side by side the same design can be readily seen. The conical top is scarcely seen on any other whistles. This makes it a distinct design characteristic. Couple with this the knop placed right on top and the very distinct and rarely seen oval window. Then note the length is the same. The only real difference is that the OFFICER is smooth around the top cap edge and the NWRs have milling.
So what conclusions may we draw at this point in time or what may we make conjectures about ??
Perhaps DeCourcy copied Lilly ?? Not likely. He was an innovative whistle designer and usually carved his own path. Gilchrist lists the OFFICER as circa 1900. That would be just prior to the dated 1905. There might be earlier dated ones yet to see. Perhaps the OFFICER is circa 1905.
There is a handmade quality of all these whistles. The oval window is only seen in a Barrall round whistle and larger more dramatic ones much earlier in the heavier Auld whistles — and then later in DeCourcy heavier rounds, perhaps by Ward also.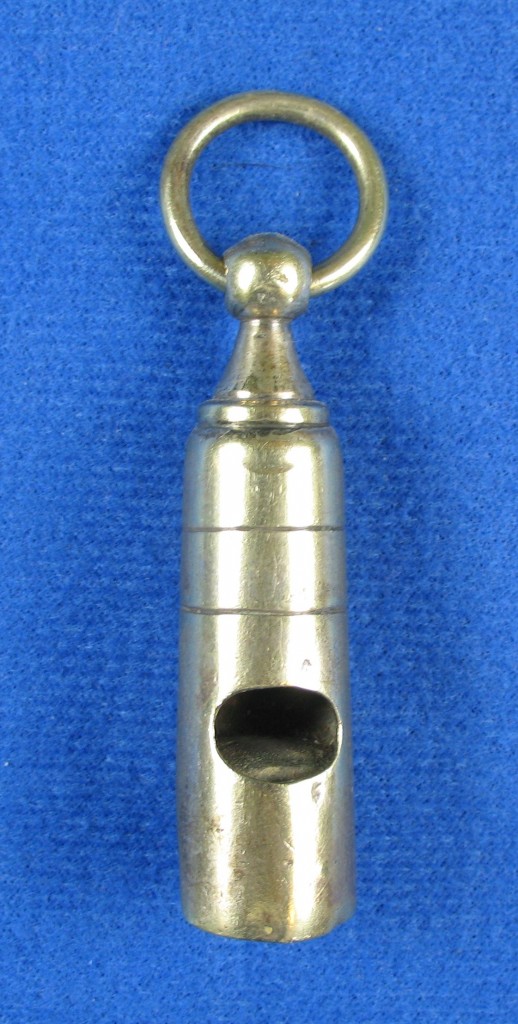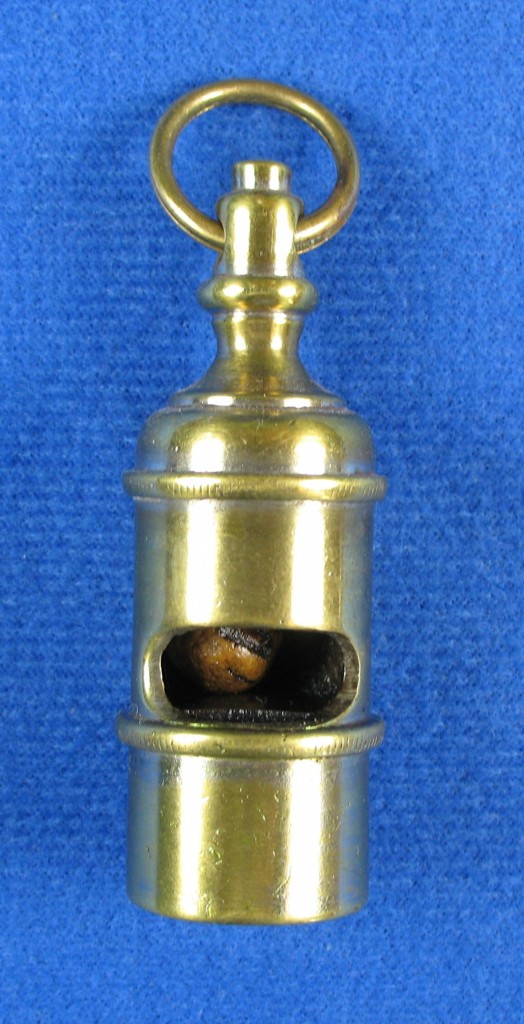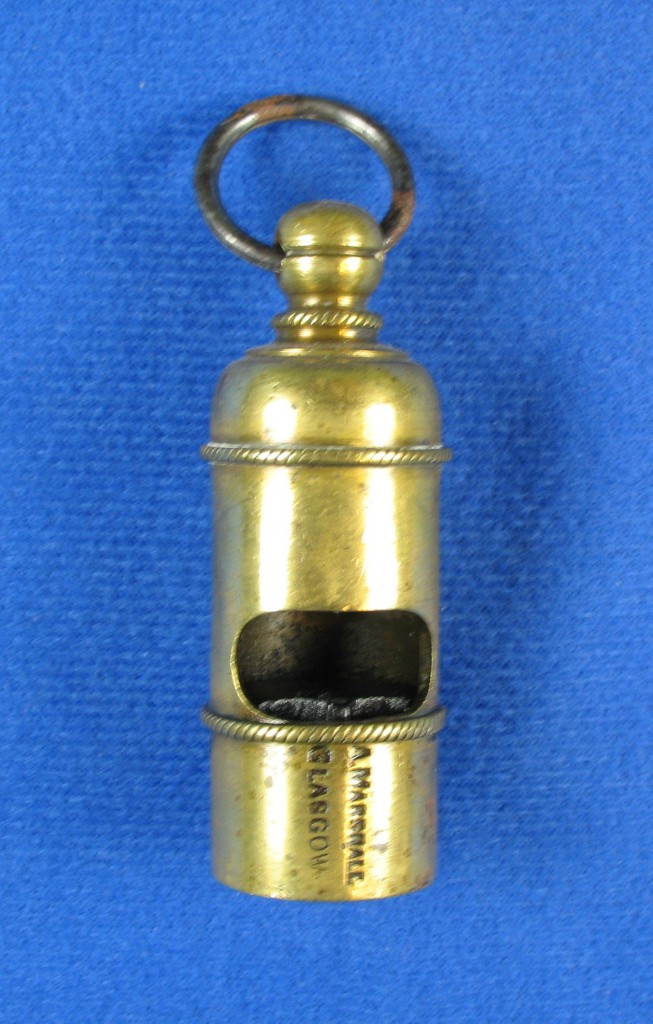 Above: (1) Barrall, (2) DeCourcy, (3) Auld
There is much more to be revealed and it is with keen anticipation that we wait for what further secrets will surface from a truly remarkable whistle designer …
TWG
Posted September 17, 2013