Spotlight > Whistle Categories > Bell Whistles > 033
For the SPOTLIGHT special edition we present a monotypical Bell whistle from the USA. It was bought in a group of whistles without knowing what it was. The strange mouthpiece and being from the USA made it difficult in the pictures sent to even know it was a bell whistle. However it turns out to be a previously unknown bell whistle with some unique features and at this point the only one known. Let's take a closer look.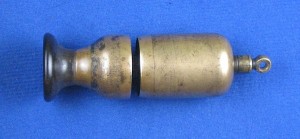 To really appreciate it we spent days soaking and prying to peer into the ( unknown ) manufacturer's innovations. It was more than surprising to see a new approach to the Bell whistle !!!
The width is not surprisingly approximately the same width as others seen out of the UK, as, after all it is a hand type whistle. The length is comparable.
It is brass with a terrific patina. However it is the inside where the surprises are.
Several features jump right out for those familiar with bell whistles. For instance, the top is not a ring but more of a pillar top. It was seized and quite difficult to take loose. In fact the bell itself is completely seized for removal.
Of course the next thing is the mouthpiece. It is flared and almost a musical instrument design type.
It too screws on like the wooden and ivory ones on other bells, yet the threads are outside instead of inside. Beyond that its made of horn or possibly bakelite, rather than ivory or even wood. This appears to be a new approach to manufacturing a bell whistle. A flared mouthpiece.
Who developed the first bell whistle ?? The earliest signs points to Richard Porteous from the UK circa 1860s. However this is a very early one itself and could there have been parallel developments in the bell whistle world ?? Certainly the steam whistles design is directly influential and it follows along the same overall look..
Lastly we look at the insides for the air distribution system. This a radical change, in that instead of using the shaft to redirect the air, it is vented through small holes and directed straight at a disc.This is an entirely different design.
What a surprise to find in a batch of whistles and what a treat for the whistle world.This makes three totally different models known now ( i.e. Stevens, Hawksley ).
Perhaps there will be others ?? We hope you have enjoyed this treat as much as we did. Whistle research and history is changed with every whistle that is unearthed and presented at the Whistle Gallery and elsewhere.
– TWG.
Posted October 5, 2014