Spotlight > Specific Manufacturer > United States > BGI > 044
In SPOTLIGHT number one we looked just a little at the Bridgeport Gun Implement Company ( i.e. BGI ) bullet whistle under American made production whistles prior to 1900. If you remember it was a production whistle, not a 'trench' whistle or handmade hobby whistle that some soldier or civilian put together while sitting back in some trench or at home in his shop.
Then in SPOTLIGHT number nine we focused just on model 601 and its background. The 601 has attributes of a round whistle with one window, but with the characteristic of a diaphragm inside rather than a fipple at the mouthpiece. We then looked closer at the company background.
Now has come the time with SPOTLIGHT number forty-four to look even closer at BGI itself as a premier whistle manufacturer dating from 1878 to 1908 a total of 30 years. This SPOTLIGHT effectively updates and expands on earlier SPOTLIGHTS.
BGIs roots are as follows:
The firm of Schuyler, Hartley and Graham was organized on March 1, 1854. Jacob Rutsen Schuyler, Marcellus Hartley and Malcolm Graham, entered into the firearms retail business for themselves.
Marcellus Hartley made many contacts in Europe- pre Civil war. These were capitalized on for the next two decades.
The Civil war dates from April 12th 1861 to April 9th 1865
1854 Union Hardware Company
1867 Union Metallic Cartridge and Cap company
1876 Schuyler retires
1899 Graham dies, name becomes M. Hartley Company
1902 Hartley dies, son M.Hartley Dodge takes over all assets
1862 C.D.Leet receives order for pinfire arms from Schuyler, Hartley, Graham delivers first Civil war shipment by April
1862 C.D.Leet and Co. formed
1864 C.D.Leet
1867 sells out to Union Metallic Cartridge and Cap Company Owned by S.H.G.
1878 February Bridgeport Gun Implements formed by Hartley (1908 last year on directory )
The following is a patent by C.D.Leet with C.S.Leet, a witness 208,247 filed 1877 – pub 1878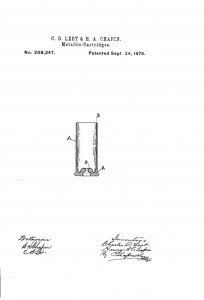 C.S.Leet the son of C.D.Leet and both worked for Bridgeport Gun Implement Company.
C.S.Leet patented in 1881 what became the model 601 whistle.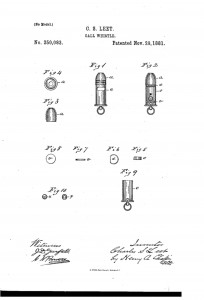 His opening notes show that it was for hunting purposes primarily:
'This invention relates to the details of the construction of an improved call-whistle for huntsmen and others, the object being to embody all the requisite elements of a whistle'in the form of a complete metallic cartridge, and to so improve the construction thereof as to insure more effective operation of the twitterball usually inclosed in such whistles.'
One can easily see the similarities in structure to the earlier casing patented by C.D. Leet. His son C.S. Leet's design was for huntsmen ( not police per se ) The casing is in the form of a metallic cartridge-shell and the mouthpiece is in the form of a 'cartridge-ball'. It would go on to be manufactured in two sizes, a 50 caliber carbine cartridge and a 33 caliber pistol cartridge as seen in an 1882 BGI catalog and 1883 Tryon catalog. It was offered gilt and nickel finished. An example of the 33 caliber model has not been found yet.
How long this whistle was manufactured is not known, but it disappears about the turn of the century approximately the time that Union Hardware takes over, making it somewhat rare. It does surface from time to time though and is a very high quality whistle, quite shrill.
Some were made with a 'twitter' ball ( wooden with a hole through them ) some were not. Some had a flat stone instead. We have examples in brass and copper materials. Hand held and with a ring for a chain or without, as the following pictures show from the reference collection:
We might take a moment here to look at an early advertisement of the 601. The knop is a little higher up than usual and what really jumps out at you is the different window which is half round.

A closer look reveals there are two size knops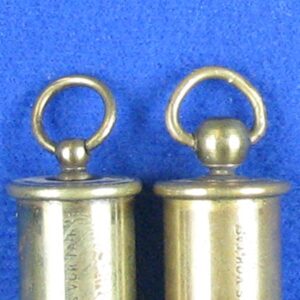 And also two more decorative tops both hand held only and able to be chain hung.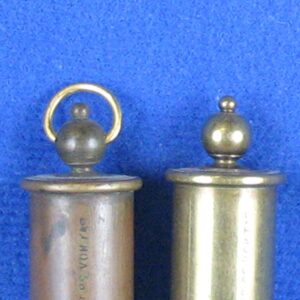 Next we move on to another patented whistle that was invented at Bridgeport. The escargot is a light construction type. It has two sizes of knops and was made with several stamps. We do not have enough catalogs to find it prior to 1902 although the patent is 1893. That leaves an 8 year gap. It was offered with a nickel silver mouthpiece also and is always the same size. The ring did not go all the way through the knop just like the 601 bullets did not.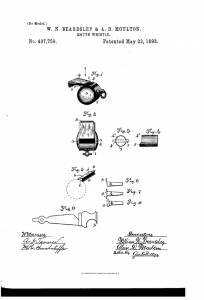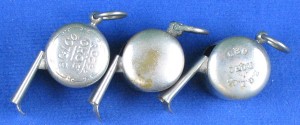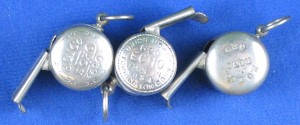 Of course when Union Hardware took over in the 1890s the stamp changed to reflect that. Both WM. N. BEARDSLEY. and ALVIN D. MOULTON lived, worked and assigned patents to Hartley and Graham in Connecticut..
Here are the two knop sizes and also note the window cuts which vary slightly, revealing handmade manufacturing.
Next we move on to a two tube angle mouthpiece whistle by Sylvester R. Briggs patent, who lived in Foster Rhode Island. No direct connection has been found yet to BGI. However the Briggs whistle was manufactured and stamped by them prior to selling out to Union Hardware. Advertisements show them being made by Union Hardware 1902 ( and earlier ? ).
Here is the patent and its details in part, we have highlighted where it refers to bicycles.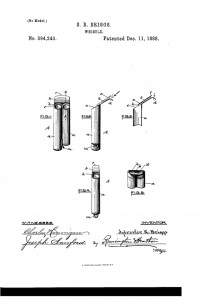 S. R. BRIGGS.
WHISTLE.
No. 394,243. Patented Dec. 11, 1888.
UNITED STATES PATENT OFFICE.
SYLVESTER R BRIGGS, OF FOSTER, RHODE ISLAND.
WHISTLE.
SPECIFICATICN forming part of Letters Patent No. 394,248, dated December 11, 1888.
Application filed January 17, 1888. Serial No. 261,006. (No model.)
To all whom it may concern:
Be it known that I, SYLVESTER R. BRIGGS, a citizen of the United States, residing in the town of Foster, in the county of Providence and State oil Rhode Island, have invented certain new and useful Improvements in lVhistles; and I do hereby declare the following to be a full, clear, and exact description of the invention, such as will enable others skilled in the art to which it appertains to make and use the same, reference being had to the accompanying drawings, and to letters or figures of reference marked thereon, which form a part of this specification.
My invention relates to whistles of the class adapted to be used more especiallyby bicycleriders, car-dri vers, and other persons in giving signals.
The invention resides, essentially, in the novel construction of the mouth-piece or holder, combined with the sound-tube or airbarrel.
The object sought to be accomplished is to produce a more serviceable and practical whistle of its type than has been made heretofore, and one, also, that comparatively inexpensive, a distinguishing .feature of my improved whistle being` that it can be readily carried in the mouth without inconvenience, owing to the novel form of the mouth-piece, which terminates in a hook-shaped portion, its presence not seriously interfering with a free use of the lips, as in talking, &c. lVhen the Whistle is not in use, it may be carried in the owners pocket or be suspended from a short chain, as common with other analogous whistles.
The Briggs whistle is interesting in that it is not directly attached to BGI ( or is it ? ) Yet very early on BGI manufactured it. There are two distinct stamps they used before selling out to Union Hardware and changing the stamp to Universal – all pictured as follows ( they came in three sizes – #1,#2,#3 ) The earliest stamp is quite rare to find.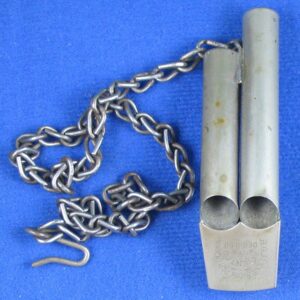 Other manufacturers about the same time period but in the UK are Hudson, Lilly, Pioneer (?) and DeCourcy – the Champion.
Also utilizing the Briggs patent in the states at the same time was Holmes, and Whitten and Godding stamps, possibly made by Union Hardware. The Universal or Universal Call stamp was used in both the UK and USA.
They were used as taxi calls, in sports events for umpires and referees and also by cyclists.
Moving on to some of the other models without patents is next :
Model 611 ( 1883 catalog and later model 16 by 1886 ) Horn Dog Call came in three models ( 11,12,14) It is turned from a single piece and a fipple of wood inserted. Two brass pins at the sides for the retention of the fipple.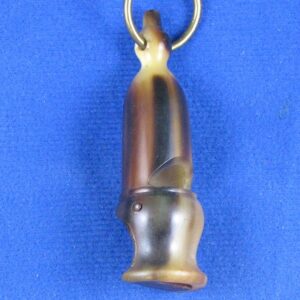 Model 16 is the White Bone Dog Call, made by the same method..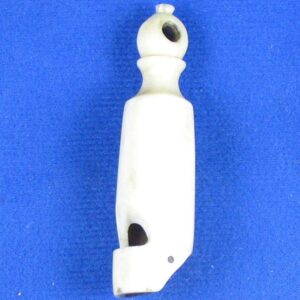 BGI made both lead round whistles and 'britania' whistles. The following is model number 12 , 1883 catalog sold as a Conductors Whistle. It has a wedge type disc and partition much like early beauforts from the UK.
In their earliest catalogs were always un-plated brit round whistles in four sizes – models 6,8,11.15. — all dog calls except for model 15 targeted at the police force and 'extra large'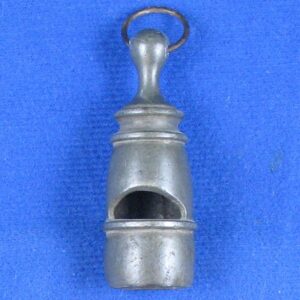 A small round model 00 made of lead but of the same design was sold by 1886.
However it was in 1899 that a round appeared with the hole facing the front.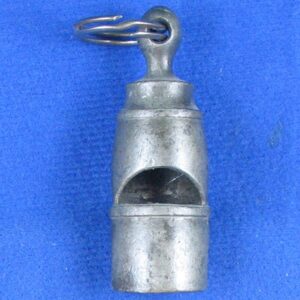 Whether this round was made by BGI is not known at this point, but is likely.
Moving on to nickel and horn, The Streetcar models 50,51,52. The fipple is rounded wood inserted before the turned horn mouthpiece. The top is also turned horn. Two steel pins are used to retain the fipple.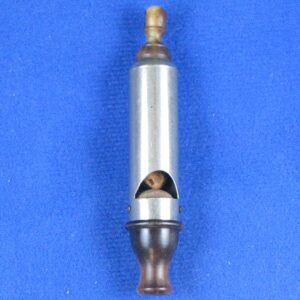 As early as 1886 ( and again in 1902 ) BGI was advertising, the Surprise Whistle patented by F.L.Johnson who was manufacturing his own whistles in Wallingford Connecticut — only 30 miles away from Bridgeport. An advertisement lists the Waterbury Pin Company as manufacturing it also. Waterbury was a hotspot for several whistle designs circa 1900.
BGI was also advertising his Springfield 'Roadster' ( model 114 1902, now the M. Hartley Company ) – both The Roadster and Surprise were taken from the same patent design, although the rubber bole was not in the original description.
Interestingly a skeleton whistle ( model number 1 in 1902 ) and actually unnumbered in 1886 made of plated steel was manufactured. The catalogs show a 'star' and advertise a 'car' also. Pictured here is a 'diamond'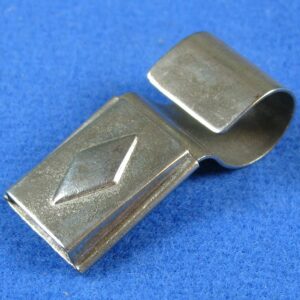 The 'duplex' whistle is seen in a 1902 catalog having been out for many years patented by Banks and Brother and again by Fischer. Who manufactured it ?? Possibly, Union Hardware.
Lastly, we look at a relatively unknown plastic round whistle advertised in 1899. It was sold as 'assorted colors' models 57 and 58. The only whistle costing more than 3 dollars, was the Surprise call by Johnson at 3.50 dollars.
There is still much to learn about BGI. Many whistles have not been found, identified ( or at least verified ). There are models that have not surfaced yet that were definitely manufactured. For example model 631 stag horn is a dramatic stag horn whistle not seen by us yet. Model 43 'Boars Head is still to found, yet appears in a Dixon catalog in the UK dated 1882 number 25.. Even verifying a carved dog head whistle model 44 made of ivory has not been done yet . And there are many, many more.
Shown next is a design type that may have at times been attributed to BGI, however no catalog or advertisement lists such a whistle.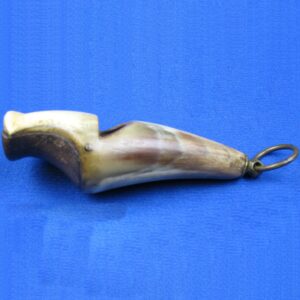 This article has not addressed their bird calls other than listing the model numbers collated from catalogs possessed.
What can we take away from this material gathered.so far ??
BGI was a prolific whistle manufacturer to say the least. They were innovative, targeting the hunting, military, police, cycling and other fields spanning 30 years.
They produced not only different designs, but sizes of them, and there are many of both still to be found and catalogued by whistle archaeologists.
The beginnings of BGI date clear back to the civil war, yet they never made any civil war whistles, ( although several pewter rounds of theirs are sold as such ) since they did not start manufacturing till almost 15 years after the war ended.
The following is a list compiled from catalogs and advertisements to help in searching out to a greater extent this wonderful manufacturer of rare antique and collectable whistles.
We hope you have benefitted and enjoyed all the work that has gone into years of research and combing to find what we could. Please feel free to write in for any errors or to add to the fund of knowledge.
Model numbers:
00 lead dog call small rough finish – 1886
1 —– Skeleton [ star, car, diamond ] — 1886, 1902 – mdl 1
2 —– brittania pillar top round medium – 1873, 1883
3 —– brittana pillar top round large – 1873, 1883
4 —– brittania pillar top round very large — 1883
2 —– horn round [small] – smooth surface — 1902
3 —– horn round [ large] – smooth surface — 1902
6 —– brittania round [small ] — 1886
8 —– brittania round [ medium ] — 1886
10 — brittania round [ large ] — 1886
12 — pewter beaufort 'conductors whistle'– 1883 ( called 'canon' 1886 )
15 — brittania round [ larger ] — 1886
14 – ASSORTED – 1902
16 — horn black ornate large – 1886
16 ½ -horn black ornate medium — 1886
(16 — white bone [ round ] – ornate) — 1902
40 — 'tally ho' — long arched horn dog call small — 1886,
18 — 'tally ho' – long arched horn dog call medium 1902
41 — 'tally ho' – long arched horn dog call large — 1886,
41 — horn arched like tally ho (18) — 1886
43 — horn carved to represent a boars head – 1883
44 — genuine ivory, carved to represent a dogs head — 1883
50 — nickel and horn street car 3 1'4 inch small — 1886
51 — nickel and horn street car 3 ¾ inch medium — 1886
52 — nickel and horn street car 5 inch large "steam whistle" — 1886
54 — celluloid round small assorted colors – ornate
55 — celluloid round small white — 1902
56 — celluloid round large white — 1902
57 — celluloid round large assorted colors — 1902
70 — duck call [ Fred A Allen's 1902 ]
71 — fuller's goose and crane call [ large metal tube with wooden mouthpiece] — 1902
72 — duck call, horn tip [ long with flared mouthpiece — 1902
72N – duck call nickel tip — 1902
73 — turkey call [ very long and thin] — 1902
770 — snipe call [ long thin with mouthpiece] mdl 77, 1902
80 — turned horn rounds 'dog calls' small – 1886 , 1902 mdl 11 –
81 — turned horn round 'dog call' medium – 1886, 1902 mdl 12 –
82 — turned horn round 'dog call' large – 1886, 1902 mdl 13 –
111 — small Universal duplex angle mouthpiece — 1902
112 — medium universal duplex angle mouthpiece — 1902
113 — large universal duplex angle mouthpiece – 1902
114 — F.L.Johnson Jan. 29 1889 patent bicycle whistle – called 'roadster' – 1902
120 — Ivory dog head – 1884
122 — ivory dog head larger– 1884
120 — echo escargot nickel plated — 1902
120s — echo escargot German silver mouthpiece — 1902
125 — duplex police call with chain, nickel plated – two tube — 1902
126 — surprise [ F.L.Johnson ] rubber bole — 1902
601 — 50 carbine cartridge gilt and nickel 1882
601 — 32 pistol cartridge, copper 1882 –gilt and nickel – 1883
611 — horn with curved lip – 1882, 1883 – 3 sizes ( ornate ) –– see mdl 80
621 — made of natural horn tips 1882, 1883 assorted sizes —- see mdl 40
631 — made of natural stag horn buts, a perfect curiosity – 1882, 1883
municipal call – unibody c. 1910-28 ??
— TWG
Posted April 5, 2015