Spotlight > Whistle Categories > Variety > 045
Special attention is given this month to a watch whistle. ( Interesting point is that when researching time pieces, there is quite a bit of difference between watches and clocks. )
Here we have for discussion a French manufactured whistle — as seen on the front and stamped inside – It is very unusual to find a whistle with a watch incorporated into it. It is a high quality whistle of plated brass, not the 'usual' deco type made of brittania if you see one at all. — Of course there are wonderful silversmith creations. This whistle is circa 1930. The face is set so that the watch can be hung as a necklace and then pulled up to see the time or be blown. Both sides are glass and a nice touch is that the internal workings can be seen.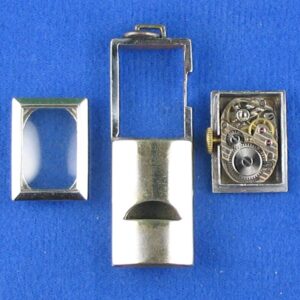 Andre Wyler would be what might be referred to as an 'art deco' period designer/maker and is credited with this whistle. He is rather obscure and one sees his work mainly having to do with desk clocks, but also pocket watches, cigarette cases. Remarkably there was found to be a matching 'handbag clip', perfectly matching the whistle's bezel and dial.
His stamp can be found on the watch parts. The following information is from research done by a watch expert on the west coast Darryl Hover:
The watch movement is a 5.75 x 8.5 ligne, FHF 80 calibre, 15 jewel movement. It was manufactured by the Swiss movement maker Fabriques d'Horlogerie de Fontainemelon (FHF) and was used by many other watch makers as the basis of their own branded watches. This was – and still is – common practice in the watch industry. The movement beats at 18,000 beats per hour, standard for movements of that time period, and has a 30 hour power reserve.
FHF is now part of the Swatch Group, makers of Omega, Tiffany & Co watches, Blancpain and other luxury watch brands.
He had a partnership at one time with the Hermes luxury goods company.
The vast majority (more than 99%) of Wyler watches you might see are from Paul Wyler, a Swiss mfg.
There does not appear to be any connection between the two.
Now let's look a little closer at the whistle itself.
It appears and is very sturdy, a design that could take some knocking around and survive being hung by a chain necklace.
As can be seen the watch itself is removable and the 'face can be turned upright if so desired.
However this would prevent its use via the necklace chain. It has a very solid top 'ring' for the chain attachment, but is sideways so an additional ring has been added.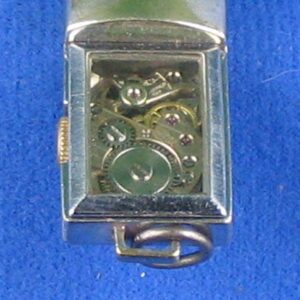 For the flip side the mouthpiece is seen to be very wide and one notes that there is no conventional fipple but more of a flat disc as seen in Hudson rounds close to the same time period. The sound is very sharp.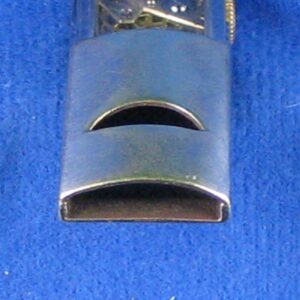 The measurement for length is 55mm long and 188mm wide.
At this point there has not been another seen. It may be custom made or there may be variations. A matching watch piece was seen on auction for a money clip.
TWG.
Posted September 13, 2015