Spotlight > Whistle Categories > Multi-Chamber > 47
In delving to the bottom of the pile of thin wall whistles we find a mish mash of overlap and confusion. Here we will set out some parameters for research and categorizing. Further breakdown will come along three lines ( if possible to keep it that simple ) at later dates.
duplex angled mouthpieces — thin wall
duplex straight – thin wall
triplex straight – thin wall ( three shapes )
—first let's look closely at :
Angled mouthpiece duplexes date back as far as B.Lilly sometime after 1861 ( their earliest date ) in the UK or S.R.Briggs in the USA 1888 ( his patent date ). There are many stamps and makers to track, including but not limited to:
The Lilly ————— B. Lilly ( Gilchrist dates 1910 )
Pioneer 1896 ——– Unknown maker
Acme ——————- Hudson
Speedwell ————- Ward
The Champion ——- DeCourcy
The Universal ——— HudsonI, Union Hardware
Helms Bakery ——— BGI / Union Hardware
Whitten Godding & – BGI/ Union Hardware
Signal ( German )
Ges. Geschutzi
Unmarked ( French )
Unmarked ( Greek )
Unmarked ( USA )
Unmarked ( ?? )
…and more to come.
As you can see there was a lot of activity involved with these whistles. Categories circling around taxi calls, cycling and sports to name a few. This has lent itself to a subsection of angled mouthpiece thin wall whistles.
Here is the patent sketch ( which is available on Google search for download ) from S.R.Briggs that was apparently obtained by BGI Bridgeport Gun Implements Co. as with other whistle patents ( i.e. Leet, Beardsly and Moulton )
The sizes varied according to the makers models. While Lilly and Ward (?) made only small model (s) there are two models known by DeCourcy ( 70mm to 120mm – Gilchrist ) and three sizes by Hudson, BGI and Union Hardware. It appears that when BGI ceased making whistles that Tower and Lyon picked them up and changed the name to Universal. Hudson used the name on their own, as they did many times producing competitor's whistles head to head. Their 1935 catalog displays four models starting with #143 – all stamped The Universal Call
An interesting side point in researching these types of whistles is that they customarily had their own theme chain links in the USA. Although the links in the '35 Hudson catalog are double link and single link. The type used in the states is a tri link — and always steel. Usually found rusted, they clean up well and have a dark charcoal colored patina soon from age and quality of metal. The links also came in several sizes. The variety of 'hooks' are interesting and worth tracking too. Here are a few comparison pix – hard to believe so many sizes.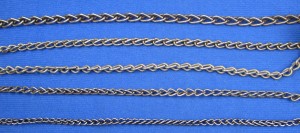 Whistle makers in the states were fond of these chains on all thin wall multi-tube whistles. However they were especially fond of using them on the angled models. Here is a picture to see this unique tri-link…

The variety of the button hooks is even better to study. Perhaps the many uses of these whistles created more needs and inventive of ways to fasten them to the working man's clothing.
Back to whistles now. Typically the angled mouthpiece had an under lip that was easily bent from use. Construction is very similar on all manufacturers, with the angle varying only slightly, the weight of materials being alike and the lengths very close. Nothing was wasted. What was built as a cheap little whistle became a standard to manufacture by.
Let's look closely at the Lilly and Pioneer 1896 – quite similar.
BGI varied their stamp on the face of their whistles, Here is the oldest most ornate they used. The patent referred to is Briggs's.
Next see the transition from BGI to the Universal from Union Hardware …
Whitten and Godding and Helms Bakery were made in true BGI form, probably by Union Hardware..
Unfortunately we haven't a Ward or DeCourcy to compare with yet, when we do it will be added for cross examination.
Now we add some unidentified whistles. Interesting four tube eastern European model comes first. It is heavier than normally seen and in between a thin wall and heavy wall multi tube whistle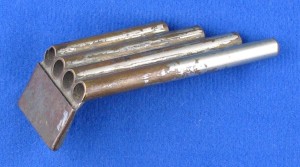 Next a three tube that came from Greece and has caps on the tube ends.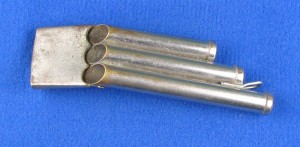 Lastly is an American model.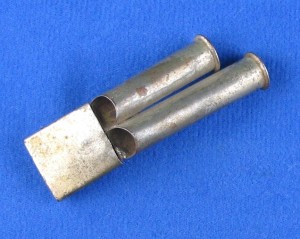 We have seen an ornate two tube from France that looks to be made of Brittania. We also saw a very interesting French square two tube with rivets behind the mouthpiece.
No doubt you can appreciate by now how these all no longer look alike. There are more subtle than obvious differences in design, but differences can be found abundantly.
The fact that they were manufactured in different sizes is fun to look for. Stamps changed over the years and can be dated and organized.
Please feel free to send in pix of any stamps or varieties of angled mouthpiece thin walls you may have found and we will post them here for added knowledge of a previously un-categorized area of whistle collecting and study.
– TWG
Posted September 14, 2015