Spotlight > Specific Manufacturer > United Kingdom > Pringle > 054
Biography — Robert Pringle — Birmingham
1835 Robert Pringle founded a business manufacturing jewelry
1868 new address, dies 7 years later. Robert Pringle (the second) takes over.
1881 business expands, becomes Wilderness Works
1882 name changes to include son
1889 name changes to include sons
1907 Robert Pringle dies, Robert Pringle (the third) takes over. His brothers partnered up.
1935 name changes to Ltd.
(1800-1875) was apprenticed to a jeweler in Perth, Scotland, at the age of 13. Following his apprenticeship, he moved to London in 1820 and continued to work at his trade. In 1835, he established a workshop as a manufacturing jeweler at a private house in Amwell Street, Clerkenwell, employing between six and twelve men.
By 1868, Pringle had moved to open a shop at 21 Wilderness Row. He died in 1875 and his son, also Robert Pringle, took over the business. Previously known as Robert Pringle & Co, the company became Robert Pringle & Son in 1882.
By 1881, 21 Wilderness Row had become 42 Clerkenwell Road. The premises were rebuilt and named as the 'Wilderness Works'. Over the following decades, the business expanded to substantial premises incorporating 36-42 Clerkenwell Road and 17-20 Great Sutton Street. The company produced an increasingly wide range of products, including watches, clocks, fancy silver goods, glassware, electro plated goods and optical items for domestic customers and export.
In 1890 the firm was active with premises known as Wilderness Works in all the branches of the trade, as gold, silver and gem, jewellery making, gilding, plating, refining, assaying, electroplate manufactory and silver-plate making
The proprietor Robert Pringle (II) was assisted by his sons, James & Robert Pringle (III) (bullion e refinery department), William Pringle (silversmith department) and Edwin Andrew Pringle (watch department) – dies 1942.
In 1899 Robert Pringle (II) took in partnership his eldest son Robert Pringle (III) and the firm changed to
Robert Pringle & Sons.
In 1907 Robert Pringle (II) died, and Robert Pringle (III) was joined in partnership by his brothers William, James and Edwin.
The business became a limited liability company, Robert Pringle & Sons (London) Limited, on 1 Jan 1931. It was last listed in trade directories in 1967.
Business Names:
Robert Pringle 1835 – c. 1882
Robert Pringle & Co – 1882 – 1899
Robert Pringle & Sons – 1899 – 1931
Robert Pringle & Sons (London) Ltd – 1931 – c. 1965
Addresses:
1835 — Amwell street, Clerkenwell
1868 – 21 Wilderness Row
1881 — 42 Clerkenwell Road ( same place new address ) – Now named Wilderness Works
36 to 42 Clerkenwell added as well as 17 – 20 Great Sutton Street
What do we see so far ?? That Wilderness Works made whistles as a part of their line of products. However, the name dates back to 1881. Heretofore whistles by Pringle were thought to date to the 50s and 60s. However as can be seen the company ceased to exist after 1965. So there is a possible window of 84 years.
In doing research of Wilderness Works in records post era, it was not found anywhere their manufacture of escargots in any catalogs or advertisements. In fact catalogs dating 1902,1907,1926,1931,1936 show only silver and gold whistles made by smiths — dated and hallmarked. As we find some to exhibit we will post at the end of the article.
The hallmarks for Robert Pringle stamp is an RP & Co. in boxes, as can be found on the internet. Conical shaped for the most part and some with top notched windows.
The following is the typical Pringle escargot seen many times for sale, yet not in advertisements — this one from the reference collection.
They usually contain the cross axes with W W between the axes, in a center ring underneath the lip of the whistle.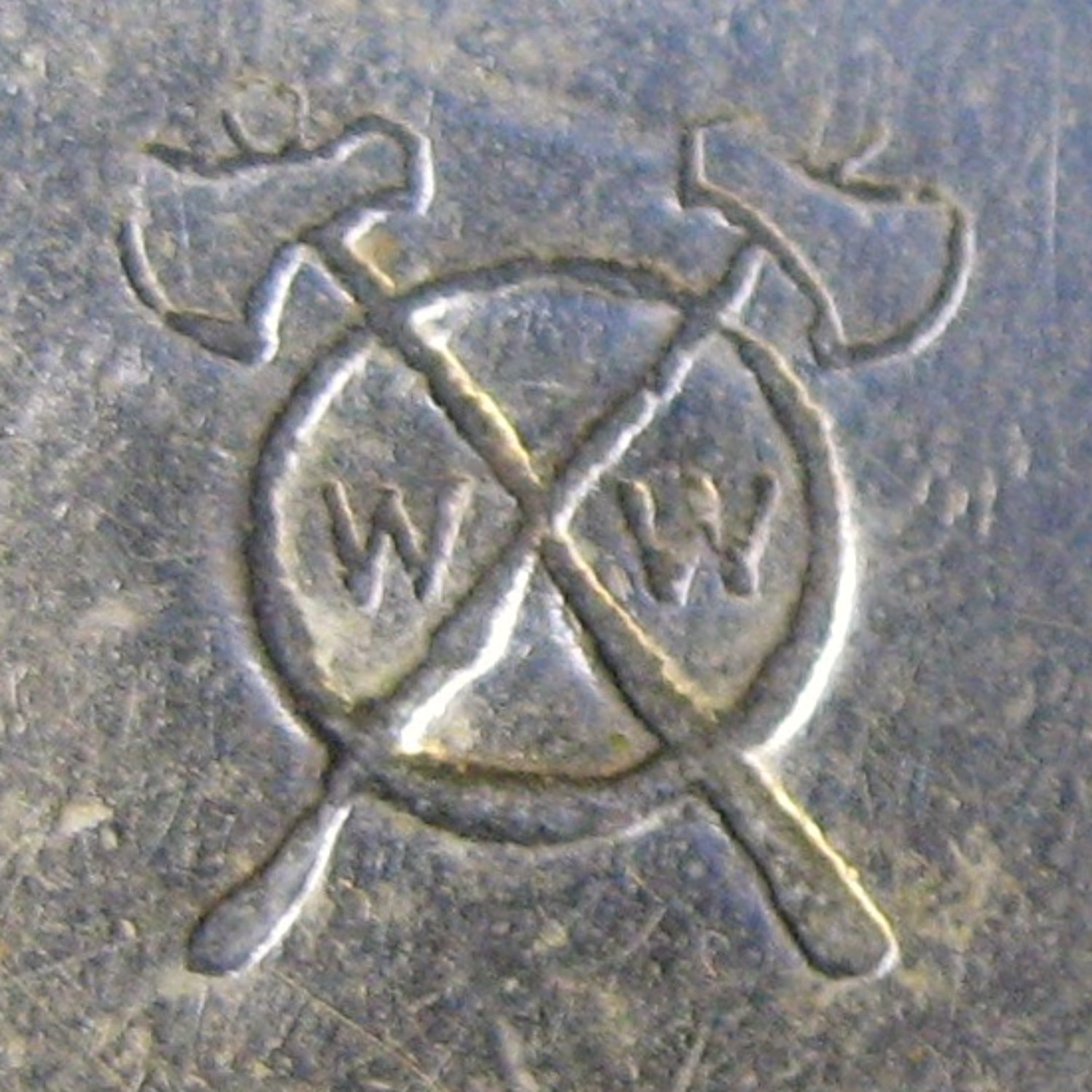 Because of copyrights we have withheld the pictures of the catalogs and will focus on escargots.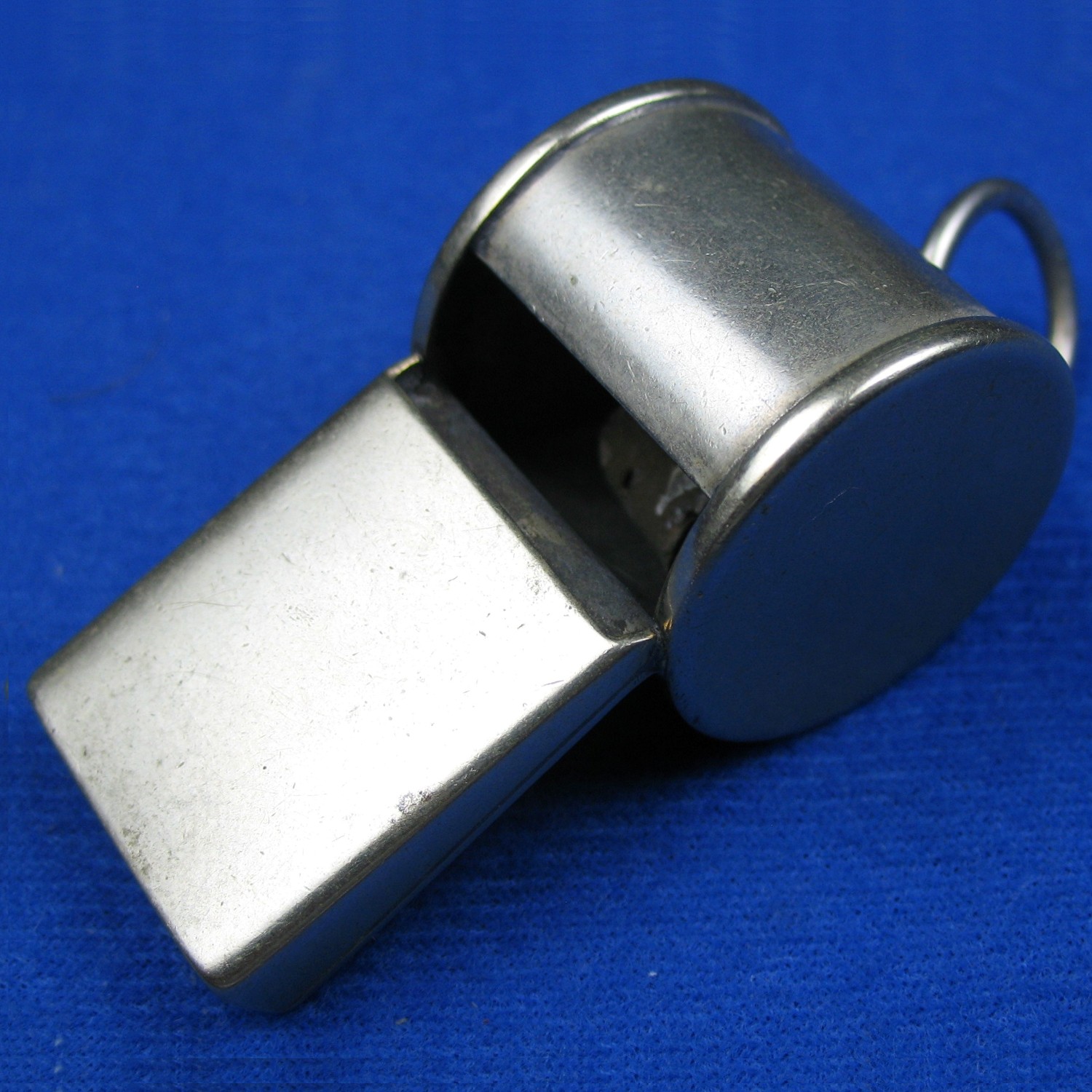 As you can see this is a very light, but yet well-constructed whistle. Typically made entirely of nickel silver, we have seen them in silver and plated with silver over nickel silver and brass. The nickel silver is high quality.
See how it is a five piece whistle too. The barrel is made from one piece that wraps around and is plated on each side and then a top piece. The unique wire type 'knop' is then applied for the chain to the back side of the barrel.
The wire knop can be placed at two different elevations but never has a round knop.
From the bottom you can see how the side caps are thin and the rims wrap the edge completely around with a perfect fit, then soldered in place. You can see inside the edge to see how thin it is.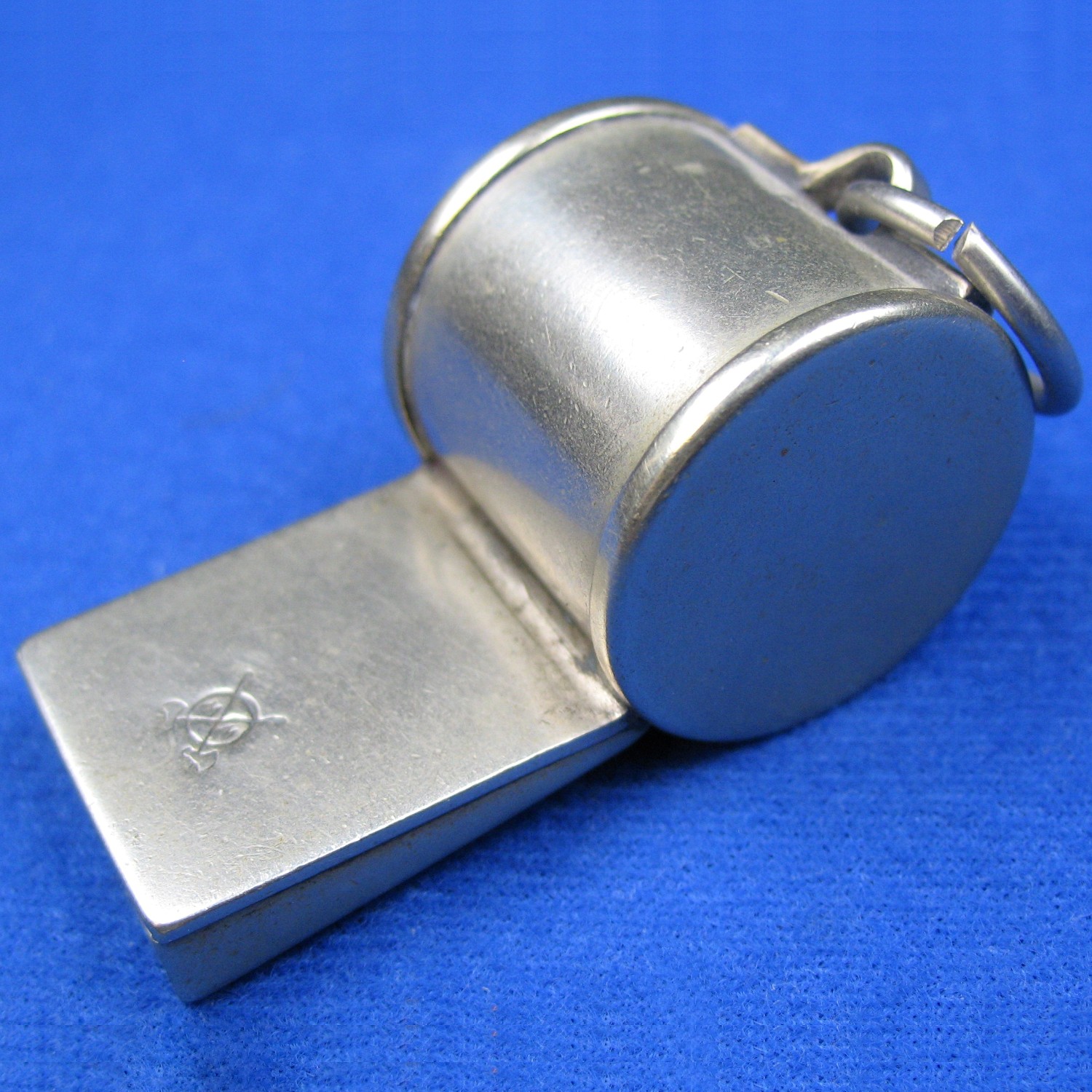 Great for anyone who had to carry it all day as it is VERY light. It is surprising how few have the sides dented in. We have had more than half a dozen here and mostly straight sides.
Perhaps do to the fact that Pringle was a silversmith company is why the fitting and soldering was so well done ?
There is definitely a good understanding of whistle construction. However it appears to have given way entirely to escargot shaped whistles at this point of production. Yet when did the first escargots start to be manufactured ?
Seeing how true five piece whistles did not emerge until after 6 piece whistles in 1890, then we would estimate these no earlier than the 1890s. This one is typical of the majority of ones seen by Pringle's Wilderness Works and appears much more recent, yet was made for perhaps decades ?? Gilchrist dates them to the 1950s ( More Whistles 2005, pg 30 ) However others appear to be earlier in distribution. For example the railway escargot for 1922 – 1947 is based on the overall life of this railway before being absorbed.
So on one end of production close to 1900, is the earliest made Pringles with 'character' and then streamlined to generic looking ones with only small variations. Hopefully more records and/or whistles will become available soon to open up this mystery.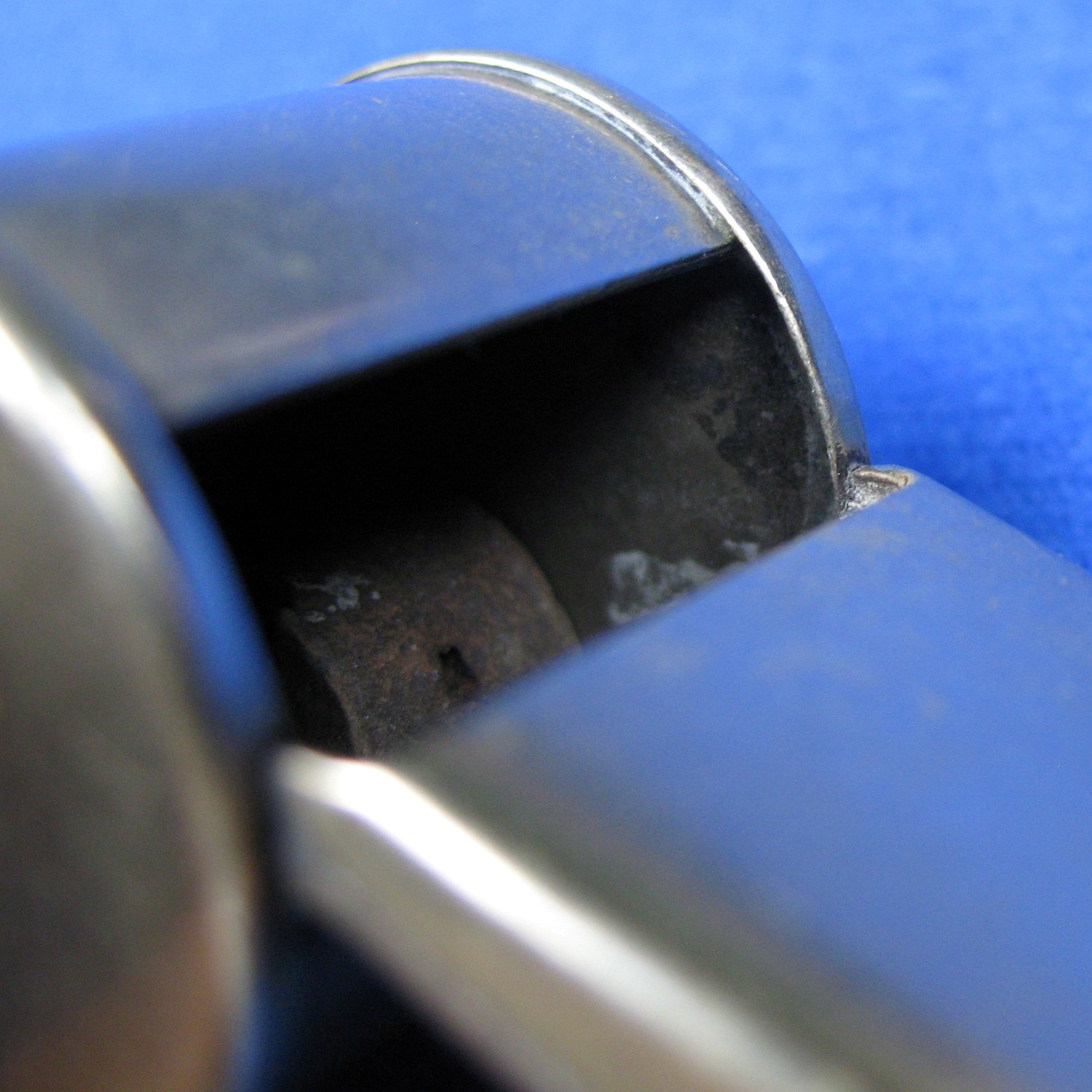 It has been noted on early six piece whistles that utilize this structural application, that the top may come loose or even off. This has not been seen on any Pringle to date. They do 'tie' in to the barrel edge when soldered on each side and that small amount of extra work may well contribute to a stronger connection.
It is a straight mouthpiece and has no narrowing taper what so ever. This makes for nice clean lines and easy to polish and clean up. The smooth sides do the same.
Now, taking a closer look at the side again, note the mouthpiece is flat but tapered top to bottom ? Usually there is a tooth grip on escargots, but by using the taper to accomplish the same ability the pressed tooth grip can be done away with altogether.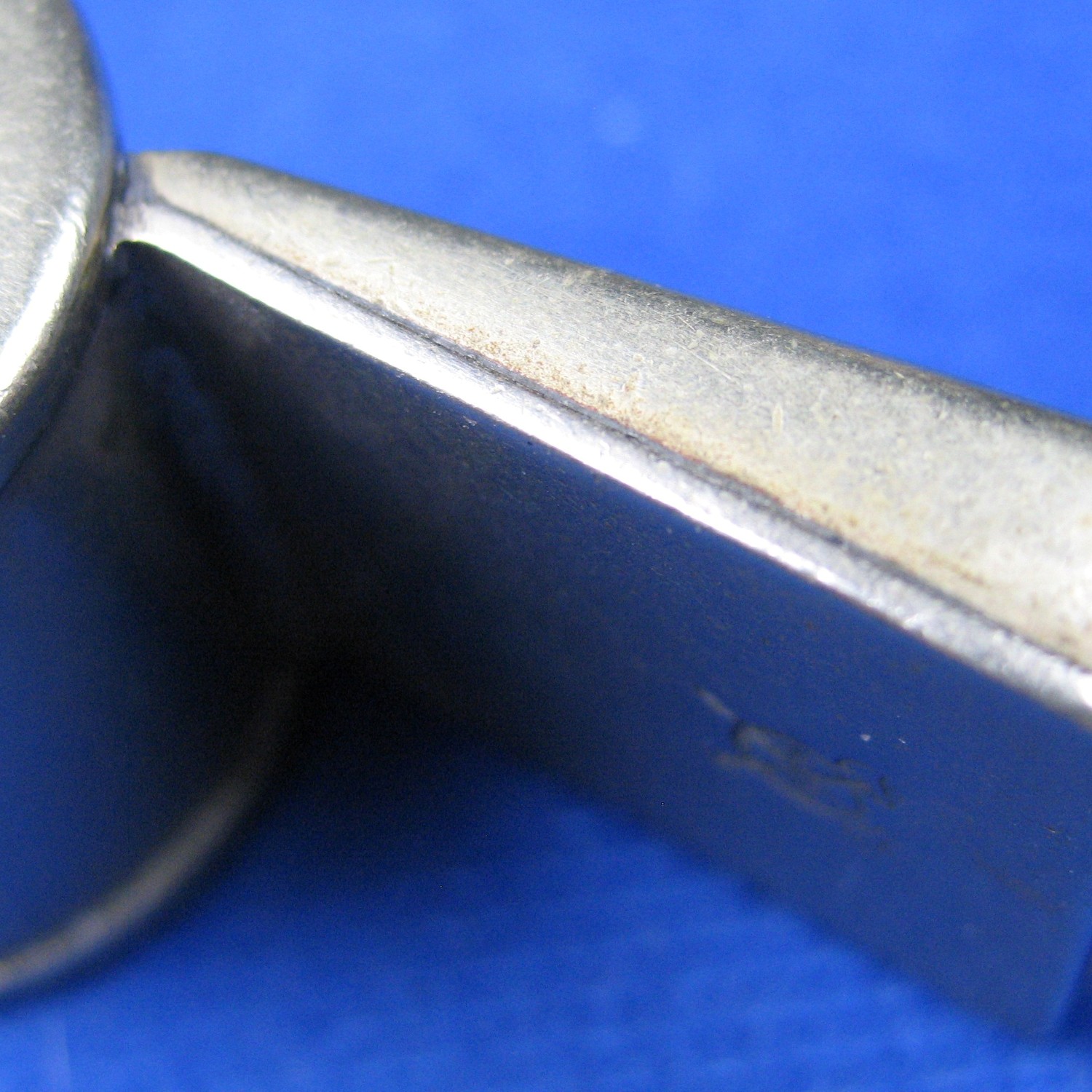 Each opening is the same in the three whistle models we have seen so far, apparently spanning decades of production.
Usually one would expect to see changes over many years. But so far they have all measured out the same – sometimes the mouthpiece length changing just a small amount.
The Pringle design is close to the best built light weight escargot made.
The closest rival we would venture to say is the escargots made for the USA market with interlocking teeth around the barrel edge for Winchester, Goldsmith, Reach, and other sporting goods companies, one of which is pictured below.
These are also made of nickel silver and high quality construction; the Pringles are lighter and leaner in several ways, including the knop, the barrel and the shape of the mouthpiece.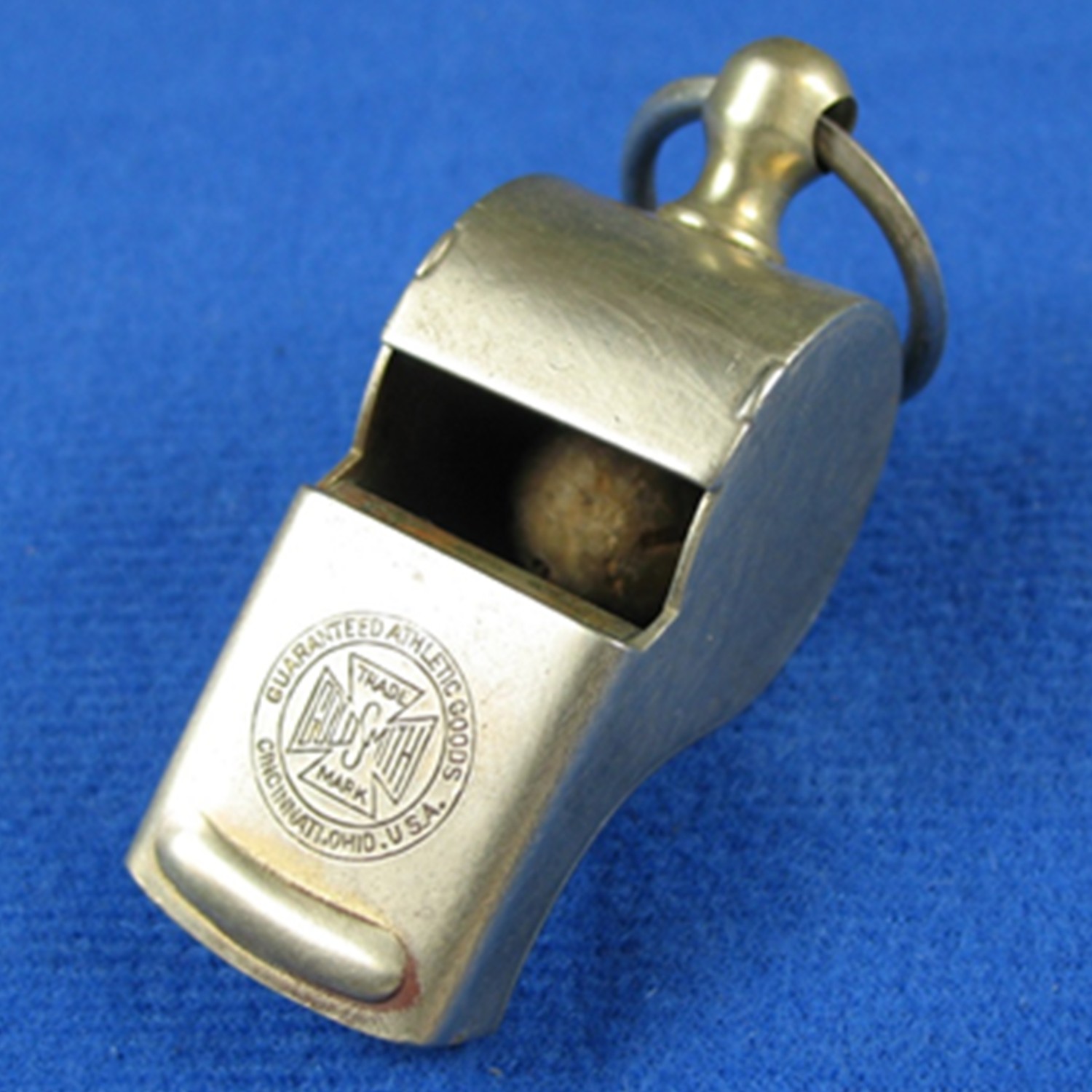 The top 'wire' that replaces the round knop or hump back knop later on is a departure from the norm and is a signature of Pringles.
It appears to vary in placement. Some higher up and some lower to the barrel.
This is only one identifying mark of Pringles. The button whistles of the 19th century at times made somewhat similar use of it. However the squared off type of piece used gives it away, besides being of nickel silver.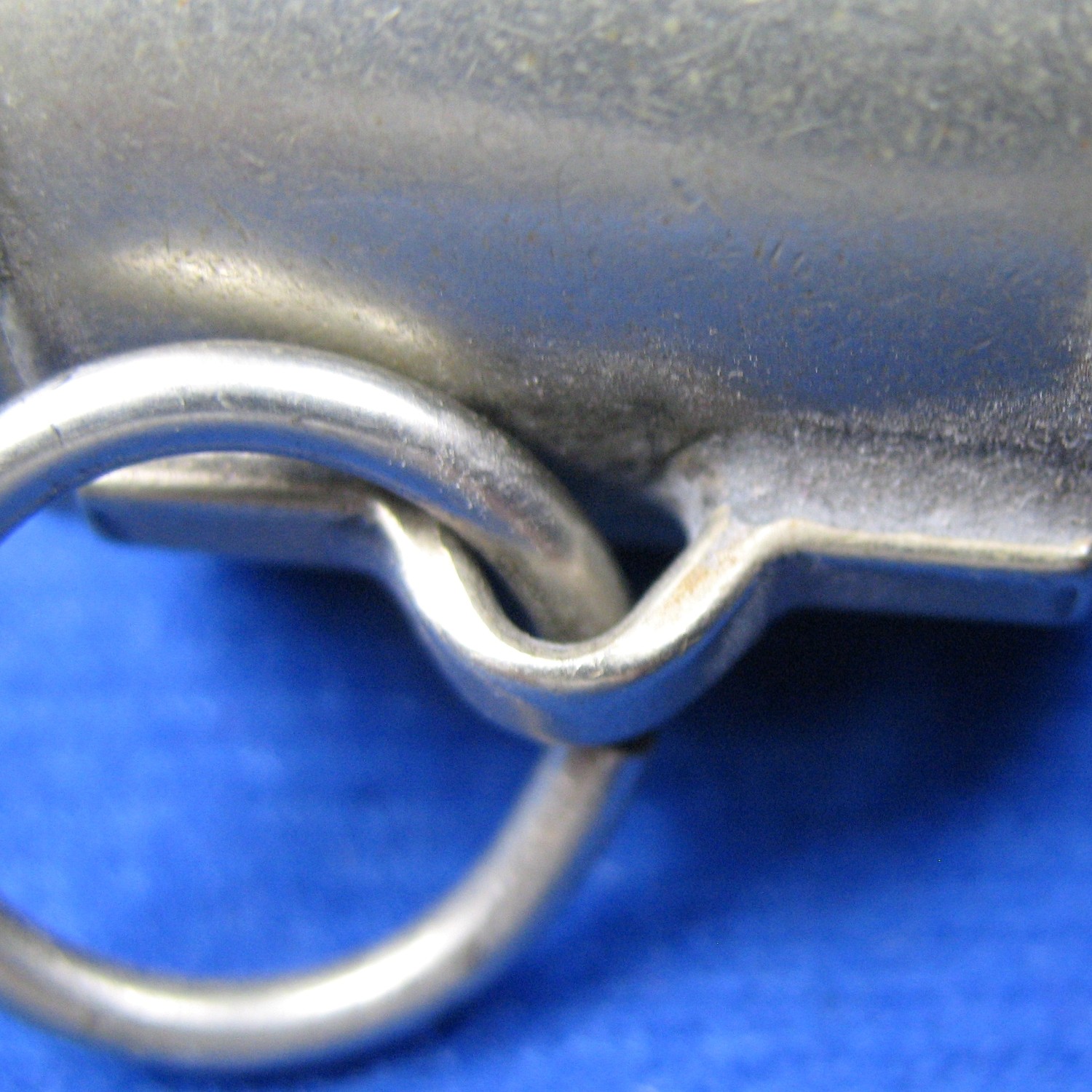 Another interesting aspect is the cork ball. It isn't a cork ball at all but a cork tube shaped 'pea' as they are usually called. It rolls well !!!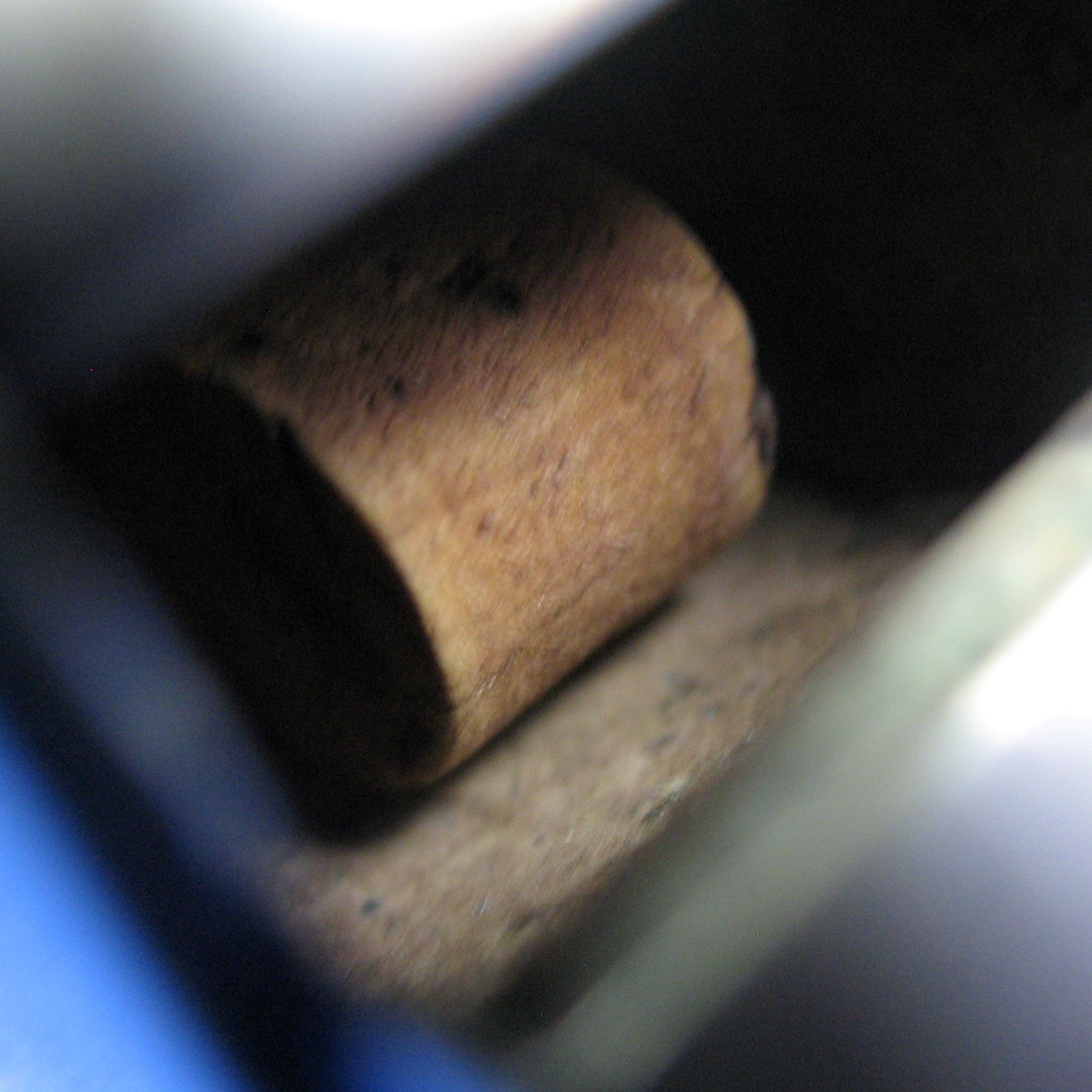 Occasionally and rarely Pringle escargots will surface with more flair or design to them and hopefully more will appear such as this railway ( ?? ) sold as Kent and East Sussex railway. The railway still is operating today and dates as far back as 1904. This of course makes it hard to date this escargot whistle, but helps to give a benchmark of sorts. We do get to see some variation in a typical Pringle which is nice, as might be expected from such a talented manufacturer.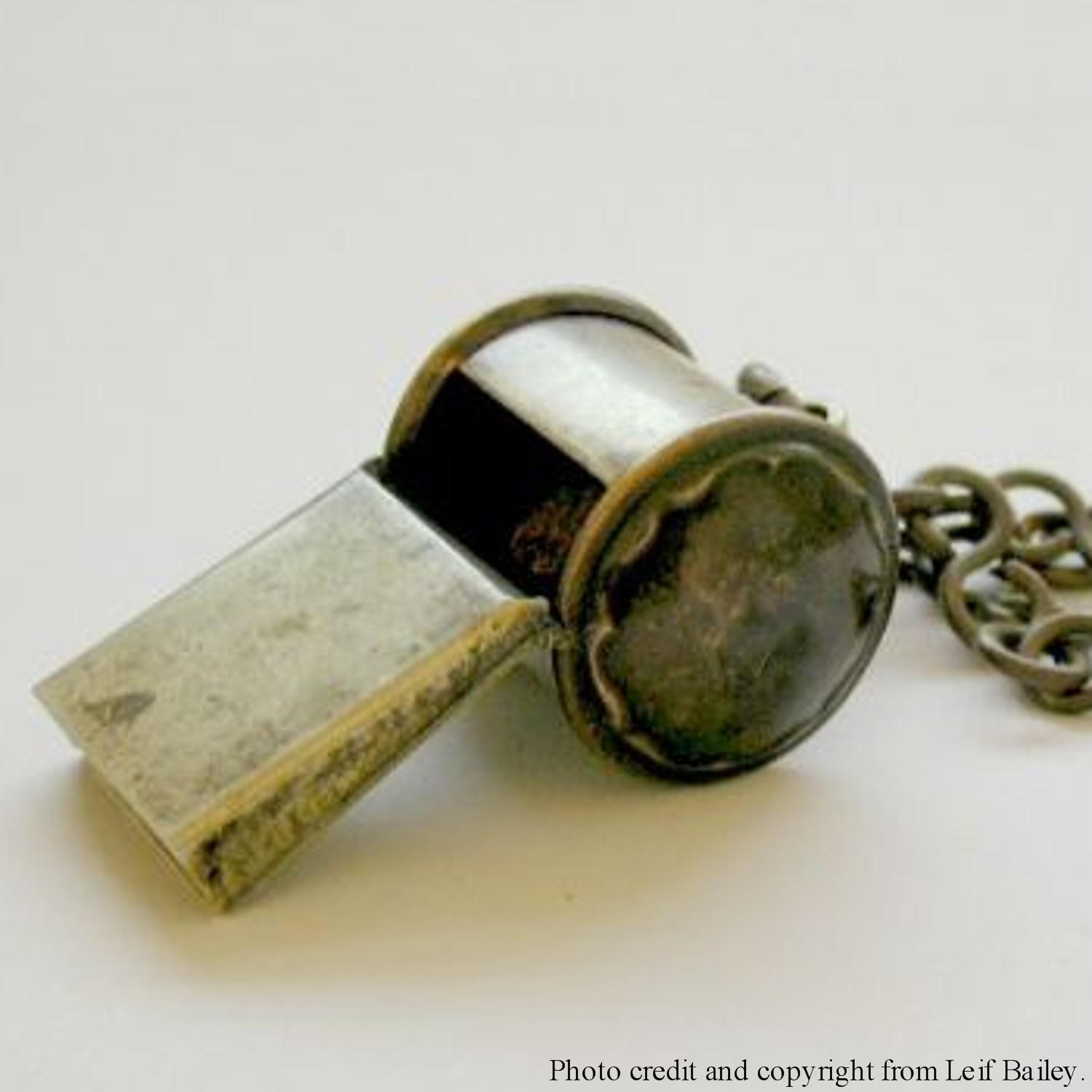 The London Midland & Scottish Railway Company dates back to 1921. It has a round cork ball and the logo is upside down. Here is another Pringle that was custom built for the railway.
So we have a beginning benchmark of 1904 through 1921 and up to 1965. This adds up to possibly over 60 years Pringle was making this escargot whistle ( or longer ).
This is a true hand built whistle. The sides are not applied to existing sides, but they are the actual sides and not buttons either. Overall construction is nickel silver which has produced a very fine whistle.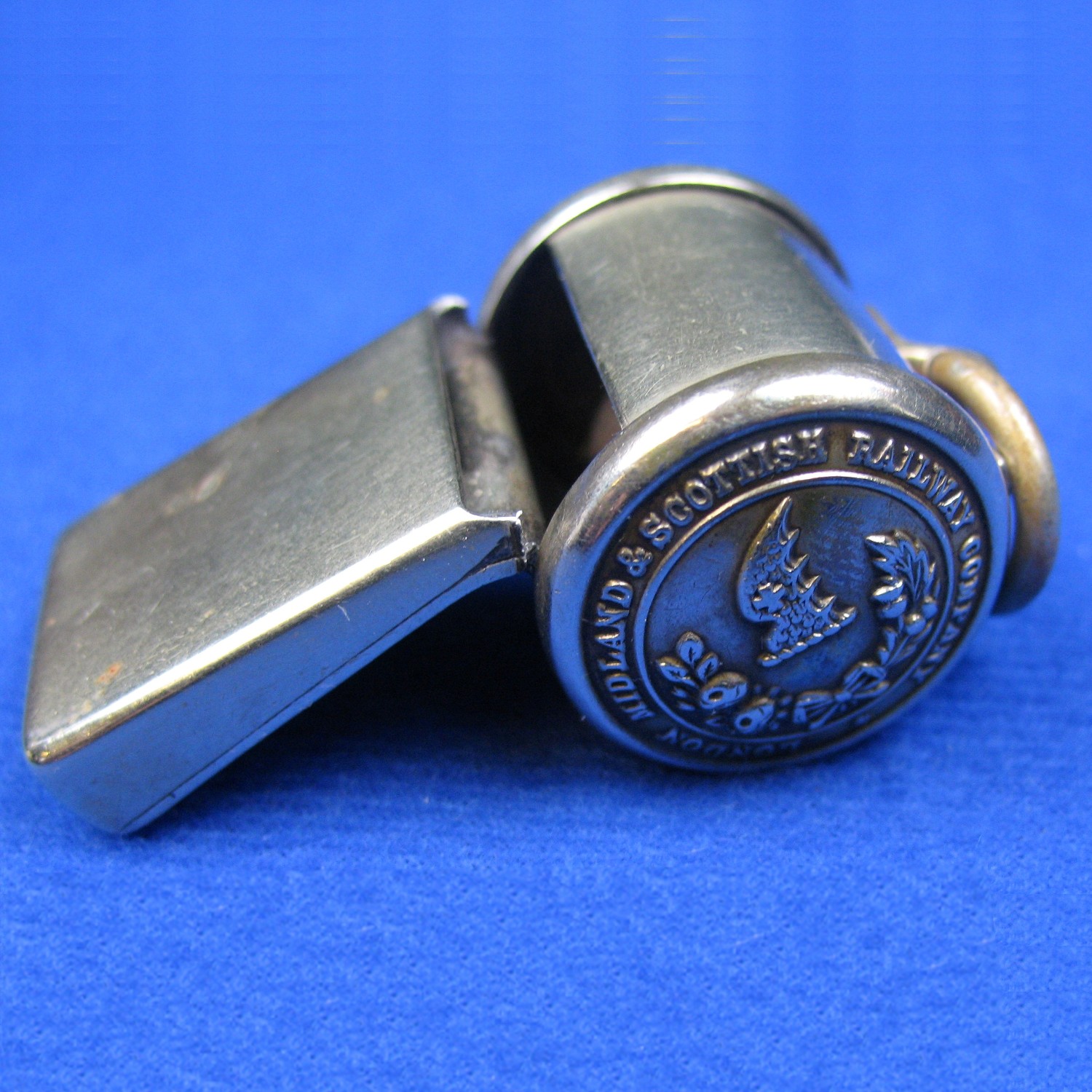 Although 5 piece whistles continued to be made in other countries in Europe post 1900. Only Pringle appears to have carried on with this type of construction in the UK clear into the 50s – 60s. Almost all other manufacturers by 1900 had changed over to the 3 piece ( not counting the insert in the tongue ) patented by Hudson in 1891. Beyond that the quality was more and more for sturdiness and not craftsmanship.
What conclusions can we draw at present ??
1) Pringle escargot whistles were possibly made for 6 decades starting circa 1900.
2) Only one type was made, but several models were produced
3) Made for general public and railway
4) Distinctive wire knop
5) Distinctive logo and mouthpiece
6) Many other models of silver and gold whistles were distributed from at least 1902.
Other models are as follows:
(1902)
10377 straight 'beaufort' with flat top and open mouth
10378 beaufort with top totally rounded
10379 round, twisted design
10380 dog head round
10496 round straight, plain, engine turned, engraved
(1907)
14621 porteous like top, beaufort shape whistle
several sizes
(1927 – 1937)
4221 round with notch, rounded top
4222 round straight, flat top
4223 round tapered, flat top
We are looking forward to finding more Pringles !!
— TWG
Posted January 5, 2016