Home > Books > Collecting Police Whistles and Other Types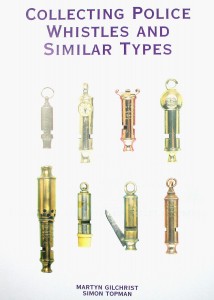 Gilchrist, Martyn, and Simon Topman.
Collecting Police Whistles and Similar Types. Birmingham: Topcrest, 1998. Print.
OUT OF PRINT
A must have for any serious collector of whistles and especially police whistles.
CPW sets the bar for reference work on whistles, yet at the same time establishes what truly are police whistles. The emphasis is on the London Metropolitan whistle and all its progressive stages.
By co-authoring the book with Simon Topman, Martyn Gilchrist has presented the development of the classic police whistle with the help of the records kept at Hudson's in the UK. All other police whistles revolve around this era and written work now.
CPW is very generous with life size group pictures for identifying your whistles.
The liner notes contain an equal amount of information beyond the written text.
Because Hudson took over all the competition turn of the last century the records that were accessed helped to establish a somewhat complete list of all the manufacturers different stamps they put on their whistles and it is compiled in the back.
Along with this are lists of patents and registrations, lists of manufacturers that existed then, a very well organized index and best of all hand drawn diagrams of the internal parts of different makers to help in identification processes.
Hardbound and made for extensive use, it is the only deep research book available.
Now out of print, when they are gone then there are no plans for a reprint.
Value: $90.00
(Free Postage Inside the U.S.)