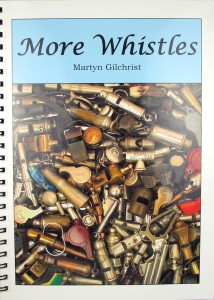 Gilchrist, Martyn. Whistles. Princes Risborough: Shire, 2000. Print.
OUT OF PRINT

Third book in the trifecta written by Martyn Gilchrist.
Spiral bound to keep the price down.
Here is twice the information found in Whistles and it goes much further into categories such as beauforts, rounds, and general service whistles. Beyond that it is his best effort on escargot whistles. The last part has two full pages on sirens made by Hudson, with dating and identification notes along with pictures of the varying parts.
Page 58-50 have two excellent pages on the internal parts and dating of general service
(or tube shaped) whistles by Hudson that gives you a bench mark for identifying other manufacturers.
As with Collecting Police Whistles and Other Types the liner notes next to the MANY pictures of group whistles is as much or even more than the text notes deliver !!!
You will indeed spend hours digesting this reference work, reading, highlighting and rereading it.
Value: $40.00
(Free Postage Inside the U.S.)