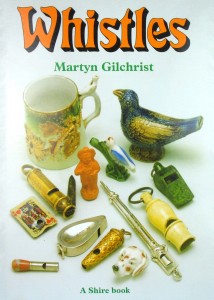 Gilchrist, Martyn. Whistles. Princes Risborough: Shire, 2000. Print.

If you want to have a quick reference book on whistles here it is !!!
Really, the most info for the money.
Written by Martyn Gilchrist and based on whistles found in the UK it is a great start for getting into the variety of whistles. It contains 40 pages of descriptions and explanations, besides a short biography on the back cover.
It touches on all types of metal whistles, wood, plastic, ivory, silver, pottery, speaking tubes and vehicular. There are DOZENS of color plates with group pictures for easy and quick access and identification.
Whether a beginning collector or a dealer in antiques it is the book you would need to know what you have found or what you are looking for.
Value: $20.00
(Free Postage Inside the U.S.)