Spotlight > Whistle Categories > Combination > 068
Combination whistles have been made by many manufacturers and from the mid-19th century we have seen combinations of variations and models. However it wasn't until Hudson's developed the GSW-ROUND that we saw a series that we could progressively track and study as Gilchrist & Topman did with The Metropolitan Police whistles.
Presented here is a look into model 19, the registered design 256361 of 1895 by Hudson ( CPW page 26 Fig.23 notes ) as described. It appears that Hudson was manufacturing this whistle before the design was registered, from as early as 1885, ten years previous. CPWs refers to a 1912 catalog, here citing that this pattern was supplied to the Royal Navy's Motor Torpedo Boat Service. While there are apparently no examples with military marks or design numbers and this may have been more of an advertisement than fact, it is now known that J. ( John ) Morris and Sons, who were Fire Brigade engineers and suppliers to fire brigades, ordered and distributed these models for many years.
We will examine and track this progression much like the MP series from CPW ( Collecting Police Whistles ). CPW lists it as model 19. A Hudson 1910 (12? ) catalog lists it as model 184 ( 4 ¼ ) and 184 ½ ( 3 ¼ ) and a 1935 Hudson catalogue lists it as model 441 said to be 3 ¼ inch long, whereas every model we will show is 4 ¼ inch long. It was manufactured in nickel plated brass and nickel silver.
1885 was an important year for Hudson, as they patented a new disc/diaphragm, number 435, to replace their earlier disc that had proved to be troublesome for their police whistles and general service whistles. Other improvements would follow. The same design would of course be used for the combination of a ROUND and GSW ( general service whistle ) — made to the later registered design number 256361.
Progressively through different examples, we then see an emergence of this design with the newly patented disc — as far back as 1885 a full ten years before Hudson registered that design. Hudson was stamped directly on the disc as well as patent; one merely has to look inside the window to see it at each window.
In 1898 an improvement again would be made to the diaphragms design (patent number 19700); helping date these particular whistles more closely. And following that another patent was acquired in 1909 (553) for three interlocking teeth in the attachment of the fipple base when using these 'teeth' — in the ROUND whistle used for the other half. We therefore have three benchmarks with addresses and three bench marks with design patents as follows…
131 Barr street – 1885 to 1889
13 Barr street — 1889 to 1908
244 Barr street – 1908 to present
Patent 435 – 1885 tines toward mouthpiece ( used till 1899 )
Patent 19700 – 1898 tines away from mouthpiece ( used till 1907 )
patent 553 – 1909 3 interlocking teeth underside of fipple ( used for unknown years )
Why are these dates important ?? Because staged over-lapping we can date these models/variations more accurately.
The only caveat would be if old parts were used to make whistles after their initial manufacture date.
However to have this done time after time would be less likely.
Let's now look at some examples close up and their variations over the period of 1885 to 1910, a 25 year spread. First let's take a look at 7 whistles together from 1885 to 1910. We will designate them and as more variations follow they can be even more fully classified. Then we will view three with Fire brigade suppliers stamps ( i.e. J. Morris and Sons ) set aside.
For simplification reasons we will follow the pattern set earlier of Metropolitan Police whistles referred to as MP1 through MP24 set by Martyn Gilchrist & Simon Topman. For this design/model with the Metropolitan / Round whistles in combination we will use the abbreviations MR1 through MR7
What we are going to see is variation in the following characteristics:
Windows
Fipples –
Mouthpieces
Knops
Stamps
You will note first off that some rounds have notched tops to the windows. It was previously thought that these were the oldest. However seeing that an earlier dated whistle at 131 Barr Street did not have it, shows that it was a design used at the 13 street address only. The wider window typical of Hudson ( also used by Ward and DeCourcy ) without the notch was produced at all three addresses. Indeed only three other UK manufacturers ( besides silversmiths ) would utilize the notched top of the whistle window, that being Hudson, DeCourcy and Dixon. ( a proposed Coney round – see Special Edition SPOTLIGHT has surfaced that has a notched top and bottom ).
Then we will look at two kinds of fipples. The standard Hudson fipple used in their round whistles and also a Hudson modification used later after the turn of the century with a very abrupt flat disc just inside the window and a completely open space inside the mouthpiece.
Next we examine the curvature of the mouthpieces. In More Whistles ( page 68 ) it states about DeCourcy's equivalent whistle model that 'the curve to the underside of the round whistles' mouthpiece is greater than Hudson's equivalent'. This curve will be shown to be also used by Hudson on the MR1 and perhaps others as they surface and then diminishing curves over time.
Five different knops are encountered a flat loop, a rounded flat loop, a round knop, large loop and a dome knop.
Fire brigade engineers also had their own stamps and would of course not fall into the category of 'torpedo boat gunners' whistles although there must have been a special market that Hudson was also aiming at.
Here is a group picture of the MR whistles now laid out for study ( MR1 through MR6 ). Side by side they have only slight differences. So look them over and then we will close in on these differences.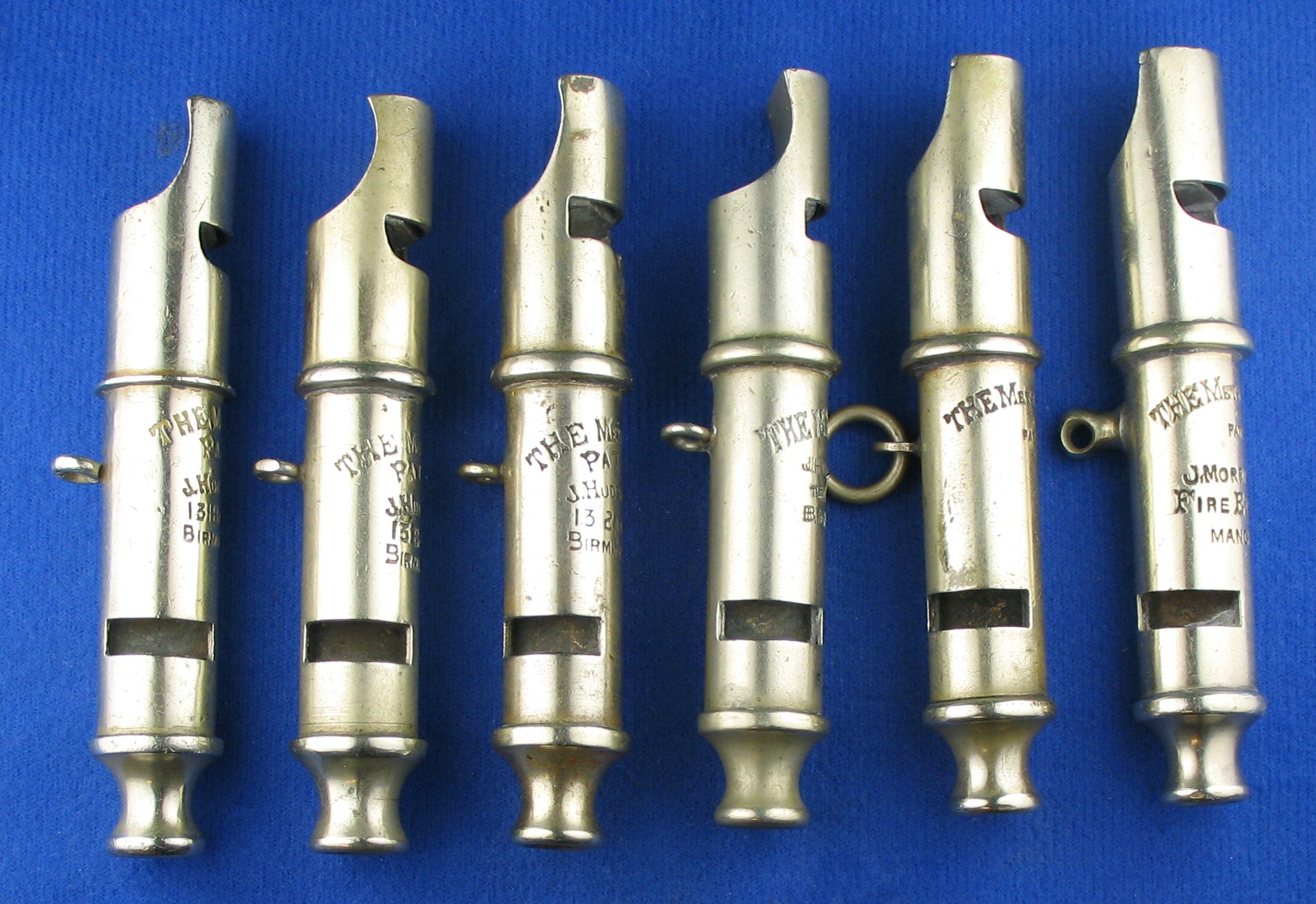 Left to right:
MR 1 — 131 Barr Street – 1885-1889 tines toward the mouthpiece – stamped pat. on disc (435)
MR 2 – 13 Barr street — 1889-1897 tines toward the mouthpiece – stamped pat. on disc (435)
squared window/straight mouthpiece
MR 3 – 13 Barr Street — 1889-1897 tines toward the mouthpiece – stamped pat. on disc (435)
notched window/flared mouthpiece
MR 4 – 13 Barr street — 1898-1908 tines away from mouthpiece – stamped pat. on disc (19700)
notched window
MR 5 – 13 Barr street — 1898-1908 tines away from mouthpiece – stamped pat. on disc (19700)
squared window
MR 6 – 244 Barr street – 1908-1922 tines away from mouthpiece – interlocking teeth (553)
MR 7 – 244 Barr Street – 1923 – ?? patent not stamped ( courtesy Guttridge collection )
At the 131 Barr street address this first whistle would date from 1885 to 1888. Note the window is squared wide with no notch at the top as are seen on some 13 Barr street stamped ones. The disc is stamped inside on the disc with Hudson Co. and patent ( patent 435 ) on the disc. If you closely examine the attachment point of the two whistles you will also take note of the thin ring used.
Close examination indicates this was not made later from spare parts, but was an early issue.
Thus indicating that it may have been fully ten years before Hudson registered this design although they were manufacturing it.
Thomas Yates had already manufactured a round/general service whistle perhaps as early as 1870-1880. This was not a new design at all, but Metropolitan was becoming synonymous with Hudson within 15 years after introduction by Yates and this may have led to the desire to register it as such in 1895. The windows were different enough to allow for this recognized variation or maybe Yates never registered the design.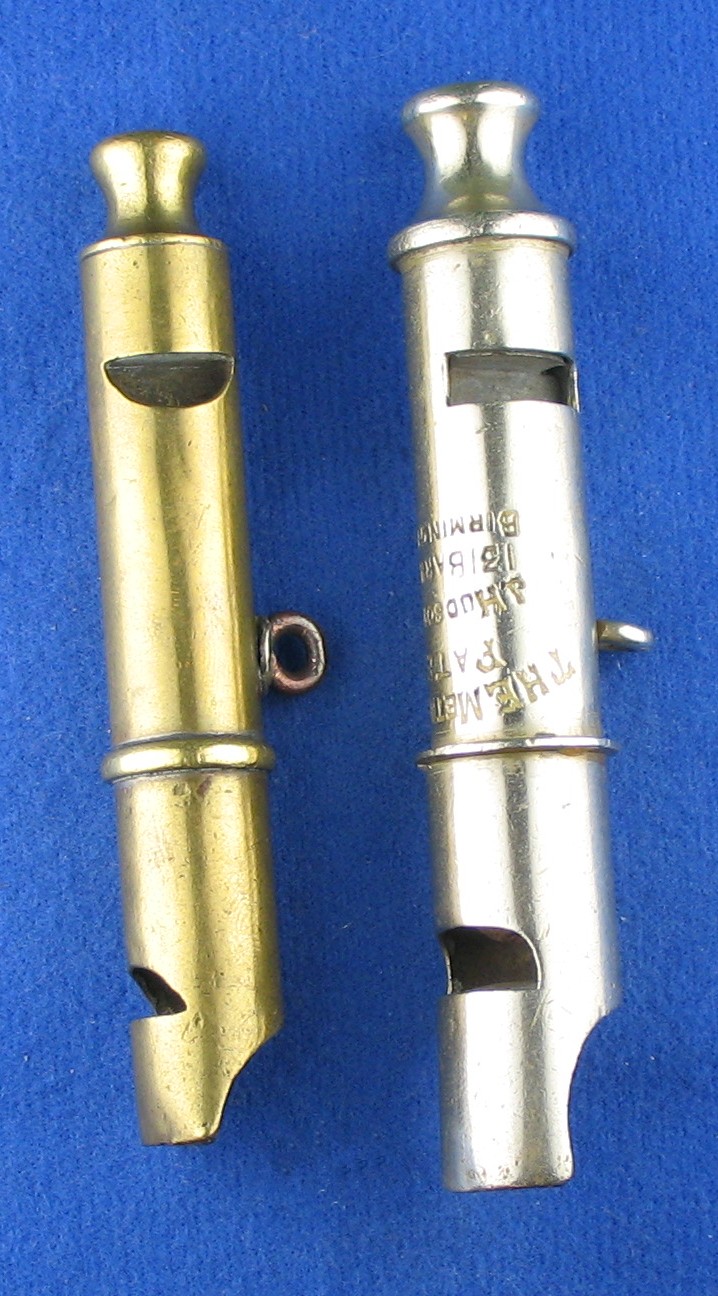 Here are two MR windows for comparison purposes…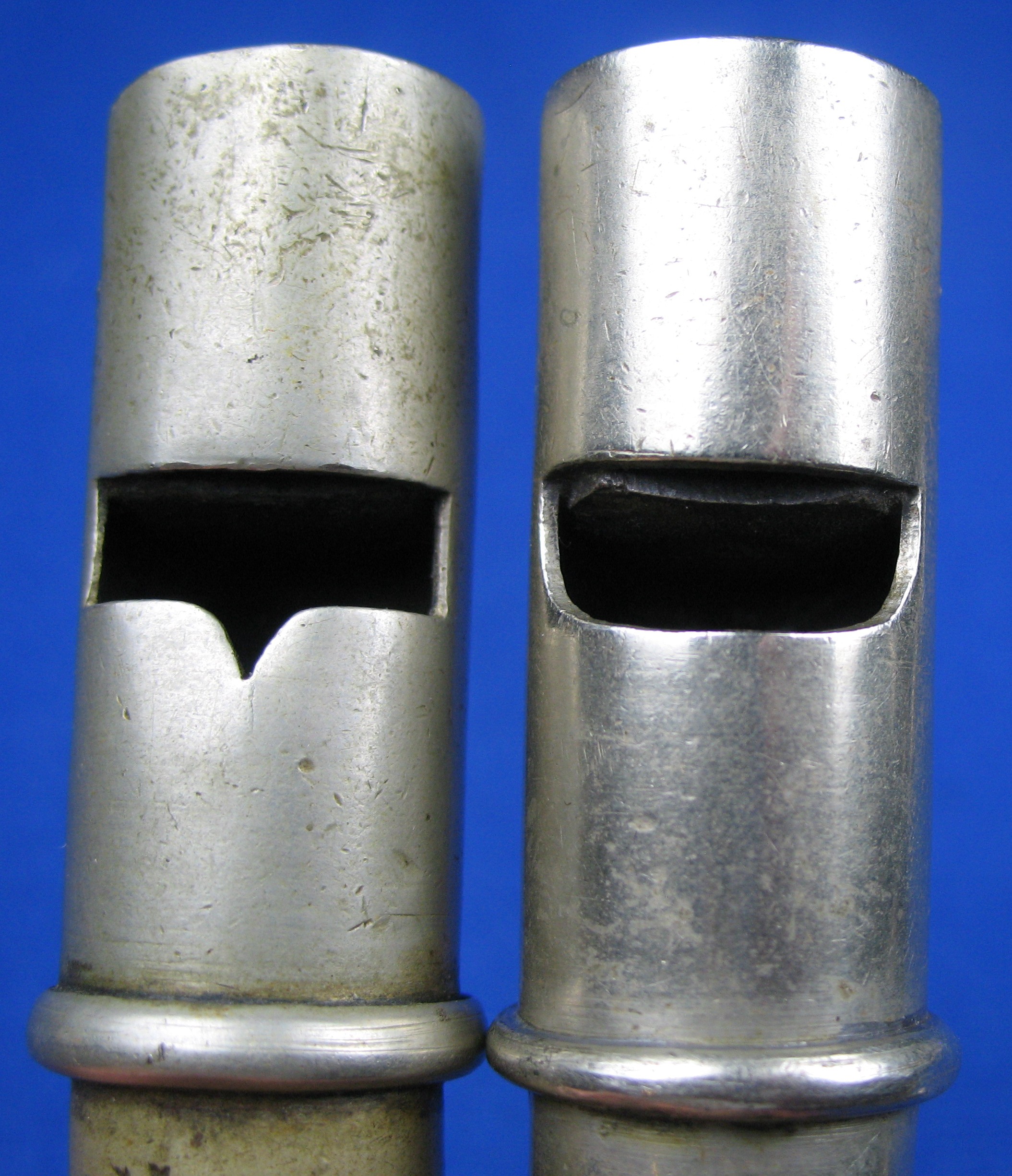 And here are two attachment bands
Now let's close in on the curvature of the mouthpieces, the 1st is MR1, the 2nd is MR2, 3rd is MR5.
Definitely a progression from fully curved to almost flat at the emergence end. And close up of the three points of interlocking for the 553 patent.
Now a look at the internal fipple, the standard bulky fipple is pictured side by side with a clean flat blank. The inside of the round whistle was filled with the fipple, whereas the flat fipple leaves the chamber empty. These fipples of flat discs and bulky full fipples inside the rounds occur on MR5 whistles, both.
The picture on the left with a full fipple and the one on the right with the open pre chamber and flat disc.
A variation in which the mouthpiece is quite wide.
The interlocking teeth patented 1909.
And lastly the five knops used as follows…
Photo of the large looped knop is courtesy the Guttridge collection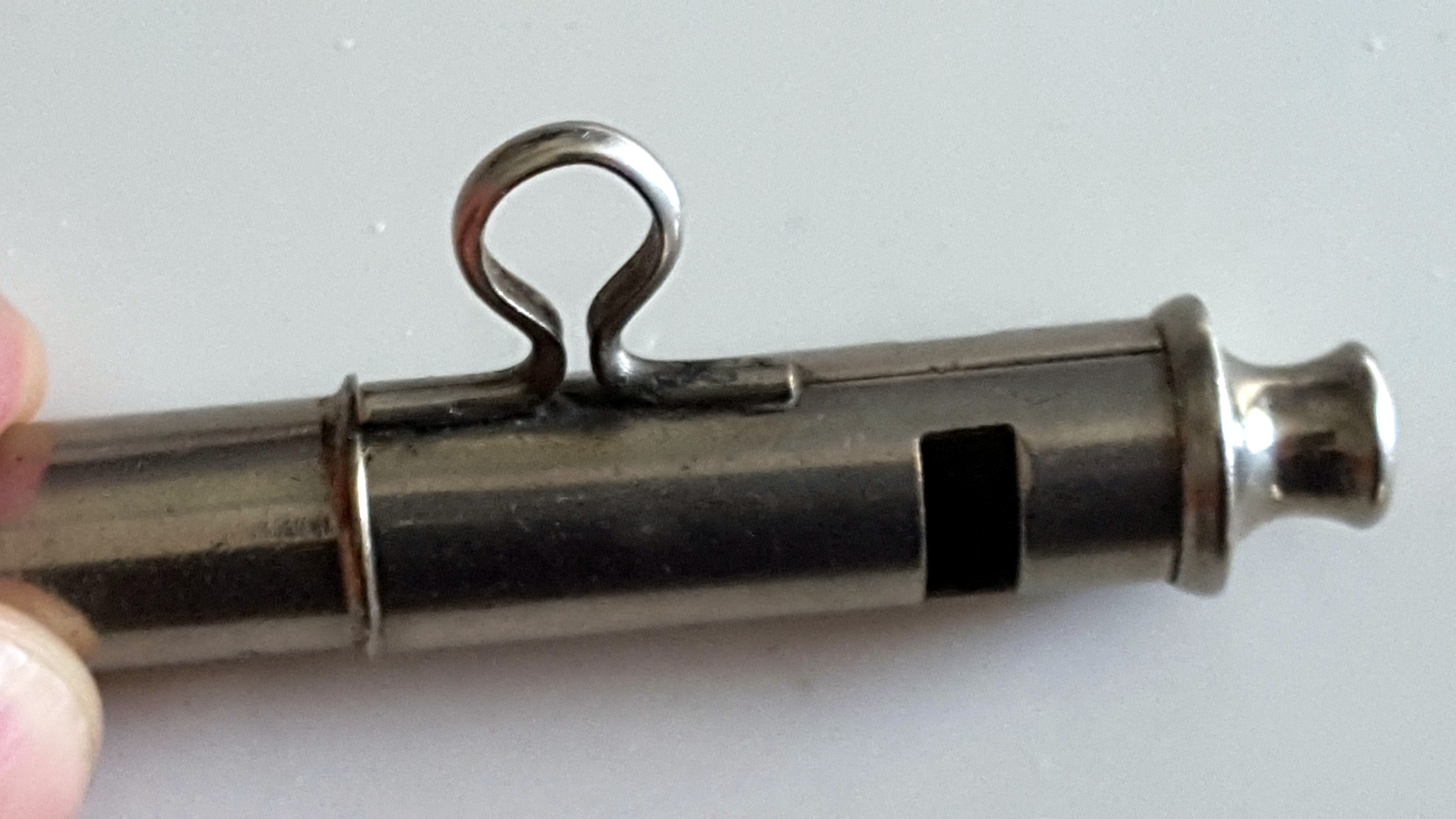 In the following two whistles we found stamps for the fire brigade supply house of J. Morris and Sons.
These are dated from 1898 to 1922, due to the patent spans and addresses. MR 5 is for the patent 1898 to 1912 and then MR 6 for 1909 to 1922. This totals at least 24 years and past considering the MR 7 pictured from the Guttridge collection.
MR 7 on right and MR 5 on the left.
The left whistle is nickel plated brass and the right is nickel silver.
What conclusions can we make? It would appear that this whistle was produced for many years perhaps over 50 years. It was in circulation long enough to have quite a few variations. Production would date from components back to as early as 1885. However was an older GSW used with a later round from what was available in the shop that day ??
It is shown by examples that would indicate at 13 Barr street this whistle continued to be in production before and after the 1898 patent and considering Hudson was located at 13 Barr street for the years 1889 to 1908. Not only for the general public was model 184/441 ( 1910/1935 catalogs ) made, but also for fire brigade suppliers and possibly the navy. (please see the extensive research contributed below ) No whistle has been found that specifically has a particular fire brigade stamp on it yet, nor the navy.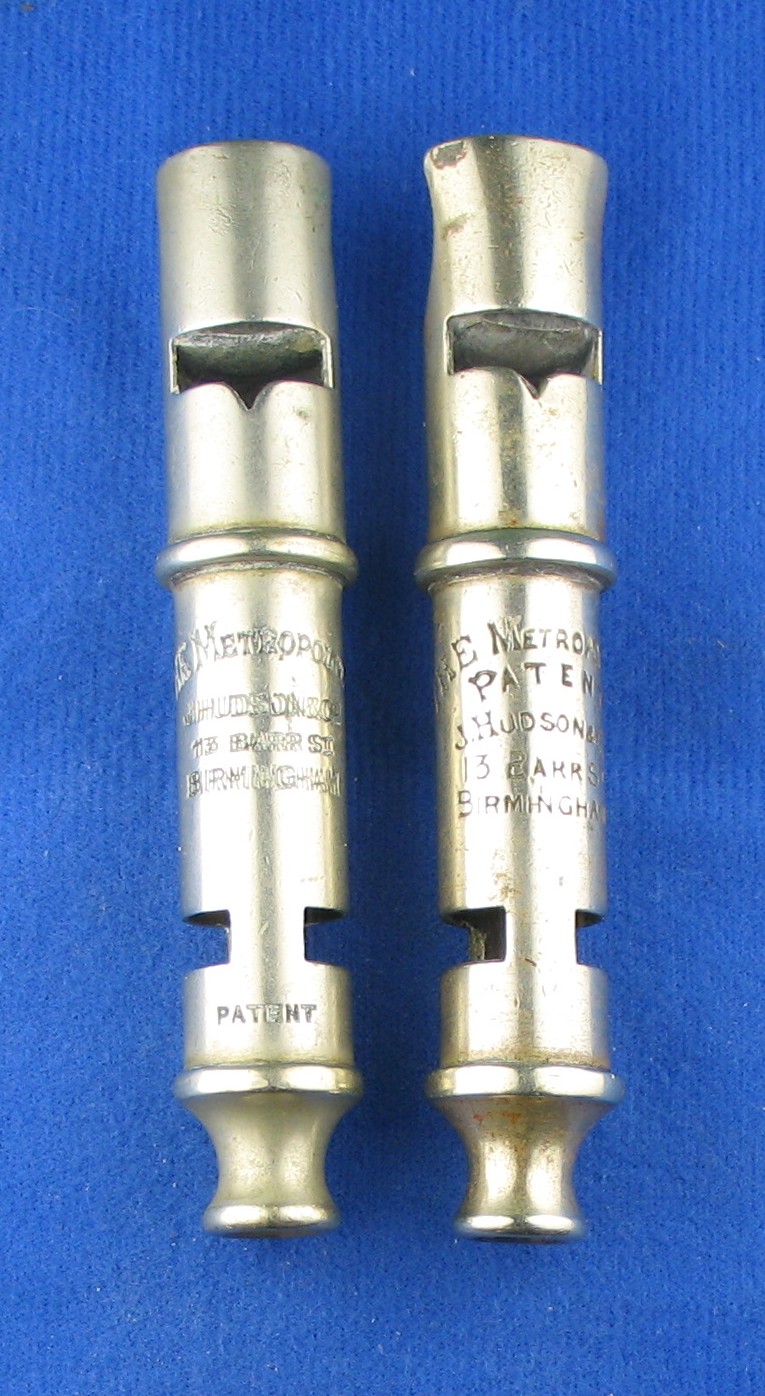 A Letter Submitted to The Whistle Gallery:
Hi Len,
As a new whistle collector, I first want to thank you for maintaining such a great web site and responding to my endless questions about whistles and their histories. Your willingness to share your vast knowledge on this subject is amazing.
Hopefully, you will be willing to take a look at some information that has created a dilemma for me, in regards to the history of a whistle I bought in June of this year. This particular whistle is a double-ended whistle that most collectors refer to as the Motor Torpedo Boat whistle.
As you are aware, I am a retired member of the US Army, and as such, I have always been interested in military histories. After receiving this whistle, I started researching its origins. I looked up this Hudson whistle in the "Collecting Police Whistles and Similar Types", by Martyn Gilchrist and Simon Topman. On page 26 of this reference book, the double-ended whistle's description is as follows: " In a 1912 catalogue this pattern is described as being supplied to the Royal Navy Motor Torpedo Boat Service with a 100 cm length of chain No. 161, as illustrated, known as a 'gunner's chain'. Made until c. 1970. NP bass. Scarce." AND there is the dilemma.
Motor Torpedo Boats for the Royal Navy were first designed, at the request of the Royal Navy, by Thornycraft in 1915 with delivery of the first Motor Torpedo Boat not being made until 1916. They were known as Costal Motor Boats. Sixty-six of them were commissioned by the end of World War 1. These small boats pretty much faded into history until 1935-36 when the British Admiralty once again placed a new order for an updated version of the earlier Motor Torpedo Boat (MTB). These new boats were placed under the command to the British Coastal Forces. The first Motor Boat Flotilla became operational in January 1940.
This was also the year that the Special Boat Section was formed. It originally had a Commander and 12 men, all volunteers. This unit did not use MTBs in their operations. Instead, they used folding canoes and kayaks to help accomplish their missions. This Section was de-commissioned shortly after World War II. The Royal Marines continued to use this name in some of their operations. In 1977, the name of the unit was changed to Special Boat Squadron, and in 1987, renamed Special Boat Service, and as such became part of the British Special Forces. This unit is the equivalent to the USA's Navy Seals. To this day they are still very active, but are separate from the British SAS (Special Air Service).
To add a little confusion to all of this, is a discussion held between members of a forum called The Great War Forum. This discussion started out by one member asking members of the forum to help him in identifying a double-ended whistle that he had discovered in his grandfather's personal belongings. I have attached a copy of this discussion. This discussion led to an email from Simon Topman of Acme Whistles, once known as J. Hudson & Co. In his email Mr. Topman says this type of double-end whistle was made by J. Hudson & Co. to be used by fire and police, but also by the Special Boat Services in the 1920s and 1930s. He went so far as to say that it was the official whistle of that regiment and as far as they (assume his company) knew, these two organizations were the only ones to use it.
At this point, I think you can see the problems being surfaced as far as the use of the double-end whistle is concerned.
The Special Boat Services were not around in the 1920-1930s and MTBs were not issued to them for use in their operations at any time, even though similar boats may have been assigned to take members of a team to clandestine locations in the modern era.
I have tried my best to research every thing I could about the actual military use of a double-ended whistle. I have found only one proven and documented use of this whistle by the military. The British Imperial War Museums has documented its use, with an actual picture of the whistle and its chain that was used in a Naval action that occurred in April 1918. This was a famous British Naval action known as the Raid on Zeeburugge. The Belgium port of Zeeurugge was a major German submarine base. More than seventy British ships were used during this attack, led by Capt. Alford Carpenter, Commander of the lead war ship, Vindictive. Capt. Carpenter used a double-ended Hudson whistle to signal the beginning of the the attack upon the harbor's mole (large wharf). Was he issued this whistle, or did he obtain it in some other way? There was no information to explain where or how Capt. Carpenter obtained the whistle.
Were double-ended whistles used on MTBs? If so, I can find no evidence to support that they were. What would have been their purpose? Communications?
Page 38, Popular Science Monthly, dated April 1934, would seem to discount this. This article indicates that the motor torpedo boat used wireless telephone equipment that enabled the crew members to keep in constant touch with ships and other motorcraft. This would mean they would also be in contact touch with each other by this same means of communication.
The discussion mentioned earlier on the Great War Forum does offer an idea that the use of this whistle may have been used by another type of boat. During World War II, the RAF was assigned a boat similar to the MTB, but outfitted differently, called the BPB (British Power Boat) to be used in water rescue missions of pilots downed along the costal areas of England. The gentleman asking about the whistle couldn't understand why his grandfather would have a whistle being identified as being used on a MTB, when he in fact had been in the RAF. Use of such whistles on rescue boats makes a lot of sense. After all, whistles were placed in every Naval emergency and survival kit. In fact, The British Imperial War Museums identified by picture, a whistle issued to Special Boat Service personnel during the Iraq War in the 1990s. This was made by Acme of a light colored plastic and placed in emergency and survival kits of that time period. At this time, I believe that whistle has been replaced by the Acme Howler whistle.
When looking at the year 1912 and trying to reason why a catalog would mention the name of a boat not even designed yet, leads to a possible answer. The word "torpedo" is part of the answer. Torpedoes have been around since the early 1800s. But those were not the kind we usually think of. The self-propelled torpedo was not developed until the late 1800s. Thornycraft was given a contract to design a boat to use this weapon . Several of these boats were built in the late 1890s and early 1900s. These boats were called "Torpedo Boats" or "Torpedo Boat Destroyers". These were fairly large boats and steam powered. The much smaller MTBs used internal combustion engines, hence the name "motor". The older boat was one of the first of the British Destroyer Class. Was the double-ended whistle used on these older boats? That answer is yet to be determined.
Sorry, that this turned into a book, but your thoughts would be much appreciated.
– Dan
Posted January 10, 2017