Categories > Compass
Whistles in combination with compasses. These may be on the face, top, bottom, extended, embedded. They came in escargots and tube-shaped whistles as well as other more ornate or ingeius ways. There are hundreds of designs. From high quality to poor. Some craftsmen made them with beveled glass and some were even made to see through with glass on both sides. They date farther back into the 1800s than previously thought due to silver smiths designs seen in the higher markets.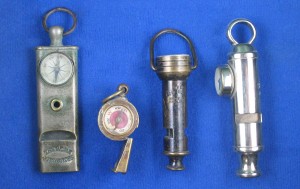 © 2017 – All photos with blue background property of The Whistle Gallery reference collection.
Use of photos without authorization is prohibited. – Gallery questions, please contact whitney@thewhistlegallery.com.
Need more info about your whistle? Contact us: