Categories > Fire Brigade
Like police whistles, fire brigade whistles need to have a stamp or emblem identifying the brigade on the whistle to qualify here in this category. We have found tubes shaped whistles, escargots, and buttons. Also a King whistle from the UK from 1883-4 has been seen. What we learn is that the whistles here can be quite variable and we hope to see others appear.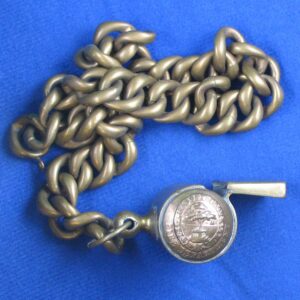 © 2014 – All photos with blue background property of The Whistle Gallery reference collection.
Use of photos without authorization is prohibited. – Gallery questions, please contact whitney@thewhistlegallery.com.