Categories > Railway
The railway has ordered whistles from the onset, perhaps even pre 1800. We have seen beauforts, rounds, escargots, buttons, multitube, almost every category. Many times these whistles are of the higher end quality. Also seen are whistles customized for the railway, like beauforts with knops on the sides instead of the tops.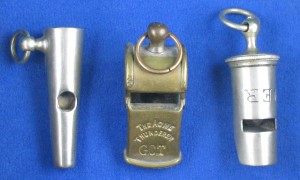 © 2014 – All photos with blue background property of The Whistle Gallery reference collection.
Use of photos without authorization is prohibited. – Gallery questions, please contact whitney@thewhistlegallery.com.