That's right! — The Whistle Gallery has been featured in The Oregonian newspaper !! Read below !!
( And as an added treat! The featured whistle in this article, The Coney Round, has just been highlighted in our new series of SPECIAL EDITION spotlights! Click Here, to read about the Coney Round!)
Antique and collectible show is more than a whistle stop — but it's that, too.
This year's version of Christine Palmer & Associates America's Largest Antique & Collectible Show sprawls through two halls at the Portland Expo Center. The show, which continues Sunday from 10 a.m. to 5 p.m., with adult admission at $7, gathers more turquoise, brass, Bakelite, velour, tin, cardboard, felt and neon under two roofs than you can shake a flapper's beaded glove at.
If you can't find what you're looking for — and stumble across plenty that you weren't — your eyes must be closed. Obsessives, bargain hunters and the curious strolled, scooted and dragged chihuahuas through the expo center, where all manner of antiques and collectibles are assembled. It's a Smithsonian-yard sale mashup beached for the weekend in north Portland.
Something demands that you stop at the little booth in the D Hall, where a hand-lettered card says "Forget coins, marbles, stamps, comics. Whistles. The emerging collectable." It is mounted on an easel with customized display of more whistles than you imagined there could be. They are neatly hung from hooks next to tiny signs that say "Siren," "Scouts," "Hudson," "Bosun," "Beaufort," "Dog," and other things.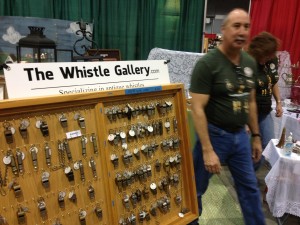 The booth belongs to Leonard and Debbie McDowell of Salem. They are proprietors of a website called TheWhistleGallery.com. The site — and a conversation with the McDowells — makes it clear that whistles are a subject of serious academic interest, as well as items to buy and sell.
Consider the website's Feb. 26 blog entry, which is headed "Whistle chains." "An area quite neglected in the whistle world is whistle chains," it begins. "Our absolute favorites are Dowler chains from the 1880s with heavy links made of pure nickle silver."
The McDowells are wearing matching t-shirts that say The Whistle Gallery on the front and are decorated with pictures of vintage whistles. Len McDowell, 57, doesn't need much encouragement to explain the purpose and provenance of his stock.
"This is a featured whistle," he explains. What's it called? A round whistle. How old is it? About 1880. What's it made of? Silver-plated brass. How much are you selling it for? It's not for sale.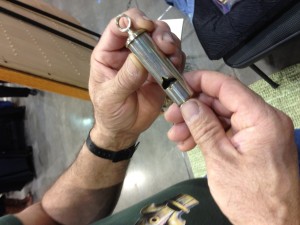 The whistle is one of a bagful that are available to be shown, but not sold. If you want a whistle, you'll have to find one in your price range. The McDowells have one rack marked $20 and under. But you could be like the man who bought two whistles for $500 earlier in the day. He told the McDowells he wasn't a collector. He just wanted to display them on his dresser.
Len McDowell borrows his wife's iPad and scrolls through pictures of their collection. A skeleton whistle. A Polish police whistle. A whistle with an embedded compass from Occupied Japan. A whistle with a cigar cutter. An Argentine police whistle that he describes as hideous, but its leering face makes it a popular item.
Len McDowell is an electrician with Bergelectric Corp. He used to collect rare plants, but eventually gave them up in favor of whistles. Whistles don't die.
It was kind of an accidental passion for the McDowells. When their kids were young and being dragged to collectibles and antique shows, Debbie McDowell spotted a Cracker Jack whistle like the ones she remembered from her own childhood. They bought it.
Now the kids are grown and gone, but the whistle collection has grown. It was tough, in the years when they hunted for them in cluttered expositions like this one. But the internet has changed the game. Their collection exploded from about 25 to 1,000 over the last few years.
"A lot of people walk up and say 'Who'd a thunk it,'" Len McDowell said. But whistle collecting "is taking off worldwide," he said.
And if whistles don't suit you, then walk on.
— By Mike Francis, The OregonianThe Oregonian
on March 02, 2013 at 3:45 PM, updated March 02, 2013 at 4:28 PM
Click the link below to view the article on the Oregonian website:
http://www.oregonlive.com/portland/index.ssf/2013/03/antique_and_collectible_show_i.html