Spotlight > Whistle Categories > Escargot > 025
This SPOTLIGHT Special Edition focuses on the second known example of the TRAFFIC escargot. It was first brought to light by another website/blog. However we thought to take a closer look at its name, background and construction. The underside is struck with S.A.French N.Y. Samuel Aldin French was a New York distributor and not a manufacturer, who supplied goods for the military and police at first and then restricted himself to just police equipment… The stamp can be seen here from the underside of the escargot whistle.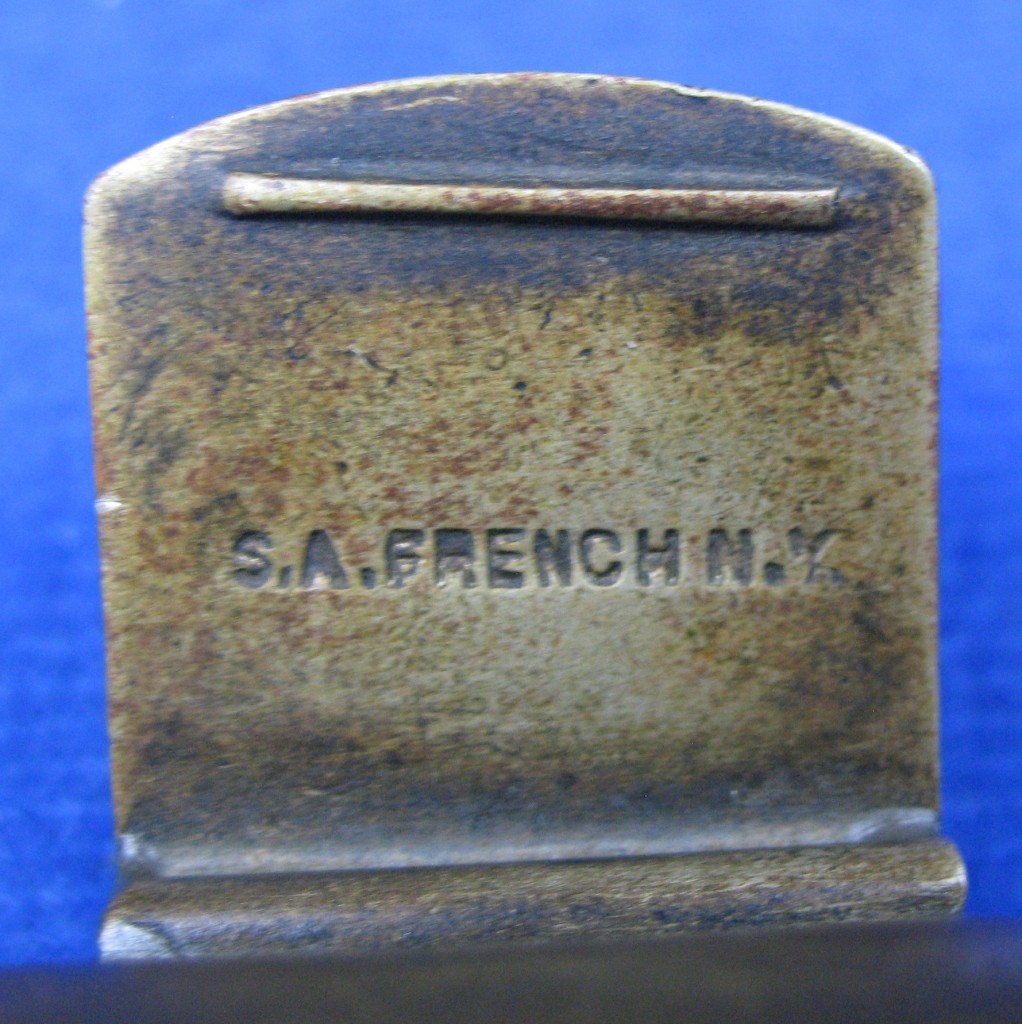 S.A.French was born in 1856 and at 29 he opened his retail business that would span over four decades. His products included buttons, clubs and whistles. Products of John J. Tower, Ed Bean and others, perhaps Tower manufacturing his whistle?? He certainly was capable of doing so. French was also an inventor holding two patents. He is most notably known for his presentation night sticks. 1885 – 1895 400 Broome Street ( military and police goods ) 1895 — 1925 108 West 28th ( police goods only ) He died in 1926 and at that time the business ceased. Besides the escargot, French distributed a unibody tube shaped whistle with the S.A.French stamp along with Metropolitan on the top cap around the loop. A catalog was issued in 1887 of 40 pages. His pre 1900 catalogue also carried BGI and Hudson whistles. There, what appears to be a Hudson Metropolitan Police picture has S.A. French stamped on the front. Studies have shown that the Metropolitan Police stamp was at first restricted to London Police and then was used for other constabularies. Perhaps it was also used for the USA market ? Now the full view…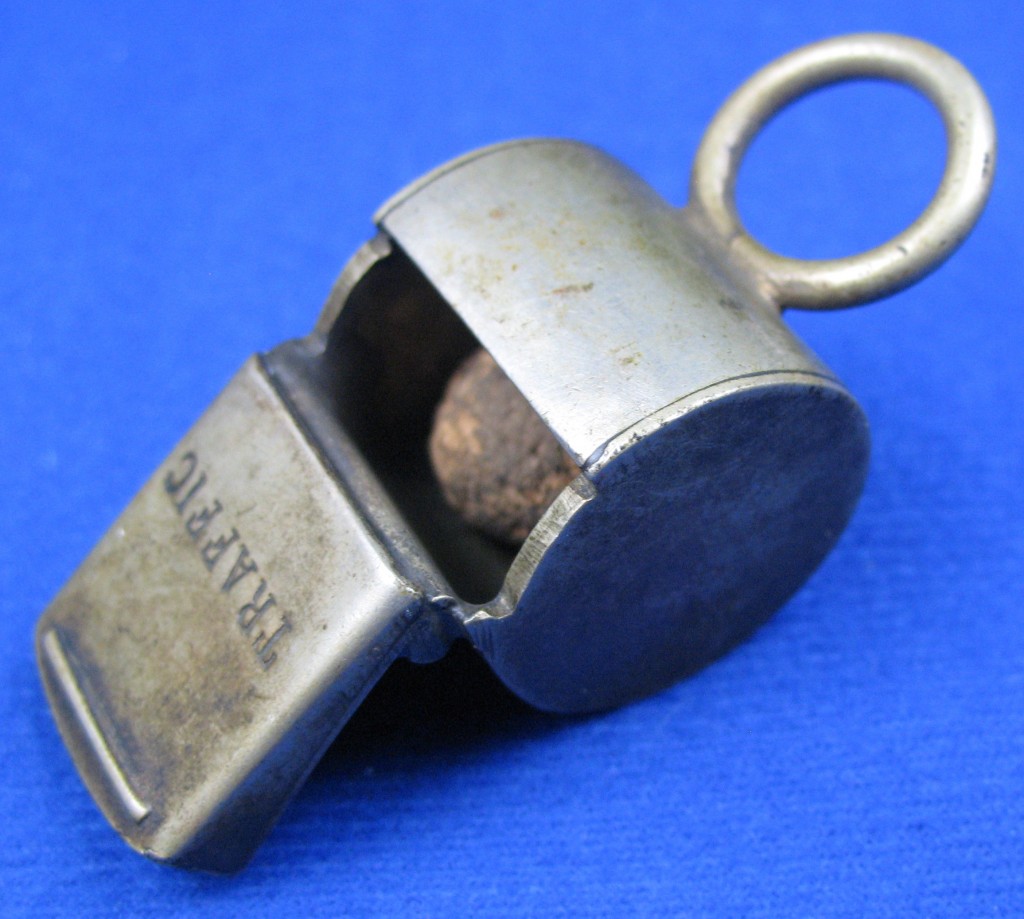 As can be seen this is an extraordinary whistle in many ways. For its time it was a very robust design. Up front is the TRAFFIC stamp aimed at the police force market. The material is of nickel silver.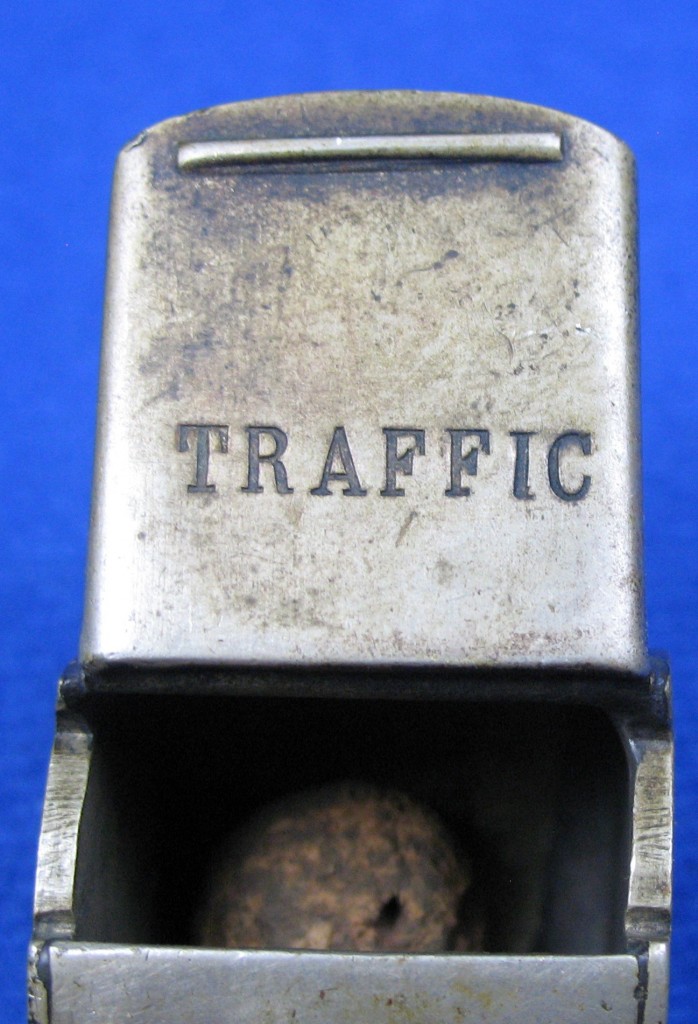 One notes next that the window is of extraordinary size and has a larger proportional cork ball.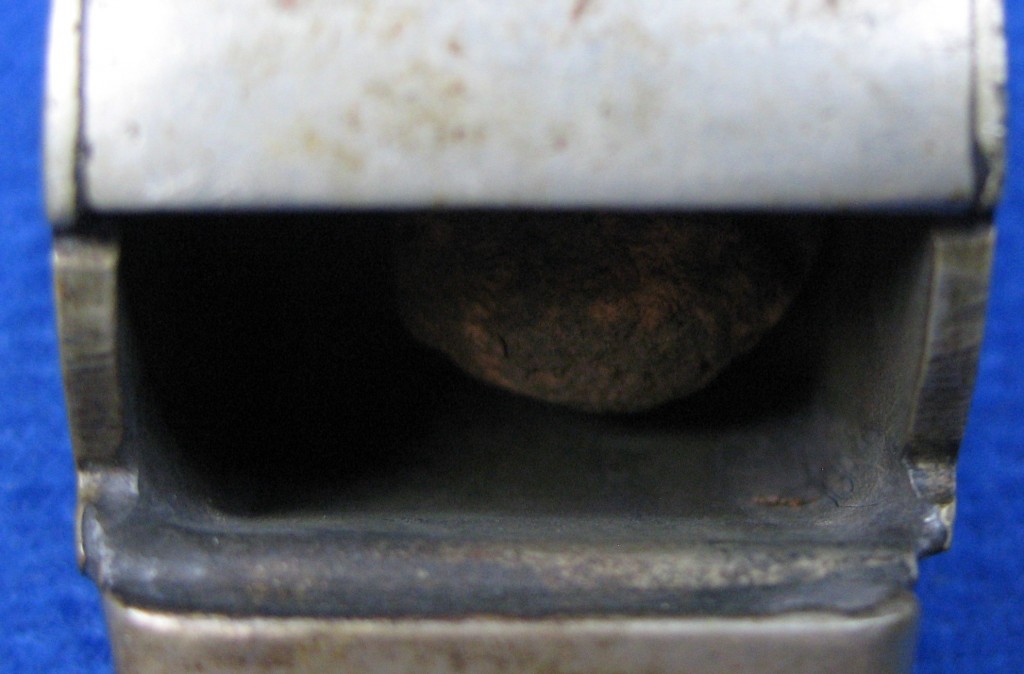 Because of this large opening the sides of the windows needed adjustment and the cuts go deep into the side of the barrel ends.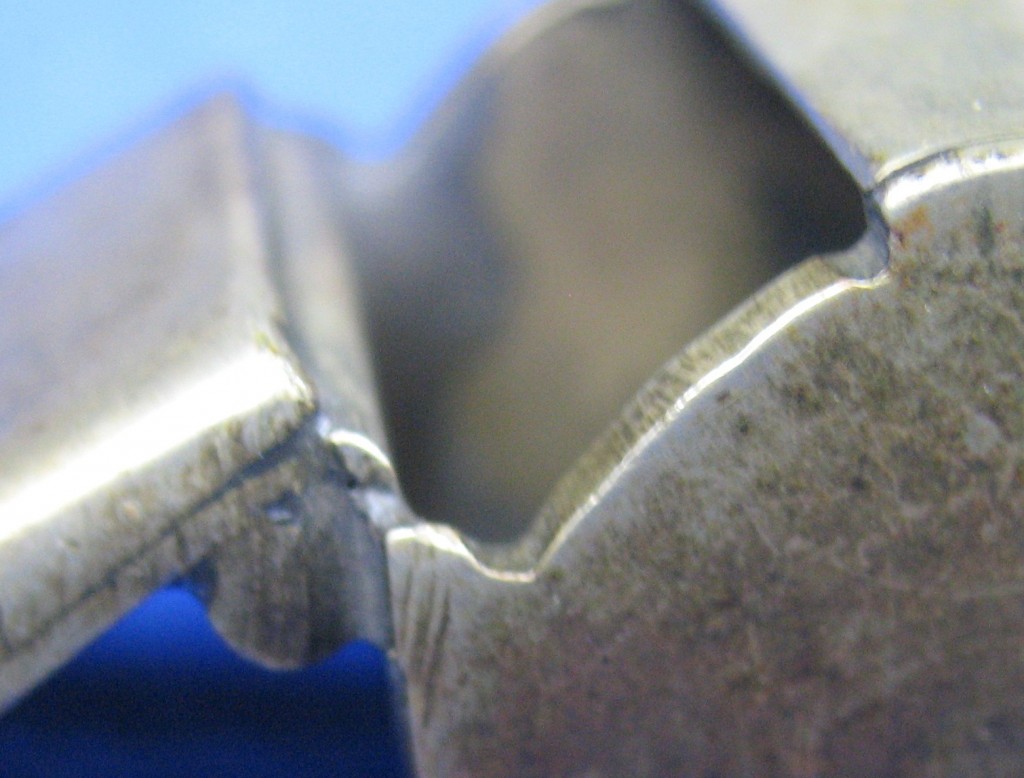 As can be seen, there needed to be added under-strengthening of the mouthpiece making it a truly 6 piece whistle. You can see from the various angles that the sides are almost twice as thick as usual, giving it tremendous rigidity although continuing to be relatively light. Each of the tooth-grip lines are very straight and thin, but are nonetheless pressed out from the inside.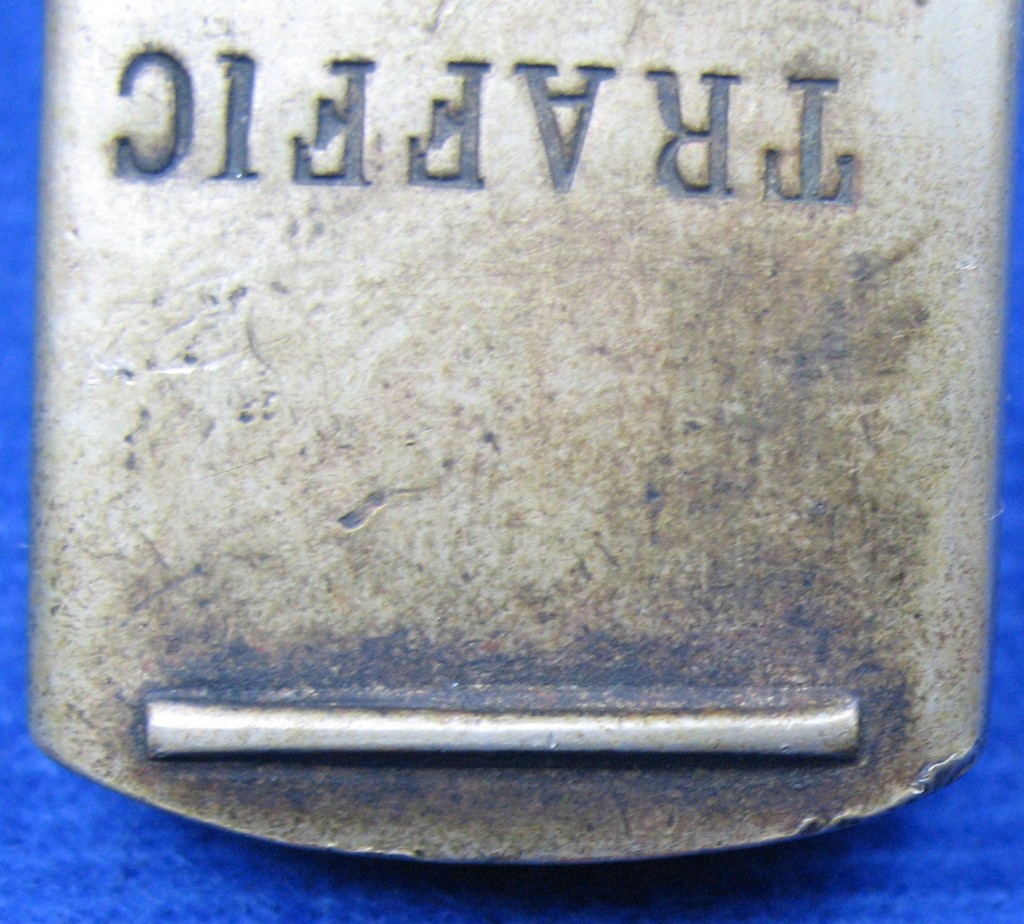 Unusually done is the top ring. Ordinarily it would be much smaller. In this case allowing it to be clipped or ringed or whatever — the size of the ring is quite large and yet is very rigidly attached. Even though out of proportion at first glance, it is well balanced and no doubt served a utilitarian purpose of the day.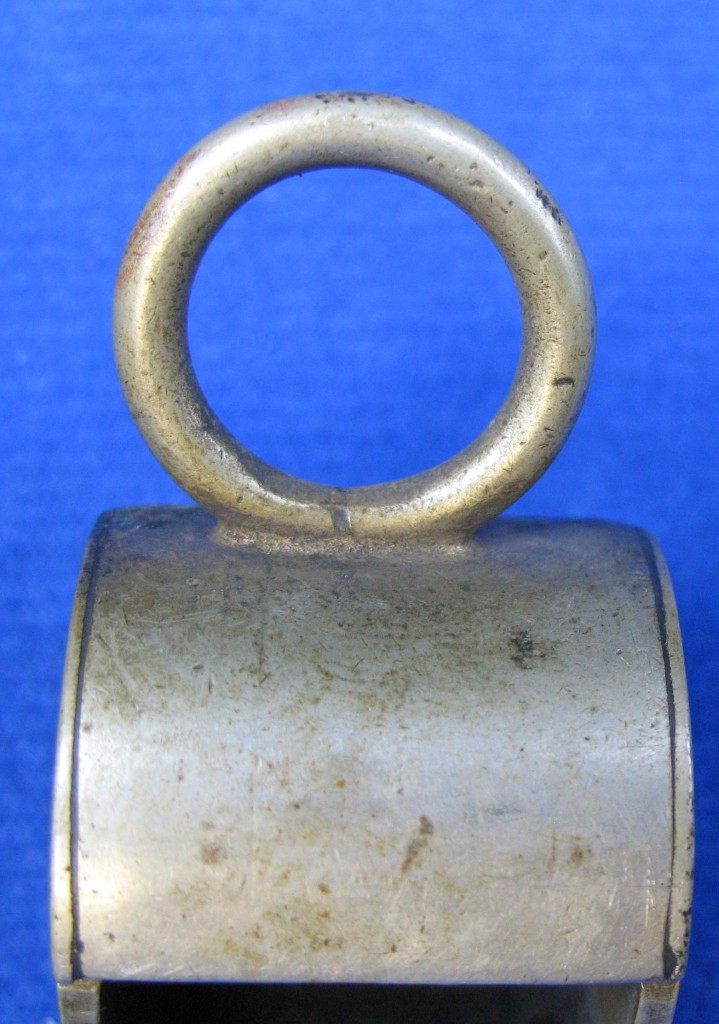 Perhaps other S.A.French whistles will come to light and we hope one day to find out the manufacturer of this one in particular. In the meantime, we have here a fantastic escargot of great quality and design. TWG.
Posted October 18, 2013