Spotlight > Whistle Categories > Beauforts > 040
A real show stopper of a whistle is the largest beaufort known and was designed and produced by Joseph Hudson. It dates back to at least 1882. It is model #177 in the Hudson catalogs measuring 100mm !!!
Originally it was manufactured with a cast top cap and cast mouthpiece. Later into the 1900s it would have a more modern mass produced look.. Recently one of those sold on eBay ( February 2013 ). It was stamped — the acme j.hudson & co barr st. hockley Birmingham. From the Guttridge collection here is a picture.
However earlier models were stamped as :
The King Whistle and then added …
Fire Brigade 5 – 84 Buckingham
Hudson's patent ( – at various levels and curvatures )
patent Shand Mason & Co. London
patent J.Hudson & Co. 13 Barr St. Birmingham
patent J.Hudson & Co. 13 Barr St. Birmingham L&NWR
The Kings Own and then…
J.H.& Co. BIR'M.
The top cap varies also, having a flat connection or a ring around the top. Sometimes the perimeter even dropped down around the edge slightly. So there is some variability, yet substantially the same.
Internally it was first produced with a wedge type diaphragm. In 1885 Hudson designed and had patented a disc ( # 435 ) replacing the unstable disc and partition connection in their early tube shaped police issues. So they introduced it into these large beauforts They went on to design a modified thicker disc and partition connection for beauforts and used them in the Kings Whistle. At first appearance, one can hardly tell from the outside. Indeed some whistles are stamped patent for that innovation and yet still have the wedge diaphragm.
However if stamped patent one may look inside the mouthpiece and actually see not a wedge, but a thickened flat disc. However most King whistles we have examined that are stamped patent on the whistle, in actuality still have the wedge inside and not the #435 disc change. The wedge is modified from a true wedge and is flattened off instead of a peak towards the mouthpiece opening.

The ring patterns varied from no rings at all to three and four rings on top and bottom. There may or not be one top ring around the top cap. The top pillar remained substantially the same. Even the windows were cut the same way on each whistle for years, one being slightly oblong and leaning to the left and the other one more round. All early ones we have seen have been nickel silver and extremely well built, with a very low and hollow sound to the whistle.
Here are some pix and comparisons to look over. All Kings whistles command high prices.
The first one is sought after mostly for its fire brigade supplier Shand Mason's name. However the whistle is the real jewel here.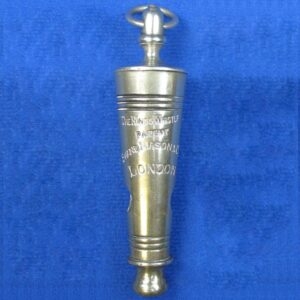 Note the stamp — patent above ?? That is for the diaphragm described. A close up shows how difficult to discern it is a thick disc, without looking into the mouthpiece. The window on the right reveals a disc, and the window on the left is a wedge.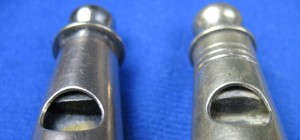 The dating has been difficult as most Kings are rare to get and examine together. However by seeing a progression from the 84 bucks to the patent date and then turn of the century it would appear that King whistles were made very early on after Joseph Hudson moved to the 84 bucks street address. That would be in the year 1882 and could date the KING as early as that. Note the extra rounded mouthpiece when you view it. Did he make any at the 17 Mark's street address ?? He was there for 12 years …..We'll have to wait and see.
Right whistle ( disc ) close up…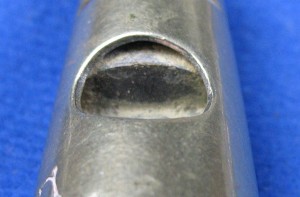 Now we will do a comparison of four – three of which are Kings Whistles and the fourth is a rare large Hudson unmarked beaufort, the pillar of which is slightly different is pretty close in cut also. It is pictured in More Whistles on page 34 which also helps to give a size comparison. No doubt these were bulky whistles to carry around.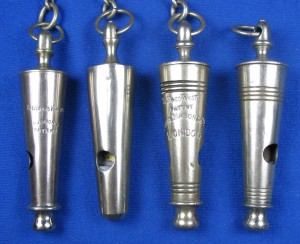 Lastly, let's look at a comparison with a 'regular' size Hudson beaufort.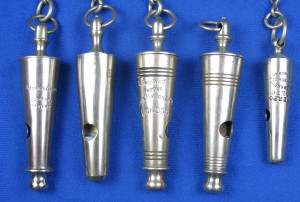 Hudson's really outdid themselves on this. As always we hope you enjoyed the visit. Granted there is not much variance, yet it is there to look for and every new thing reveals another aspect. Note too the ring aound the top plate – this latest one not being stamped at all. All Kings have been seen with cast mouthpeces, even the newest one post 1900. Was it made at the 244 Barr street address ?? By workamnship it would appear so.
– TWG
Posted January 5, 2015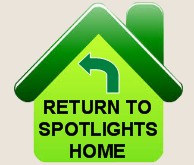 Addendum: Posted February 22, 2016
we are always learning and the Kings are no exception. It is late in the game for us to learn that King whistles came in 3 sizes. Here are two and the third is from the Guttridge collection pictured above.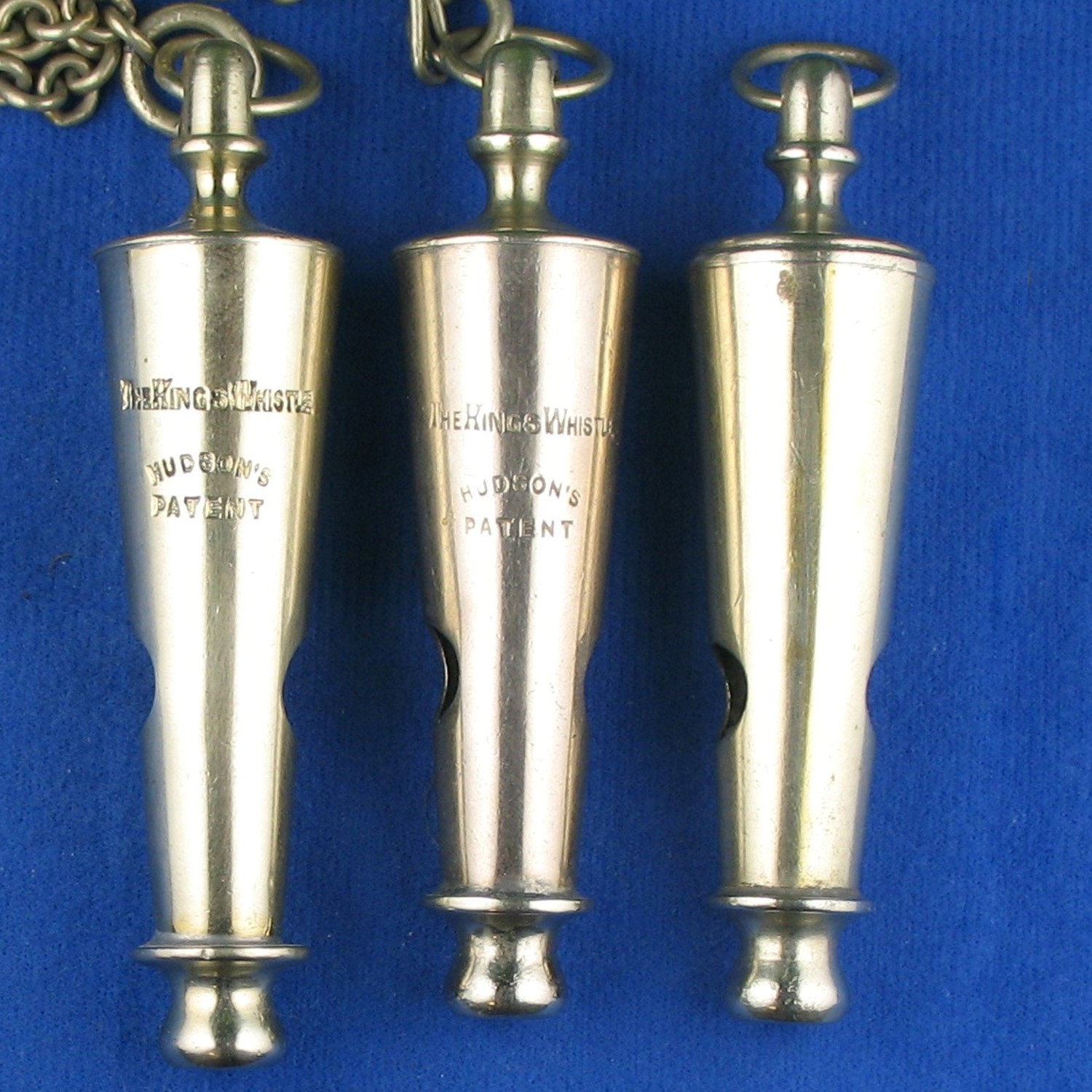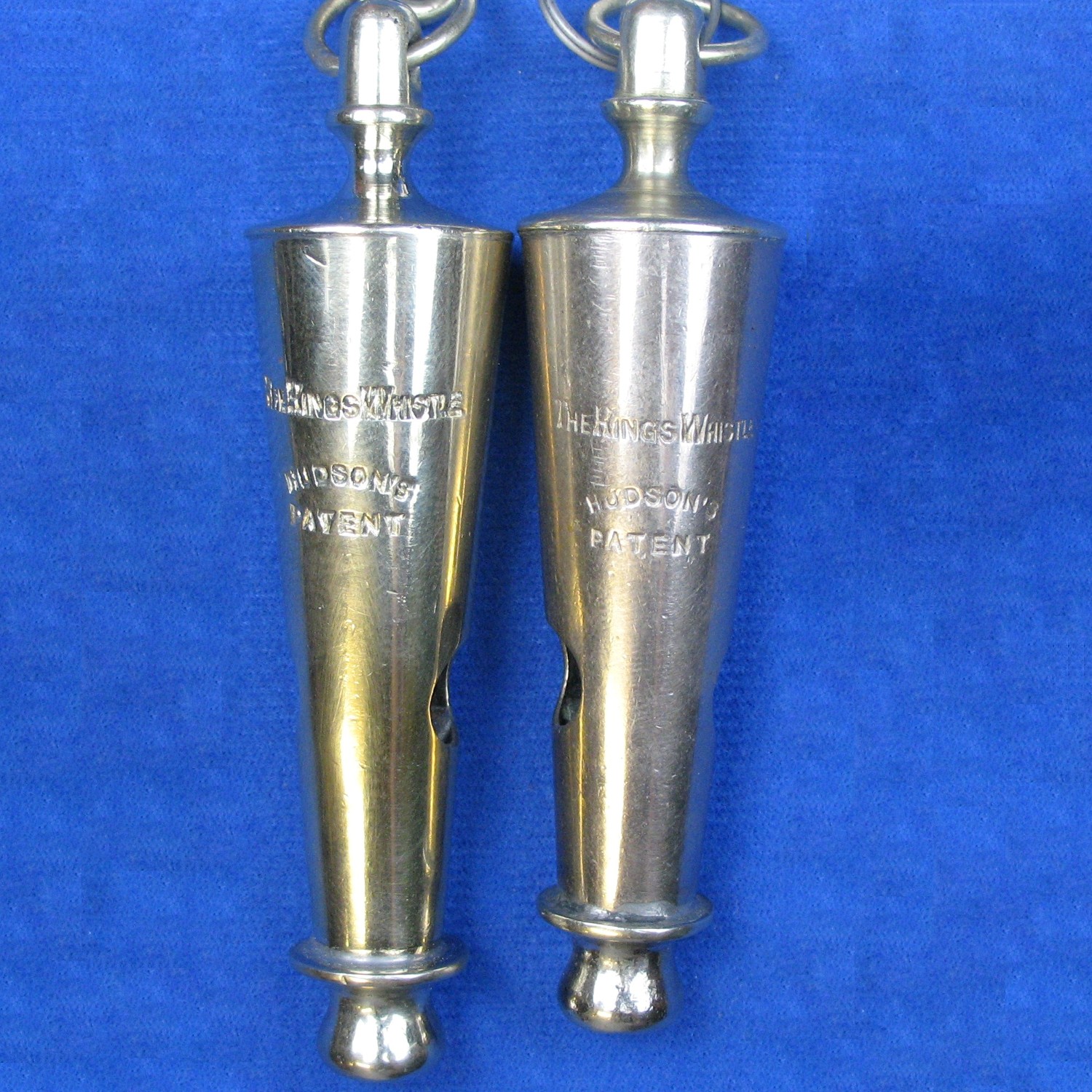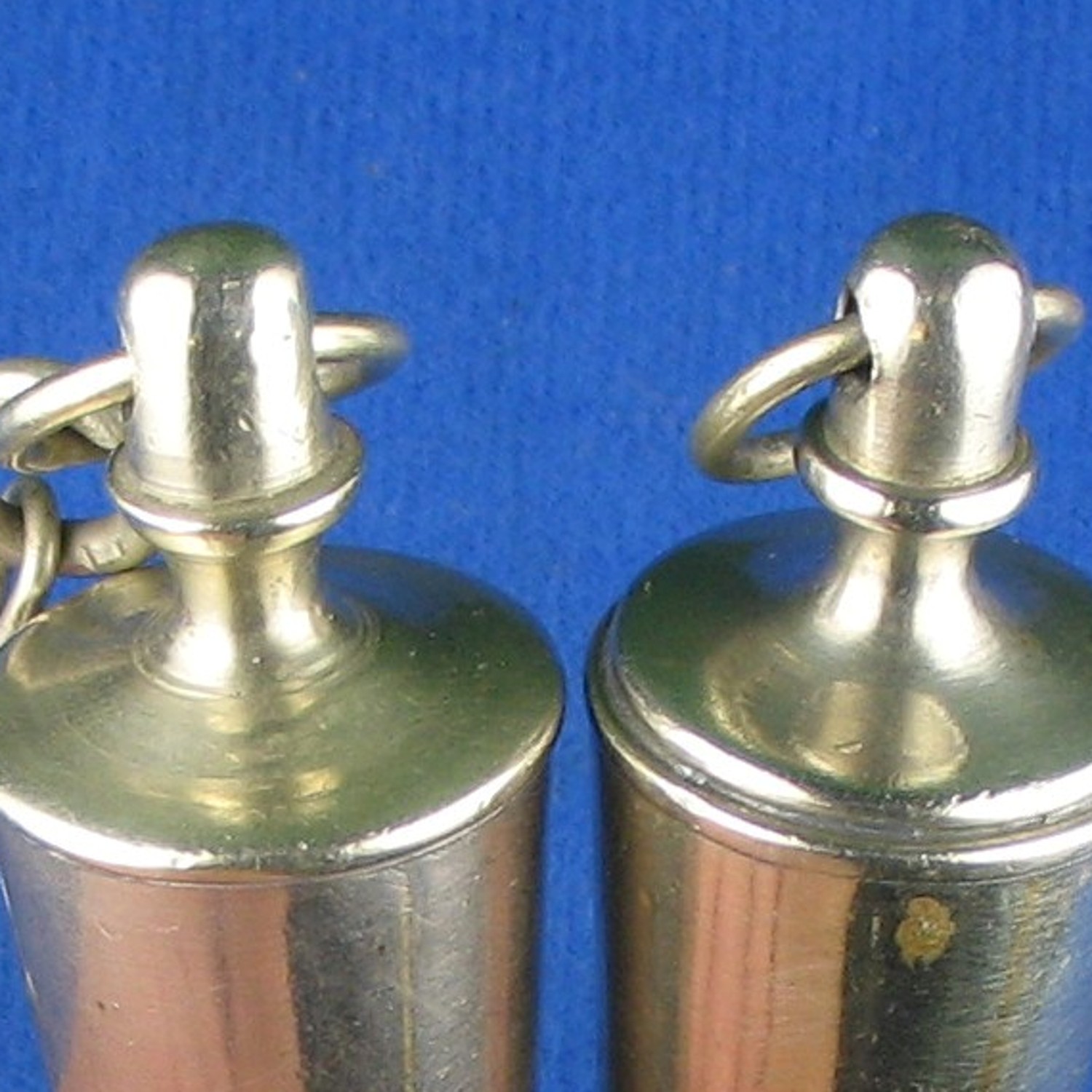 TWG