Spotlight > Specific Manufacturer > United Kingdom > Auld > 050
The history of Glasgow is important to know when it comes to whistle collecting. Ranking fourth in early European history it ranks right behind London, Paris and Berlin. An amazing amount of goods from England ran through Glasgow being estimated by some at 50% of what went to America. Glasgow reportedly produced 25% of the locomotives and 20% of ships sold around the world. The late 19th century was the industrial golden era for Glasgow.
It is no wonder that JJ Steven's roots as a railway supply company had a distribution outlet in Glasgow ( circa last half of 19th century ). It explains why Peter McDonald ( 1890 ) as a whistle manufacturer tried his hand there for a significant few years and also Black and Co. ( circa 1890s ), Henry Arthur Ward ( 1889 to 1908 ) was located in Birmingham, but had a business association with Peter McDonald in Glasgow ) and so centered their joint activities there at first. However it was Samuel Auld that produced a remarkable amount of very heavy, solid whistles there for at least three decades ( circa 1877 – 1907 ), selling out only after the 19th century ended. His focus was logically on the railway and police markets.
What we presently know of Samuel Auld & Co. has mostly been recorded by research done and printed in Collecting Police Whistles ( Gilchrist 1998, published by Topcrest ) pages 3 and 148. Notably on page 148 he lists the stamps known at the time and a few others have surfaced since. Then more details are listed on page 76 of More Whistles ( Gilchrist 2005 ) which gives some addresses, works and of course pictures under the subjects escargot and round whistles (with side notes ) — models are shown of various whistles inclusive of escargots and round whistles.
No other relative information has been collated since. Here we will endeavor to put together all that has been found by this early research and newer information that we or others have been able to unearth.
No other whistles by Auld ( i.e. beauforts, dual tube, GSW or police tube shaped, sliders, sirens etc. ) have come to our attention.
So what do we know about Auld & Co. ?
Reportedly they were brass founders, nickel electroplaters, gas fitters and it makes sense that they had the capacity to make brass whistles as they are also listed as ' manufacturers of the celebrated police calls' and 'sole makers of the new improved whistle now adopted and registered' . Especially does it make sense as 'brass founders' in the manufacture of round whistles as they were drilled out from solid rod. Occasionally the same methods were used in nickel silver round whistles. Ads exist listing Auld as 'whistle makers'.
Addresses are listed as
240 & 248 Gallowgate, Glasgow ( 1877- 1894)
396 Gallowgate, Glasgow 1895-6 to ?
7 & 9 Wood Lane ( 1899-1900 ) Dec. 20th 1899 bankruptcy
92 South Portland street, Glasgow Dec 30th 1904
54 Cowcaddens (1903 – partnership with David M'Gill Smith dissolved 1906 )
1907 sells out to Hudson Company located at 13 Barr street Birmingham all stock and equipment.
On January 29th 1890 Auld registered his design ( 143091/1890 ) for a 6 piece all cast parts escargot. It was brass and nickel plated and has been found in four sizes ( an update of page 11 More Whistles )
Three years later another dual escargot would be registered to 210479/1893 stamped Lanarkshire Constabulary. This whistle can be seen on page 11 of More Whistles.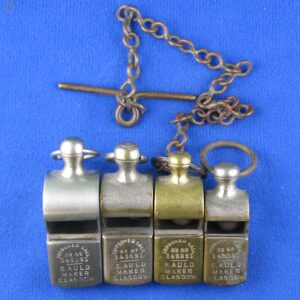 When the escargot is turned on its side the 6 pieces used to construct the whistle can readily be seen.
Note all 6 sections:
the top piece of the mouthpiece
the under strengthening triangular piece
the sides ( 2 pieces )
the under barrel
the knop on top
Thus utilizing 6 cast brass pieces. The workmanship and time would give way to a three piece escargot patented by Hudson's in Birmingham within one year. However it continued to be made in Glasgow for years, as can be seen from the amount of whistles that still appear for sale.
Less commonly seen is another stamp with Auld and Glasgow curved top and bottom.
Note the aftermarket chromed escargot on the left, as sometimes done by owners.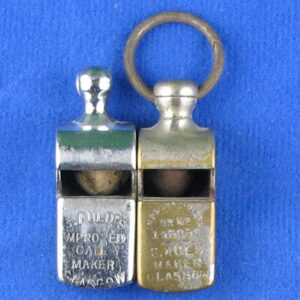 In 1907 Hudson would begin producing according to their own patent, the 3 piece escargot, but with Auld's stamp on it. It is found in two sizes. Note the 6 piece to the left and the 2 Hudson's to the right.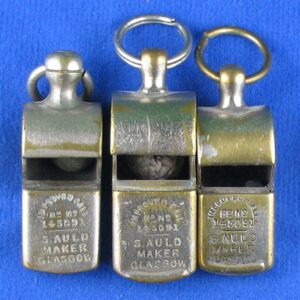 The year 1890 was busy with the emergence of the heavy cast 6 piece escargot whistle. At least three manufacturers produced these type whistles that year or at least they went on public record as such.
January 29th Auld registered design 143091
February 25th McDonald & Ward applied for patent 2980 ( abandoned )
Note the remarkable similarities between Peter McDonald's and Samuel Auld's.
same materials
same size
same parts (6)
same stamping of Improved and maker
same city
same time ( within one month of each other )
same cuts and manufacturing
same knop ring
One wonders how so many coincidences could occur ??
Another anomaly is seen with nickel silver escargots similar to button whistles and stamped as follows,
S AULD MAKER GLASGOW. It is found on the underside of a whistle that matches very close to ones found by Wm BEECH MAKER GRANTHAM
The lettering is very straight on the Auld and not curved, but the whistles are alike.
There have been at least 4 other stamps for Beech and only one seen for Auld.
At this point it is not known if Auld, Beech or another company manufactured these escargots. However the workmanship does not match.
Is there more to be added to our fund of knowledge at this point ? We hope so and will keep researching escargots by AULD. If found we will continue further postings on the end of the article.
TWG.
Posted October 5, 2015