This SPOTLIGHT is on three different manufacturers of THE KNOXALL Police Call from the UK. Often confused is the stamp used by Walton, Dowler and Hudson. Interestingly enough, DeCourcy apparently did not manufacture one or at least has not been recorded as such. He and Walton both had been foremen at Hudson's.
Dowler is set apart and dates between 1890 and 1900, Walton between 1889 and 1898, Hudson's addresses places their models between 1889 and 1922. We would expect to see two different ones from Hudson spanning that period. The transitional whistle being manufactured with the two piece top from 1908. As of yet, we are looking for a DeCourcy and a two piece top Hudson.
Except for late Hudson issues with 2 piece tops, we see the overlap and how they could be confused. However if we look at the internal parts the differences will become unmistakable.
Let's start with Dowler. If you refer to SPOTLIGHT 41 you remember that Dowler used a long but still cast hourglass mouthpiece in the 1890's which really sets it apart from their cast round type ( they used earlier ), but also from Walton and Hudson KNOXALL stamped whistles. Dowler was still using a cast mouthpiece at that time as was Walton — but not Hudson.
Left to right we see Walton-Dowler-Hudson mouthpieces. Walton's mouthpiece solders right against the bottom of the tube, Dowler is larger and sets against the rim also however Hudson's slips over the tube edge.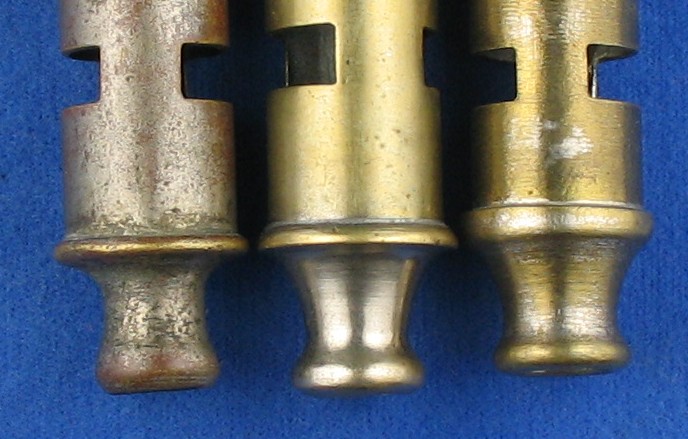 Hudson left the use of cast mouthpieces by 1885 on their tube shaped whistles (except for Porteous topped) and changed to rolled machine made mouthpieces. Since they are machine rolled from that point on, this sets them apart, so you can see right away the differences.
Walton used a cast mouthpiece that was quite small, clearly set apart from the large hourglass Dowler and the machine rolled Hudson.
On pages 98 and 99 of CPWs Gilchrist neglects to describe Walton mouthpieces. His mouthpieces are similar to early DeCourcy mouthpieces, yet discernable.
It is of note that Gilchrist writes on page 78 of CPWs that Hudson finished off some of Walton's orders after purchasing his entire shop. However it may be a moot point if any whistles in question were actually Walton whistle parts that were merely assembled by Hudson to complete orders. If indeed Hudson parts were used, say for example internal parts with Walton mouthpiece and bodies, they would be collectible for the novelty and studies in variation.
Page 49 of CPWs pictures a Hudson KNOXALL police call. Page 57 lists Dowler as having a KNOXALL police call. Page 90 states three companies used only two punches. There are some differences in what is understood to be one punch used for two companies.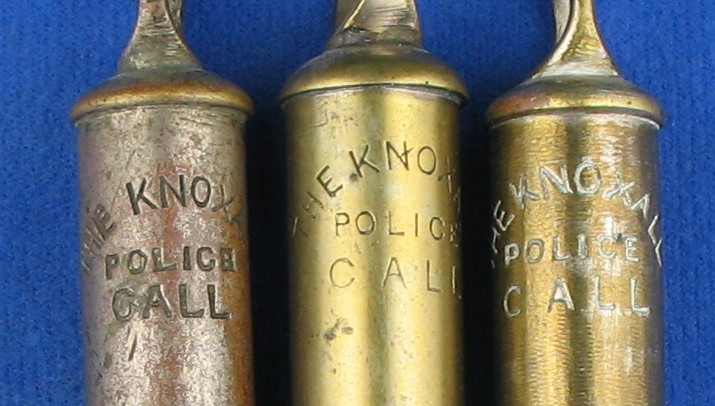 Side by side the Dowler can be seen as a larger whistle. The Walton and Hudson look somewhat similar in size and stamp. Of course looking inside reveals the patented disc with the Hudson stamp, while the Walton has the Walton stamp on the disc and lacks the tines Hudson used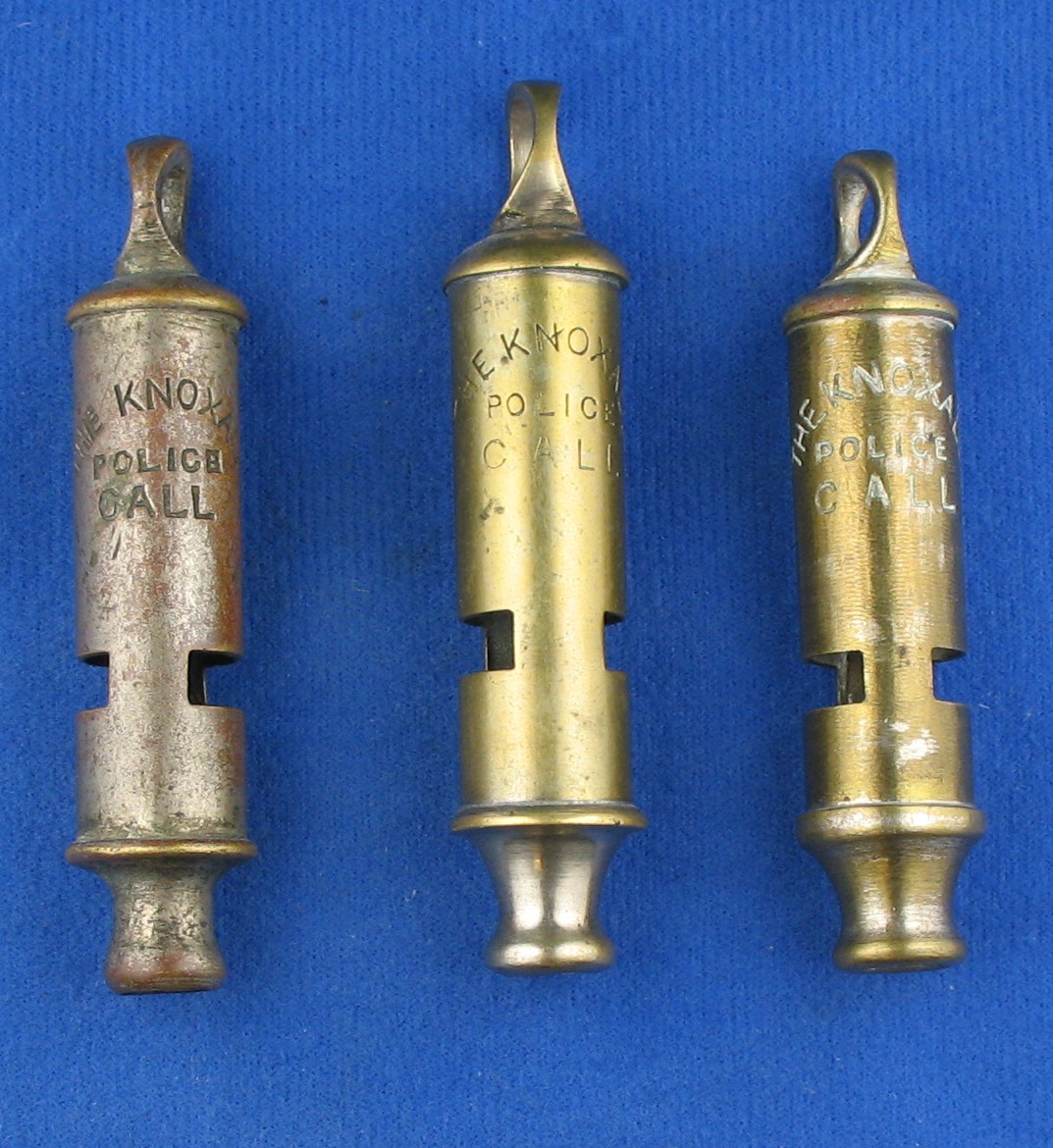 Dowler's top ring is distinct comparably, while the other two are very similar.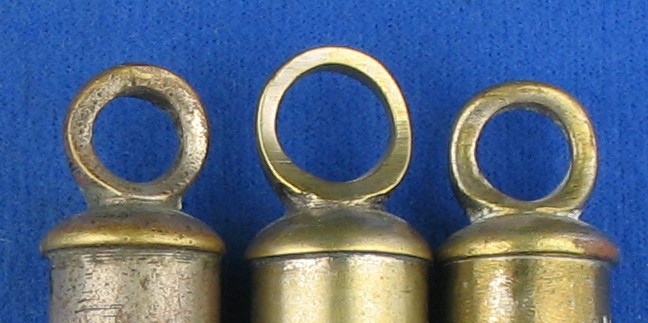 Studies like this make us sharper and also lead to interesting variations. Now we know what to look for J … perhaps even another manufacturer with a KNOXALL stamp ??
– TWG
Posted September 5, 2016